2014 Arctic Cat XF 7000 Cross Country Sno Pro Review – Video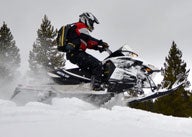 Yamaha engine breathes life into Cat's backcountry crossover chassis
Crossover snowmobiles, such as Arctic Cat's XF Cross Country line, to include its High Country models, are vastly popular snowmobiles. Popular for their longer rear suspension, which gives a more comfortable ride across tightly spaced trail moguls, moderate deep-powder flotation, and deeper-lugged tracks for hook-and-go. Short-tracked snowmobiles, such as the 120- to 130-somethings are facing a slow decline in popularity due to crossover acceptance.
Fast Facts
Engine Type:Horizontal In-line
Cylinders:3
Engine Stroke:4-Stroke
Valve Configuration:DOHC
Displacement:1049 / 64
Starter:Electric
Turbocharged:No
View Full Spec
For model-year (MY) 2014 Arctic Cat brings to the market a new crossover, the XF Cross Country 7000 Sno Pro, which is powered by Yamaha's 1049cc three-cylinder electronically controlled fuel-injected (EFI) four-stroke that produces approximately 135 sea level horsepower. This motor has built a solid reputation for reliability and good fuel economy since Yamaha introduced it with the FX Nytro chassis. Now that same basic motor resides in the Arctic Cat chassis and becomes the 7000 C-TEC4.
COMPARE: Read our review of the Arctic Cat XF1100 Cross Tour
Product sharing between Arctic Cat and Yamaha is common news, given the journalistic text devoted to the topic. We have produced much digital ink on the topic to help you to understand the product- technology-sharing between the two companies. However, though the two companies exchange a motor for a chassis, they remain independent.
The XF 7000 Cross Country Sno Pro is built on Arctic Cat's triangulated upper spar ProCross chassis with two-piece tunnel. Its track, the Camoplast Cobra with 1.6-inch lugs and a width of 15 inches, measures 141 inches in overall length. The rear suspension is Cat's own FasTrack, which does not utilize springs. Bump soak is handled by a FOX FLOAT 2 air shock that provides many air pressure tuning ranges. Vertical travel for the FasTrack is 14.5 inches.
Steering on the ProCross XF 7000 Cross Country Sno Pro is a laydown system, which allows the bars to swing car-like, which makes for manageable deep corner dives and exits. Its handlebars can be adjusted forward or back with a lockdown cam.
The front suspension is the Arctic Race Front Suspension (ARS), which combines tall lightweight spindles and widely spaced A-arms to give torsional rigidity. The lower A-arms mount in a 30-degree angle to give a stable and comfortable ride. Front shocks are FOX FLOAT 3s. Vertical travel for the ARS is 10.5 inches. Ski stance is an adjustable 42-43 inches. It does have a sway bar.
The ProCross chassis adapted to the Yamaha motor quite well due to the fact it was originally designed to house both two-stroke and four-stroke motors – Cat's 800 two-stroke H.O. and its twin-cylinder four-stroke that is either turbocharged or not, depending on the model. To that, the chassis was well suited to inherit this four-stroke with all its plumbing, exhaust and valve train.
The C-TEC4 motor receives Arctic Cat's own clutches, which makes the motor's output to the drivers behave how Cat wants. The drive clutch is Arctic's 6-post (rpm sensing), whereas the driven is Cat's standard 10.75-inch roller-cam. These are the same clutches on Cat's other high-end models. This is a distinction between the Cat and similar Yamaha SR Viper XTX SE model, which uses Yamaha's own drive and driven clutches.
RESEARCH: Read about the Yamaha and Arctic Cat collaboration
The drive and driven clutches on the XF Cross Country 7000 Sno Pro are gentle on the bottom and mid-range "Rs", with an unleashing of torque on the top curve. This is the personality Cat wants to give its XF 7000 Cross Country Sno Pro with C-TEC4 power. Sister ship, the RS Viper XTX, busts out the revs in a hard-hit, lifting the skis and snapping the driver's head, then mellows as the Rs climbed to the top.
When we rode these snowmobiles, the Viper XTX and XF 7000 Cross Country Sno Pro, final clutch configurations were not set, but were close. We feel Cat has its configuration dialed in, whereas Yamaha may change; at final production when we pilot a non-prototype XF 7000 Cross Country Sno Pro and RS Viper XTX, we will know. This is one area where these two sleds are different, transmitting unique OEM signals.
The XF 7000 at 5700 feet and greater felt strong – the 1049 motor is a hardworking grunt. Its tall legs from mid-range and beyond gave the feeling two miles of straight line trail may not be enough.
Ergonomics-wise, the ProCross XF Cross Country was pleasant. It provided a comfortable seating position where arm reach to the bars was not strenuous. The footboards and toe holes were wide and deep enough to give the rider proper knee and ankle bend. Wind protection is sufficient for trail blasting. For long rides on bitterly cold days, one may want to consider a taller windshield and hand guards on the handlebars.
The instrument pod is easy to read when sitting, but when the rider stands to navigate trees and ravines in the backcountry, it is hard to pick up motor information.
In the backcountry, we found the XF 7000 Cross Country Sno Pro to be a fun tree-picker when kept in its operating envelope. If you are a Midwesterner or eastern rider with desires to ride your XF 7000 Cross Country Sno Pro in some Island Park, ID deep-powder, then you will spend ample time digging out. However, it will traverse packed snow in the "hollers" quite well, even if the slopes have a half-foot of fresh fluff. Don't be afraid to explore gentle backcountry slopes on the XF 7000 Cross Country Sno Pro; we did and enjoyed our time.
The motor sends gentle spins to the track that serve to keep the chassis flat and on top of the snow. We have had several FX Nytros of various configurations – XTX and MTX – and have come to appreciate the 1049 motor. In the Cat ProCross chassis, it is smooth, responding well to throttle input. For our several days of testing, the XF 7000 Cross Country Sno Pro gave us confidence. We had to rein ourselves in from pushing this Cat into M8000 land.
Like the RS Viper XTX, we believe the XF 7000 Cross Country can spin a taller track. My suggestion would be for Arctic Cat to give the XF 7000 Cross Country Sno Pro buyer an early Spring purchase option of a two-inch PowerClaw track. The motor can rotate it, and we conclude buyers who opt for this would enjoy the chassis in deeper snow conditions (but this may infringe on sales of Cat's High Country model).
VIEW: Read all of our Arctic Cat snowmobile reviews
We found the XF 7000 Cross Country Sno Pro to have a plush ride. Its shocks seemed to control the suspension in a falling-rate manner ¬– somewhat stiff as bump soak began to soften as the suspension stroked down through its collapsed position. The RS Viper XTX appeared to be the opposite, from my perspective. But veteran test rider Kevin Allred declared the opposite. He thought the Viper XTX seemed plush, the XF 7000 Cross Country somewhat stiff. We'll agree to disagree.
The ProCross-style ski controlled the left- and right-hand bends with ease, but failed to keep the nose upright in marginally deep-snow conditions. This is a tradeoff. We guess Cat thinks the XF 7000 Cross Country Sno Pro will be ridden mostly on the trails. But given the opportunity to run deep, the ski has limited flotation.
The XF 7000 Cross Country runningboards are stiff and have wide holes to dump snow. This is appreciated when zipping off-trail then back. The handlebar' kill switch and heater controls are nicely situated, and for the kill switch, properly housed to prevent any unplanned press. The bars have a center-mounted pull strap for that needed leverage when rolling the wide ski-stance XF Cross Country onto a side.
The seat has ample width to keep the south side locked down, and is short and narrow enough for some leg swings when standing and setting up for some one-ski runs along a slope.
In summation, the XF 7000 Cross Country Sno Pro is the real deal for four-stroke crossover motoring. We really like this sled. The technology behind the 7000 C-TEC4 motor is nice, and it gives the Arctic Cat loyalist comfort and pride knowing his or her snowmobile has a dependable turn-key motor that will deliver several thousand miles of grin and fun, be it on the trails or in the boonies.
2014 Arctic Cat XF 7000 Cross Country Sno Pro Specs
Engine
Arctic/Yamaha 7000 Series C-TEC4, 1049cc, 4-stroke, liquid-cooled, triple; 3x41mm throttle body injector electronic fuel injection
Horsepower/Torque
135 (est)
Drive
Arctic 6 post rpm-sensing drive with 10.75-in Arctic roller cam driven
Front Suspension
Arctic Race Suspension (ARS) twin A-arm suspension; Fox Float 3 shocks; 10.0-inches of travel
Rear Suspension
Arctic "FasTrack" parallel rail slide with Tri-Hub rear axle assembly; Arctic internal floating piston shock on front arm and Fox Float 2 shock; up to 14.5-inches of travel
Length
125.0 in
Width
48.0 in
Ski Stance
Adjustable 42.0 – 43.0 in.
Track
15 x 141 x 1.6 Cobra
Weight
NA
Brake
Radial master cylinder hydraulic with rotor on driveshaft
Fuel Capacity
10.6 US Gal (87 octane fuel)
Features
Standard: deluxe digital gauge with tach & speedometer; Electric gas gauge; push button reverse; mountain-style handlebar; key start
Optional: storage bags; rack; tank pads; optional windshield sizes
MSRP
US$12,899