2016 Yamaha Viper M-TX 141 Turbo Review + Video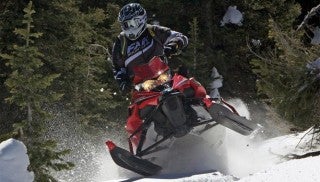 Yamaha proves short tracks can be powerful fun
Yamaha delivers turbo power to its new 2016 M-TX 141 SE. The turbocharger amplifies its horsepower and attitude. This is a 141? By spec sheet it is. By fun factor, it's long on fun.
Since the Yamaha SR Viper M-TX line came to be, Yamaha offered only two track lengths, 153 and 162. The other snowmobile builders also have 150-something to 160-something mountain snowmobilers. Ski-Doo adds a third length, 174. With that, 140-something tracks were generally left to the crossover breed, except with Ski-Doo, which has a 146 Summit and Freeride.
Attitudes and opinions change. Case in point, the Yamaha Viper M-TX-141.
What was once known as the X-TX 141 LE with optional 2.25 Camoplast PowerClaw, is now the 141 M-TX with more mountain amenities. Of course, Yamaha partner Arctic Cat also introduced for 2016 an M8000 that is shorter, the 141 M8000 Sno Pro.
The Yamaha deep-powder crossover crowd that yearns for a snowmobile that is more than a crossover can now purchase such a snowmobile without pushing through a second and third purchase: a tall-lugged powder track and mountain skis. With the M-TX 141 from Yamaha, the package is complete, be it a Spring Power Surge LE or in-season SE.
All right, so Yamaha has a shorty mountain sled. We can live with that. Short chassis are a nimble chassis; nimble like the late and great Chicago Bears running back, #34, "Sweetness" Walter Payton. When riding a short long track, you'll sacrifice a couple niceties: flotation and steep sidehill stick-it. Short track mountain snowmobiles may be silly fun in the trees, but when snow is Christmas Eve deep or the mountainsides are vertical, then understand, a shorty mountain snowmobile will not float like a 150 or longer snowmobile, and will not hold a steep sidehill cut like the longer mountain snowmobiles. But his sled has an ace up its sleeve – a turbocharger. We just love motor technology.
COMPARISON: Read our review of the 2016 Yamaha Viper L-TX LE Turbo + Video
The Yamaha three-cylinder Genesis, an electronic fuel injected, four-stroke motor, produces about 135 sea-level horsepower. As we have written before, a motor loses about 3% to 4% of its horsepower for every 1000 feet gained in elevation – depending on humidity, temperature and barometric pressure. Two ways to overcome horsepower loss is to add a supercharger or turbocharger; in the case of Yamaha, it chooses turbo power. The turbocharger Yamaha sends its dealers to install on an M-TX comes from Mountain Performance Inc. The MPI turbo boosts the Genesis motor to 185 horsepower. This power is fairly constant, from sea level to 10,000 feet. Of course, the drive and driven clutch will need calibration for the differing elevations – weights, springs and helix.
The MPI turbo is a Yamaha dealer add-on. If a Yamaha dealer adds the turbocharger, then turbocharger and Yamaha warranty remains. Yamaha substantially discounts the MPI turbocharger during its Spring Power Surge early purchase program. How it works is that customers who want an MPI turbo must choose the LE M-TX 141, where the turbo unit is advertised at $2500, plus dealer install. Visit with your Yamaha dealer to learn all the details regarding warranty and install costs.
Installed a boosted 141 M-TX has a strong and bold 185 horsepower to rapidly spin the track with controlled violence. This is why a shorty 141-inch M-TX can ride in deep powder; the track will move railroad carloads of snow to move forward.
A turbocharger can't instantly stretch out the track to be a 162 M-TX to improve steep slope sidehilling, but it can deliver snappy fun. Just to understand what is going on here, short long-track snowmobiles tend to wash out at the rear when traversing across a steep slope. This is just the nature of physics as it relates to track surface area contacting snow on a slope. But, what the short long-track snowmobiles deliver in the woods is fantastic snowmobile entertainment.
Riders who purchase an M-TX 141 are fast attack trail riders, meadow mountain mashers and moderate boondockers. From Yamaha's market research, the company learned riders who purchased a 2014 or 2015 X-TX 141 LE during Spring Power Surge, and opted for the 2.25-inch paddle track, identified themselves as deep-powder crossover riders with moderate steep-and-deep boondocking ambitions.
Furthermore, the only way to purchase an X-TX 141 with a 2.25-inch PowerClaw was during Yamaha's Spring Power Surge, meaning only the LE would be equipped with this track. Therein lays the reason the M-TX 141 LE and SE came to be Spring Power Surge LE with optional turbocharger, or an in-season 141 (SE) that also has the 2.25-inch PowerClaw track.
COMPARISON: Read our review of the 2014 Ski-Doo Freeride + Video
The SR Viper M-TX 141, be it an SE or LE, comes with new forged aluminum spindles that are swept back 10 degrees from the 2015's spindle and swept in to match the side panel profile. The 2.4-pound lighter spindles mate to new lower- and upper-control arms to improve trail cornering and deep-snow maneuvering. We have tested the SRV-M front suspension on the M-TX and learned this to be true.
The 141 M-TX SE and LE, unlike M-TX 153 and 162, comes equipped with a front suspension swaybar. Ski stance is an adjustable 40 to 42 inches. Under the SRV-M front suspension is a new mountain ski, which is seven inches wide at the tip and then tapers to 6.5 inches starting behind the ski's hoop. The ski has a wider and deeper keel, which makes its much more deep-powder compliant than last year's ski. This ski keeps the front end afloat and is superior to last year's. The narrow ski the M-TX once used was a victim of our complaints, for this ski, with the engine's weight, at times controlled off-camber downhill descents. Front shocks for the M-TX LE 141 are the highly capable and vastly adjustable Fox Float 3. The air chamber with its adjustment dial allows riders to set the front from stiff to pillow soft.
Stuffed under the tunnel is a reconfigured Dual Shock SR 141 rear suspension. This rear skidframe is a torsion springless suspension that relies on a Fox Float 3 shock at the rear arm. The Fox shock has ample adjustments for desired rebound and dampening – for trail or snow conditions and rider weight. The rear skid is uncoupled, which allows the suspension to float across powder when the M-TX LE 141 is on boost. New rails on the SR 141 rear suspension work to keep the nose down when ascending hills. When on boost, they assure the track will not topple nose over tail when busting up a 30-degree ascent on hero snow.
Our first impression of the 141 LE M-TX is fun. Most 40- to 50-something year old powder hounds rode 141/144 mountain snowmobiles, then graduated to the long 153/154/155 or 162/163 or 174 snowmobiles. So, 141 is a length they can work with. In fact, short long-track snowmobiles are dirt bike fun. With that said, putting a turbocharger on a 141 M-TX LE makes perfect sense: horsepower will move snow, which moves sled, which doubles the fun. Nice.
Through ergonomics. The cockpit on the M-TX 141 is such that when boost is on, hands and arms are in control. The vertical steering post, right-sized handlebars, mountain strap, and well-designed runningboards and seat give a rider the tools to handle mountain and trail, ravine and dell.From pure mountain man speak, we want a narrow ski-stance, like the 153 or 162 M-TX, and a front suspension that is let loose by dropping the swaybar. But that is just us, who spend very little time trail riding. This is not a criticism to Yamaha and its market research; we are just an odd lot.
COMPARISON: Read our review of the 2015 Yamaha RS Viper M-TX Turbo + Video
What can you do with 185 horsepower? Well, being 50 more horsepower is added to your M-TX 141 LE, you can mop up your riding buddies by having all 185 horsepower available for rides in North Dakota, northern Montana, and British Columbia – elevation does not matter.
Yamaha is not pushing the boosted 141 M-TX as its only pride and joy – every M-TX LE can be optioned out with an MPI turbo. But, we report our interest because a short long-track is placed in the same camp as the traditional long track snowmobiles.
Surely, the 141 M-TX is somewhat different than the 153 and 162 M-TX, in that its ski-stance is wider, it has a swaybar and its track lugs are shorter. But, it can polish clean a trail and its moguls, and with the turbo, it can climb and climb and climb; but, riders need to know the 141 M-TX has sidehilling limits where boost will not help it much.
So, it's a 141? Yes. Is it knockdown fun in the woods? Oh baby.
2016 Yamaha Viper M-TX 141 SE with MPI Turbo Specs
Engine
Yamaha Genesis four-stroke high-performance 1049cc; bore/stroke of 82.0mm/66.2mm; three-cylinder, liquid-cooled; 41mm electronic fuel injection system; dry sump lubrication — equipped with optional dealer-installed MPI turbo and Yamaha warranty
Horsepower
180+
Drive
Yamaha YVXC drive clutch with Yamaha driven; push button electronic shift reverse
Front Suspension
Yamaha SRV-M tall A-arm with Fox FLOAT 3 RC aluminum shocks; up to 7-in of travel; new semi-parabolic mountain ski
Rear Suspension
Yamaha Dual Shock SR 141 parallel slide rail; Fox Float 3 and aluminum high-pressure gas shocks; up to 14.5-inches of travel
Brake
Radial master cylinder hydraulic brake system with disc mounted on drive shaft
Length
125.0 in
Width
48.4 in
Ski Stance
Adjustable from 40-42 inches
Track
15 x 141 x 2.25 PowerClaw
Weight
N/A
Fuel Capacity
10.0 US Gal
Features
Optional storage bags, heated seat
MSRP
US$13,199 +$2,500 for turbo kit & dealer installation