Vintage Review: Yamaha Enticer 300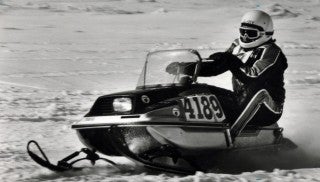 Yamaha's value sled enticed newbies and wannabe racers
Christmas is here. The snow isn't – at least in the hardcore riding areas of the Upper Midwest. It's the winter solstice already and rideable snow should be here, now! How are Santa and the rest of us supposed to get out and about on our power sleighs – his reindeer powered and ours gas-engined?
It's depressing for a snowmobiler with two ready-to-go sleds sitting on the trailer and waiting, waiting, waiting for snow. But if we're depressed, how about a company like Polaris, which saw its stock take a nosedive when it announced that it was cutting this year's estimated revenue growth by about half and intended to cut fourth quarter shipments of off-road vehicles (including snowmobiles) "significantly," putting dealer inventory below 2014 levels.
"We expected the fourth quarter to present a challenging retail environment for ORVs and snowmobiles, but consumer traffic and retail sales have slowed beyond previous expectations," explained Polaris Chief Executive Scott Wine.
Based on lack of snow in key Midwestern and Eastern North American snowmobiling areas, snowmobile executives expect the end-of-year sales total to be down or, at least, stagnant. This comes after the sled makers cautiously looked to a modest uptick.
COMPARISON: Read our review of the 1986 Yamaha Inviter Vintage
What does it mean? We wonder if some new products might be delayed a season so they don't cripple sales of existing models. Of course, with snow in the West, we figure that new sleds designed for deep powder riders will be announced as scheduled. But we'd expect new "flat land" sleds will be limited to updates of the existing models, with truly all-new designs appearing in very limited editions or being held back until next season.
As for the rest of us, who don't dabble in high end finance, but rely on snow for our favorite winter pursuit, we have to find other remedies to our no-snow blues. So, while we have two new sleds ready to go as soon as our favorite trails have enough snow cover, we've placed our vintage 1965 Ski-Doo on a lift and made it our sled of the moment. We certainly haven't given up on winter, simply adjusted our focus from ready-to-ride sleds to a "wrenchable" one that needs some tender care, along with a rebuilt Tillotson carburetor, seat repair, a check of the ancient bogie wheel suspension and such things. It's a project that will suffice until we ride our modern sleds.
If you are a vintage-oriented snowmobiler, such seasons where snow may be scarce is a good opportunity to explore the world of classic or vintage sleds. Our duties as a judge at the recent SNOWfest 3 vintage sled show provided a glimpse into how restoring these old sleds works for keeping you from total despair when winter starts out like this one. Focus on what you have available and be grateful for the opportunity to rekindle a spark that may have gotten you into the sport in the first place. When we walked up and down the lines of sleds on display, we were flooded with memories. When we happened on a particularly well preserved Yamaha Enticer 250 from the 1980s, we couldn't help but smile. The Enticer has always been one of our all-time favorite models.
Up to the Enticer there had been some sleds that really should never have seen the snow, but Yamaha changed that by creating a line of quick, quiet snowmobiles. Among them was this new wave of Yamaha models highlighted by the Enticer series that gave consumers a lightweight, low-priced, fun-to-ride machine that required minimal maintenance.
When the Enticer first appeared in the late 1970s, it came with a single cylinder engine and had a tough time drawing an audience. It went head-to-head with Ski-Doo's Elan, also a smallish sled with a single but at various points in its life cycle was outfitted with a choice of bogie or slide rail suspension, a 300cc twin and even a sport "SS" version. While the Yamaha Enticer arguably would be a better buy, the Elan topped the Enticer in the beginning.
But, when the Enticer "grew up" and came with a 340cc twin and extended tunnel length, this model gained a loyal audience. With the Enticer 250 left as the value or entry sled, Yamaha created these newer and bigger versions with larger 340cc displacement twins and more features. While they were fun and popular, the Enticer 340s had been designed to entice Ski-Doo, Arctic Cat and Polaris customers to the Yamaha brand of moderately priced trail models. Still, there was a specific Enticer that captured our interest, the Enticer 300.
This sled was slotted between the budget-priced 250 single and the bigger Enticer 340. As a snowmobile magazine test editor, we had the opportunity to test ride the ET 300 and quickly realized that its spunky 294cc twin, which powered the same chassis set up as the 250, gave the ET 300 performance similar to the Enticer 340.
COMPARISON: Read our review of the 1976 Massey-Ferguson Chinook 300
Back in the day, the Enticer 300 proved competitive in two stock cross country and snocross "sport" classes – the 300 and the larger 340 class. To help gain a perspective on racing that can only come from on-track competition, we ordered an Enticer 300. Built on the shorter and lighter 250 chassis, we found the ET 300's handling quick and its power-to-weight ratio gave us 340-like performance. Of course, with the Enticer 300 lacking the 340's larger displacement and extra horsepower, we had to rely on the ET 300's quicker handling and turning to hold off Enticer 340 riders in the 340 Classes.
Using the ET 300 allowed us to run the two classes with just the one sled. Plus, we figured that with the ET 300 weighing in under 350 pounds and with its 31.5-inch ski stance and short wheelbase from its 94-inch length, the sled would be very nimble on the short, tight snocross courses of the time. We figured we'd be even up in the 300 class but would have to ride a very good race to be competitive in the 340 class.
Discover a New Hobby with Vintage Snowmobiles
Seeing that vintage Enticer at SNOWfest brought back fond memories of races we had run in the same area as the SNOWfest event. Back then, racing was relatively simple, especially with the ET 300. We'd stud the track, bolt on a set of racing carbides to the skis and check that everything was within factory specification – or better. Since the sled came standard with a Mikuni butterfly carb, there was only so much fine-tuning you could do there. Gearing and clutching were areas that could make a big difference and tended to be closely guarded secrets by competitors. Of course, some managed to create undetected "magic" on the engine's internals, making the base 294cc twin's stock 26 horsepower a titch healthier on the racetrack.
Because the Enticer 300s were the choice of most top racers in the "300" class, competition was close and you quickly learned that the real trick to running in these lower displacement stock classes was being smooth in and out of the turns. While it looked dramatic and was great fun to do, cranking the sled sideways like a dirt tracker actually made you slower, not faster. Exiting a turn with nearly as much speed as you brought into it was the challenge of racing a properly setup ET300. Yamaha's little sled had great balance and reacted quickly to weight shifts.
Since you had a dearth of power at the throttle thumb, you wanted to limit your action on the Enticer's disc brake. We upgraded to "Kevlar" fiber belts for racing and we needed to sharpen, or change studs and carbides between heats as lake ice took a toll on traction.
Indeed, seeing that Enticer at SNOWfest brought back memories of my "racer" Enticer 300 from back in the day. Having my 1965 Ski-Doo on a lift in my barn to work on keeps me from being depressed about our current lack of snow. And, with two ready-to-ride sleds fueled and loaded on the trailer, I'm ready to roll as soon as the snow hits – and it will hit. Unlike a snowmobile manufacturer revising revenue forecasts and watching stock prices dip, my winter woes will end as soon as it snows and my sled's skis touch the trail.