KLIM Dresses You for Success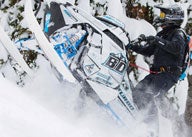 KLIM partners with top brands to bring you better gear
Measuring KLIM Technical Gear success as an aftermarket apparel manufacturer became obvious when Polaris announced its acquisition of the Idaho firm in December of 2012. Undeniable success had to be recognized when Polaris' 2012 Annual Report credited KLIM with contributing immediately and into the future with Parts, Garment and Accessories (PGA) growth of 19 percent for the year. In fact, Polaris PGA directly results in 14 percent of the Minnesota company's overall revenues; five percent more than the Polaris snowmobile division's 2012 contribution!
The move to acquire KLIM provides ample growth potential for both Polaris and its PGA division as KLIM represents market leadership in technical riding gear as well as innovation in its product design and manufacturing.
While Polaris offers deep pockets for KLIM to expand and invest in new technologies, the core strength of the apparel manufacturer has been its ability to partner with top brands in creating long-lasting and highly functional riding gear. Indeed, KLIM's ability to create such durable goods might appear to be a problem as once you own a KLIM snowmobile suit, you won't really need to buy another for many years. But it doesn't work that way as KLIM buyers frequently upgrade their riding gear along with their sled. Plus, there are frequent changes in styles and innovations in materials. New for 2014 gear will feature more clothing with reflective coatings for safer on-trail visibility. And KLIM will come to market with an innovative and unique Stealth jacket and bib that offers a "stretch" factor.
VIEW: Understanding KLIM snowmobile gear
Just as the Minnesota-based 3M Company and KLIM partnered on making snow wear more visible, so have the two firms worked together to create apparel with greater cold weather-beating insulations. This has long been a KLIM strength, working with the most renowned experts to create the lightest and warmest winter gear for its customers.
When looking to create technical snow gear, KLIM's designers settle in on features important to snowmobilers. In the early years, KLIM catered to mountain riders, but has now moved over to include flatland trail riders, who have quite different needs than their powder-riding brethren.
To that end, KLIM and 3M work together to fit insulation needs to each riding environment. Powder riders need flexible clothing that can be worn in lighter layers. Trail cruisers and trail breakers ride in much colder environs where they need gear to beat wind and keep them warm.
Here is where the 3M partnership comes into focus. KLIM recognizes the benefits of 3M's famed Thinsulate materials. In fact, in brand awareness surveys, 3M finds that 80 percent of people know of the Thinsulate brand and more than 75 percent of people surveyed were actually likely to purchase apparel because it featured Thinsulate.
VIEW: Standing out on the trail
Actually it may well be ironic that this ingredient in KLIM gear has such a following as KLIM executive John Summers notes: "If people go out and ride and don't notice the clothing, then we've done our job."
Obviously he wants people to know that they wear KLIM goods, but he's right in wanting people to enjoy their outing first and not having issues with being wet, cold or uncomfortable at all. That is KLIM's goal.
3M's goal is to help KLIM designers understand what its product does and how best to use it in new apparel. Of course, being consumers with only a vague appreciation of Thinsulate, we figured incorrectly that Thinsulate was a single product. Wrong! In reality KLIM has a new for 2014 garment with six different types of Thinsulate in it. There is the traditional type that keeps the torso warm without bulk. But there is also a silverized lining used to wick away body moisture and offending body odors. It is the complexity of designing gear that makes the Rigby, Idaho firm the global leader in designing, developing and manufacturing such "must have" apparel. While we tend to think of the KLIM brand for snowmobiling, the company fashions gear for both on- and off-road motorcyclists. We expect that this area will grow as Polaris is set to introduce the re-engineered Indian motorcycle brand to join its already growing Victory brand. Plus, KLIM products can be expected to appear more prominently in Polaris' ATV and UTV PGA offerings.
What has made KLIM a big hit with snowmobilers is the company's willingness and actual invitation for feedback – good and bad! Says Summers, "We listen to our customers to understand their needs." But KLIM also takes its products personally as most key KLIM executives and designers are end users themselves as a result of their own snowmobiling activities. In fact, many of the company's meetings are conducted on the trails and mountainsides of the terrain surrounding its Rigby headquarters. It is a passion within the company to create gear that satisfies themselves as well as their customers – a passion rooting in the people that helped create the company back in the 1990s.
VIEW: Mountain snowmobile gear review
Founded in 1993 as Teton Outfitters LLC by Justin Summers, the company's high-tech snowmobile-oriented outerwear had sales of less than $22,000 in 1998. But with sales in the millions today, the company enjoyed a 19 percent growth in worldwide sales for 2012.
With its plain but functional style, KLIM proved popular with demanding powder riders who wanted gear that stood up, kept them warm and dry and allowed them to maneuver unimpeded. With its reputation established in the West, KLIM moved eastward and currently enjoys growth potential due to its new line of gear aimed at trail riders.
For 2014 KLIM offers its newly created "Stealth" series including a new jacket that is said to be 25 percent lighter than the company's Valdez Parka and a bib that represents a 20 percent weight reduction from the Togowotee bib. The Stealth gear represents a move to "stretchable" riding gear as KLIM incorporates the industry's first use of Stretch Gore-Tex which works with a new SOFLEX stretchable zipper and nylon fabric with extra give for more comfort when boondocking. The new gear also reflects use of the highly visible 3M's Scothlite materials. There is also the snowmobile industry's first use of removable armor in the shoulder pads. The Stealth gear will be available later this year at dealers or go online at KLIM.com.
In addition to this new and unique gear system, KLIM will continue to develop dedicated styles for female snowmobilers, including its Allure model with unique features useful to women riders. You can expect that KLIM will continue to innovate with the help of its technical partners such as 3M, W.L. Gore and others.