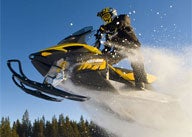 Things to do this summer to add "juice" to your Ski-Doo
When it comes to add-ons, it helps to ride one of the most popular snowmobiles. Since Ski-Doo became No. 1 in sales, the number of bolt-on accessory pieces and go-fast parts available from aftermarket shops has jumped. You can get virtually anything for your Ski-Doo REV and REV-XP platform. Whether you want additional storage, increased wind protection or increased power, you'll find it in a catalog or online.
If you plan on keeping your Ski-Doo another season or two, now is a great time to think and act on how you can get more from your Ski-Doo as you head into the next season.
We recently showcased some products for Yamaha owners, but since there are significantly more Ski-Doo riders, there are more Ski-Doo oriented products from which to choose. We also suggest that even if you are a flatland rider; don't forget to peek at the products available from the companies that cater to mountain riders. While you may not need a stretch track with high profile lugs, you may be interested in some products that make your Ski-Doo lighter or more powerful. Heck, because the powder riders suck in so much snow, the mountain aftermarket companies can be good resources for finding free breathing vent products that can keep a flatland sled from overheating on a warm spring day.
Here are a few products that you could easily add to your Ski-Doo over the course of the hot non-snow months. The following items are simply a few of the many products you could add to your list of fun garage projects.
Starting Line Products
Well known for performance parts and powder pieces, this Idaho aftermarket company offers a wide variety of bolt-on gear to enhance the performance of Arctic Cat and Polaris snowmobiles as well as Ski-Doo. Because SLP is based in powder country, you rightfully expect the company to be tuned into the needs and preferences of mountain riding enthusiasts. This performance company pays strict attention to not only squeezing out extra performance from a sled's engine, but doing it without adding weight.
You'll find that Starting Line Products' single pipe exhaust system for Ski-Doo's 800cc twins not only adds up to 10 horsepower in the midrange but also drops 13 pounds in overall weight.
SLP's new single pipe for Ski-Doo's 2008 to 2010 800 XP also adds 5-hp at the top end. You'll note that this latest pipe features a ceramic coating on the pipe, y-pipe, and silencer that provides a protective and durable finish. Requiring minimal maintenance, the ceramic coating is an aluminum matrix applied to the exhaust system to provide a thermal barrier that helps reduce underhood temperatures.
SLP offers the Ski-Doo 800 XP pipe for a suggested retail of US$650.00. You'll find easy-to-follow installation instructions and some important post-installation tuning tips to maximize the drivetrain's performance. While most do-it-yourselfers with a basic mechanical sense should be able to handle the installation, you'll get more out of this product if you are familiar with how to clutch and tune for the added power.
SLP also offers less demanding add-ons such as a pre-filter that allows more cold air to flow into the airbox or a choice of LED brake light kits.
The Flow-Rite pre-filter kit is designed to replace the speedometer and fit in its place, allowing more cold air to flow. The 4-inch filter is made of a material that repels snow and water while allowing cooling air to pass through. The kit retails for US$33.95.
SLP's lightweight LED Tail/Brake light kit adds high visibility when riding in powder or high snow dust conditions. The kit is designed to mount on any flat surface and comes with an easy to decipher wiring code that lets you connect the wires from the light bar to the appropriate wires on your snowmobile. The kit comes in two sizes and retails between US$25 and $40.
You can find more SLP products by writing: Starting Line Products, 743 Iona Rd., Idaho Falls, ID 83401 (Phone 208-529-0244) or checking out http://www.startinglineproducts.com/.
Wiseco Performance Products
"THE" name for aftermarket pistons is Wiseco, which offers forged snowmobile pistons specifically to meet the needs of performance-oriented snowmobilers. If you are serious about adding performance to your Ski-Doo's Rotax engine, you need to check the latest offerings from this Ohio-based piston maker.
With nearly 70 years of experience, Wiseco performance pistons have design features perfected from powering the top teams in snowmobile racing. The company offers overbore kits for Ski-Doo that incorporate state of the art CNC finishing, ArmorGlide skirt coating, and optimized shirt shapes.
Wiseco forges all of its own pistons in house, which allows the company to control all aspects of the manufacturing process from raw bar to skirt coating finished parts.
Wiseco's ArmorGlide skirt coating is the result of testing, development, and benchmarking through a rigorous in-house dyno program. The ArmorGlide skirt coating offers a high-tech lubricant to reduce friction and allow the piston to be fitted tighter within the bore for a better ring seal.
The company offers pistons specifically designed for Ski-Doo engines ranging from the Rotax 550 fan-cooled twin to the latest Summit 800 liquid-cooled motors. You vintage sled rebuilders should note that Wiseco also offers pistons to fit many vintage engines.
For more information about Wiseco, contact: Wiseco, 7201 Industrial Park Blvd, Mentor, OH 44060-5396 (Phone: 440-951-6600); or, http://www.wiseco.com/.
Bikeman Performance Products
Serious performance buffs usually add more than pipes, they look for the complete "gotcha"!  This Osceola, Wis. performance builder offers serious Ski-Doo power-mongers a billet head kit for 2008-2010 Rotax 800 twins that is designed to add up to five horsepower at top end and a 7 to 8 hp power boost in the midrange. The company says its kit increases the engine's cooling for improved throttle response.
Depending on the level of performance you want, you can specify low or high elevation domes. The kit comes standard with two domes, billet head cover and complete installation instructions.
Bikeman claims that this US$399.95 retail product offers "…a very noticeable increase in acceleration." This kit can be ordered and installed over the summer as you get your Ski-Doo ready to wail next winter.
For more information about the 2008-10 Rev 800XP Billet Head Kit and other performance offerings, contact: Bikeman Performance Products, 314 Hwy 35, Osceola, WI 54020(Phone: 715-294-4575); or, http://www.bikemanperformance.com/.
Related Reading Arctic Cat Bolt-Ons Add-On Pieces for Your Polaris Get Your Yamaha Ready This Summer