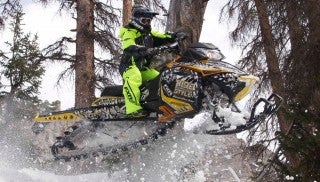 Proprietary materials help set FXR apart
Snowmobile clothing can be the determining factor whether a rider has an enjoyable time or not while in the backcountry. A rider can have the best snowmobile on the market, but if their clothes don't keep them warm or dry, then the snowmobile will stay at home.
One snowmobile clothing company that is gaining traction and momentum is FXR, especially in the West with development of its Mountain line of clothing.
FXR has been in the clothing business for 20 years, and has a solid foothold in the US, Canada, and in 19 other countries spanning three continents. With its clothing roots based on lessons learned from racing, FXR has applied this background in racing to its clothing.
FXR may be known for its bright and easily recognizable designs, but there is more to FXR than just colors. The technology involved in FXR's materials is some of the best, but it's how FXR uses these materials that sets it apart from other clothing companies.
Perhaps not as exciting as understanding the advantages of a turbo kit for your sled, it is important that consumers understand the materials used in the construction of the clothing they wish to purchase, rather than simply relying solely on brand recognition.  FXR is not your typical snowmobile clothing company in the sense that they have actually done their own research and development to create some of their own proprietary membranes and other materials; materials that FXR combines with other well-known materials on the market.
The Bottom Line
The biggest advantage that FXR has is the ability to keep the rider dry from the inside, by preventing moisture build up on the inside of the jacket lining. FXR clothing has the ability to keep a rider as dry as any leading name. Because it is cut for maximum movement and minimal restriction, FXR gear is more comfortable to wear is is available in a variety of styles to suit just about anybody.
History of Membranes
As many snowmobilers know, most waterproof jackets are made of two or more layers.  The first is a Durable Water Repellant, or DWR, that is bonded to a membrane that is the actual breathable membrane. Breathable membranes allow small moisture particles to escape from within the jacket, but keep the moisture from seeping in from the outside. There are a number of membranes on the market, the most recognizable being Gore-Tex. In the last 20 plus years, a number of quality breathable membrane brands have emerged.
FXR Technology
Helping FXR gain market share with deep powder riders has been the company's development of its own proprietary breathable membrane for mountain and crossover use, called HydrX Pro. HydrX Pro is a single layer moisture shield that absorbs moisture and moves it away from the body through diffusion, which is nothing more than the high moisture content inside the jacket passing through the membrane to the outside. FXR's premier outerwear features a dual layer system of HydrX Pro called Advanced Climate Management Technology, or ACMT.
FXR Mountain Vertical Attack Gear Review
Rather than use a membrane already on the market like a "tex" material, FXR developed its own membrane for multiple reasons; the use of "tex" membranes is restrictive in both materials and construction technique. "Tex" materials are often stiffer and make the garment more restrictive. HydrX Pro offers multiple performance benefits over other membranes, such as reduced condensation, increased breathability, and unrestricted mobility due to lighter and softer materials. Also, HydrX Pro has increased durability due to materials that do not snag and tear as easily as stiffer materials that are more brittle. Using its own proprietary technology allowed FXR to develop products with zero restriction on material, fit, colors, logos, or performance. FXR can also control and minimize costs much more effectively by using its own technology. Many consumers like FXR gear because, quite simply, it fits, keeps them dry and has a great value.
ACMT
The design philosophy behind ACMT is to create a system that is specifically designed to combat breathability and condensation issues for snowmobile-specific applications.  Many individual features that FXR uses, such as the outer shell, Hydrx Pro, vents, and the inner liner, come together to create ACMT. For most effective riding comfort, this moisture-wicking system should be combined with a moisture wicking base layer, such as FXR's Merino wool base layer.
Many consumers do not understand that frost can build up when warm moist air (sweat) comes into contact with a surface (jacket liner) that is below the dew point (temperature where vapor condenses into a liquid). In the case of the rider, if the shell of the jacket is below freezing, then vapor will condense once it touches the inner surface of the shell, leading to frost on the inside of the jacket before any of the vapor can pass through the membrane, successfully blocking any further air movement. This problem effects all membranes, including "tex" membranes. The inner layer of ACMT stays above the dew point, essentially performing like a dual lens goggle, preventing moisture buildup, thus preventing frost.
Breathable membranes function properly in warm summer weather, but in the winter, these breathable membranes have almost zero breathability, because moist air condenses before it can pass through the pores. The main factor in keeping frost from building inside the lining is to keep the jacket warm enough that moisture doesn't condense, allowing venting and air exchange to exhaust out the moist air and intake dry air. Due to the fact that membranes have low breathability in the winter, it is important for the clothing to have vents that can allow warm moist air to escape and allow dry air in without letting snow in.
FXR Renegade XC Technical Jacket Review
FXR uses a Dry Vent System with vents that allow for this air exchange without allowing snow to enter. These vents are essentially what consumers should be using to control the amount of sweat that builds inside a jacket. If the rider is riding aggressively, these vents should be opened all the way for air exchange. If the rider is on a leisurely ride not requiring a lot of effort, the vents should be adjusted accordingly for individual comfort. The vents are also designed to vent the air to the area between the inner layer and the shell, not directly onto the wearer's body. Most other brands use a vent system that directs the air directly to the snowmobiler's body. With the Dry Vent System, air can flow through the jacket without making the wearer uncomfortable.
Care
With proper care (hanging to dry vs. leaving in gear bag), a garment with HydrX Pro will dry quickly and leave no residue or odor, even after a hard day of riding. FXR claims the HydrX Pro inner laminate is expected to function, wicking moisture, for the lifespan of the garment.
FXR has a few tips that, if followed by consumers, can increase the longevity of the clothing. First of all, allow the clothing to dry properly and wash only when needed, especially when stained with chemicals of any sort. When the article must be cleaned, use a very mild wash, such as FXR's HydrX Sport Wash, that is designed to clean without additional chemicals that could cause premature damage to the DWR, fabric or laminate. At US$13.99 retail, no FXR purchase should be complete without this wash that will clean approximately 32 loads.
The DWR is a coating on the external shell material, which can be rubbed off by abrasion, and also by washing and/or repeated exposure to wet/dry cycles (normal snowmobiling). It is important to re-treat a garment regularly, after each wash and multiple times during the season. This is part of regular maintenance and care of a garment of any brand of outerwear and should not be neglected. FXR offers a line of water repellants in an aerosol can that can rejuvenate FXR gear. Treat the DWR with FXR HydrX Permanent Water Guard spray multiple times as needed to maintain the highest level of performance. At US$14.99 a can, this is an inexpensive way to ensure that a rider will get maximum performance from an FXR product.