Inside the FOX QS-3 Shock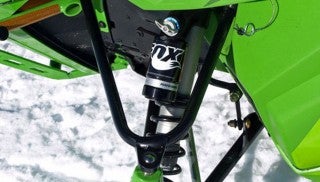 Simple, yes. Sophisticated, very much so!
In our article about what's new in snowmobile shocks for 2016, we introduced the Fox QS-3 and the concept of auto-dialing performance. While not a new concept, the idea of simplifying on-trail ride and handling adjustments with just a few clicks instead of 20 or more is very appealing. But, there is ego to consider.
For many seasons, snowmobile manufacturers, shock makers and the snowmobile media have made it seem almost unmanly to assume that any semblance of real performance can be accomplished with ordinary suspension shocks. As riders we've been educated to believe that high performance sleds had to have high performance shocks with needle valve orifices, a dozen clicker settings, tunable compression and such. Now we're being told that a simple three-way flip switch qualifies as high performance and suits our on-trail whims.
Don't know about you, but since snowmobiling is the last bastion of recreational freedom where we can buzz over groomed trails, slide through hard pack corners, blast off steep edged moguls or full throttle drag away from a stop sign, we aren't giving up our ego quite that easy. Three shock settings can do it all? Really!
COMPARISON: Read our review of the Shocking News for 2016
After recently spending parts of two days with key Fox snowmobile shocks experts, we're prepared to dial back our ego a bit. After all, despite the fact that we know the advantages of the Fox air shocks, we've never been big fans. It's not the fault of Fox. We're simply lazy and don't want to deal with the time, effort and complexity required to keep air shocks properly fine tuned. We prefer riding over tinkering. We know that trail conditions change and we are perfectly okay with making small incremental changes to our coil over shocks. Even though we usually have a sled with clicker-type shocks, we generally only mess with them if the nose dives in hard cornering or the ride is too stiff or too soft. It means we count clicks.
Counting clicks means that you have to know where you started. On the front shocks are both sides equal? And since we don't ride every day, we tend to forget where we last set the clickers. Meaning that we need to revert to the beginning and start over. Guess where we want to be, ride, stop readjust, ride some more and repeat until we're satisfied with the setting.
If we didn't have an ego, we'd recognize that the Fox Quick Switch 3 would be almost perfect for our riding style. We'd have a soft-ish setting for cruising, a middle setting for the majority of our riding and a firm setting for those rare, but occasional days when we think we're a snocrosser. Since Arctic Cat and Fox worked together to achieve the refinements on select 2016 Arctic Cat models, think of the settings in Cat terms: Position 1 – LXR-like with good ride for cruising; Position 2 – Sno Pro ride quality that steps up response for rough trails and bumps; Position 3 – Tucker Hibbert snocoss quality ride for big bump action.
When the Fox representatives explained and demonstrated the benefits of the QS-3, they allowed us to play with a shock "dyno" that let us feel the resistance of the various QS-3 shock settings. With the shock mounted on the articulating arm, we could move the hand lever up and down to simulate on-trail action. The current settings of the QS-3 are very different. Frankly, as it is now, we doubt that many riders would dial in position 3's firm setting for very long. Your ego might approve, but unless you are a snocrosser or serious big bump rider, your body won't care for it.
COMPARISON: Read our review of the Fox FLOAT 2 Shocks Review
That led us to question the Fox reps about recalibrating the shock. And, yes, it not only can be done, but you might want to consider it. However, not right away. You need to ride the QS-3 to determine what you like and what you'd like to change – and what percentage of change you'd want to make. That, after all, is the advantage of the ego shocks and their 20-something clicks of adjustability. But making a setting change and retaining three modes of shock performance could simplify your riding.
/P>
We have to give Fox a great deal of credit for bravery in establishing three general settings. The QS-3 is really pretty much all the shock that most snowmobilers will need. The position switch can be set even with gloves on. The change will be instantly noticeable regardless of what ride control setting you choose. Plus, the QS-3 is a premium Fox shock complete with the company's ice scraper technology that resists water and ice contaminating shock performance. Like other premium Fox shocks, the QS-3 incorporates high flow, velocity sensing damping; is rebuildable; and features a hard chrome shaft for extended product life.
What you might want to consider is that the simplicity of the QS-3 system can be added to other Fox shock products, but you will need to send your QS-3 shocks to Fox or a qualified authorized Fox servicing dealer for conversion. This means that you can convert a high performance shock to a more quickly adjustable one. It's not likely that many riders would do this, but you could.
What you might seriously consider, though, is sending your QS-3 shocks to Fox for recalibration. We would do that if we owned a sled with them. Based on our hands-on experience with the shock dyno, we would step up Position 1 by about 20 percent, leave Position 2 as is and definitely dial back Position 3 by 10 to 15 percent of its current setting. We are not Tucker Hibbert and our back knows that. If sending the QS-3 in for recalibration and if not already fitted with it, consider updating to a Kashima coating, which is standard issue on Fox's Float 3. Its distinctive gold color belies its high performance properties that give it a smooth feel for less friction, plus superior durability and hardness.
COMPARISON: Read our review of the Inside the Fox FLOAT AirShox
You will find some variation of the Fox QS-3 in virtually every snowmobile maker's product line for 2016. Arctic Cat will have it on select ZR models, which means that you can upgrade some 2014 through 2016 models to the new shock. Check with your dealer for pricing, but expect the Fox Float 3 Evol QS3-R to retail for just under US$1400. As you'd expect, select Cat-built 2016 Yamaha Vipers like the RTX SE and LTX LE come stock with QS-3 shocks. And for 2016, Polaris swaps out the Walker Evans piggyback shocks offered on its 2015 Switchback Adventure for QS-3 front shocks on this season's models.
Setting our hardcore rider ego aside, we look at the Fox QS-3 as a very good alternative to memorizing the settings for air ride and clickers. In actuality the QS-3 lever system can be added to top line EVOL shocks if you want, which will give you enhanced bragging rights among your hard charging riding buddies. After all, the QS-3 is a top of the line Fox shock with all the good stuff. Plus, while waiting for your buddies to dial in clicks, you'll make a simple and quick switch to one of three positions. Your ego remains intact and your ride will be instantly and noticeably enhanced.
For more information about Fox snowmobile shocks and product services, visit the Fox website at http://www.ridefox.com/.