Inside Yamaha's Throttle by Wire YCCT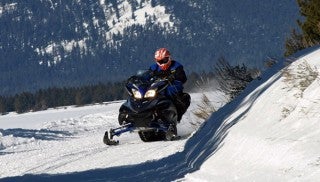 Yamaha snowmobiles get this motorcycle technology for 2016
Throttle by wire, intelligent throttle control, computer chip controlled throttle, whatever you call it, accept that computers work quicker and more precisely than you to move fuel and air in the right ratios to advance your ride for performance or economy. Today's snowmobile throttle efforts follow in the thumbprint of automobiles, aircraft, watercraft, all-terrain vehicles and motorcycles. To maximize your sled's engine, modern technologies demand modern solutions. Computerization is here. Accept it.
Fundamentally an intelligent electronic throttle control system harnesses computer power to decipher throttle valve openings without using a cable running between the throttle lever to open and close the throttle valve. Modern systems such as Ski-Doo's Intelligent Throttle Control first appeared with its Advanced Combustion Efficiency four-strokes and is now standard fare on the updated 1200 4-TEC triple. While new to sleds, ITC appeared in 2011 on BRP's line of Sea-Doo Challenger sport boats. As with sleds, the computer controlled throttle system allowed multi-mode performance, which could be set for economy cruising, docking and a ski mode. Until this year, Ski-Doo has been the only sled maker to make intelligent throttle control standard on select models. For model year 2016, Yamaha joins the party.
Of course, Yamaha Chip Controlled Throttle (YCCT) isn't really new. Yes, new to sleds. No, not new to other Yamaha products, most notably Yamaha's 2012 YZF-R6 high performance motorcycle. As you might figure, this technology came from a need to maximize performance for modern racing motorcycles.
COMPARISON: Read our review of the 2016 Yamaha Vector TF LE
Currently YCCT is offered on the re-calibrated 1049cc mid-performance Genesis three-cylinder four-stroke used to power Vectors and Ventures. The needs of the Vector are quite tame if you consider that the R6 added YCCT to control a 599cc, DOHC, 16-valve, liquid-cooled, inline 4-cylinder engine that delivered 120-plus horsepower at 14,500 rpm, but enjoyed a 16,000 rpm redline. YCCT was used in conjunction with Yamaha's Position Throttle sensor (TPS).
Race-inspired? Absolutely! YCCT for snowmobiles evolved from winning technology used on Yamaha's YZR-M1 MotoGP race bike. Yamaha engineers felt that the wide operating range of the R6 short stroke engine was well suited to YCCT. The system optimizes the demands of engine speed, intake air flow and drive torque curve, resulting in a smoothly controlled power delivery.
Computing power for the original usage required boosting the CPU to five times the capacity of the previous model's unit. Calculations in the system happen in 1/1,000th of a second. All of these calculations and the precision brain power result in smooth and responsive action.
With this kind of computing power, the system requires sensors that feed data such as  air temperature, intake air pressure, atmospheric pressure, crank position, engine temperature, engine speed, throttle position and oxygen to the ECU. This near instantaneous monitoring allows precise opening of the throttle valves to meet your requirements, but also does it while ensuring an optimum fuel/air mix for both high performance and maximum efficiency. Maximum performance and precision economy?
When Yamaha first deployed YCCT, the system was programmed to motorcycle racing needs. For snowmobiles using the mid-performance version of the 1049cc engine, the needs are different. High performance is important, sort of. More important than top speed is smooth power delivery for drive-off and enhanced midrange performance, signatures of Yamaha's Vector and Venture models.  So while the original YCCT programming required the efforts of an independent Yamaha project team to establish high performance parameters for those riders, the snowmobiler's needs may seem a bit more tame by comparison. Still, Yamaha created YCCT motorcycle programming with the understanding that the vehicle needs to retain its fun-to-ride quotient.
COMPARISON: Read our review of the 2015 Ski-Doo Renegade Sport 600 ACE + Video
To understand the engineering objective, simply replace the word "motorcycle" with "snowmobile" in this quote from a Yamaha engineer who was involved with the original YCCT project: "A motorcycle (snowmobile) has to be fun to ride. As one of the means to create that kind of enjoyable ride, Yamaha utilizes electronic control technologies. A motorcycle (snowmobile)  cannot exist without putting faith in the riding capabilities of the rider. We have developed our electronic control systems with the aim of increasing the joy of operation while trusting in the sensibilities of the rider, including sense of balance, delicate nuances of touch, time lag and hearing—all the five senses of the rider."
If you look at what YCCT does for the 1049cc engine, you understand how Yamaha engineering put this concept into place tor Yamaha snowmobilers. Three modes provide a Sport mode for maximum performance, a Tour or Trail mode to give you the smoothest and most linear on-trail experience for two-up or solo cruising, and a full-on Economy mode designed to hold down top speed and moderate acceleration in favor of maximizing fuel efficiency.
Yamaha's system differs from Ski-Doo's ITC in that the modes can be changed only when the sled is stopped. With the Ski-Doo you simply push a dash-mounted rocker switch to move from mode-to-mode. The Yamaha YCCT requires more thought and scrolling through a gauge-mounted screen to achieve a change. And, of course, the Eco setting is permanent on the Best Available Technology (BAT) version of the 2016 Venture TF, which was created primarily to satisfy the demands of Yellowstone Park officials.
Both computer chip controlled throttle systems essentially result in similar riding experiences. The 2016 Yamaha Vector with YCCT will provide similar performance to a 2016 Ski-Doo fitted with the 1200 4-TEC ITC powertrain. The usage will be easier with the Ski-Doo as you can change modes on the fly, but throttle response on either system will be light and responsive. Which is better? Which brand do you prefer – Yamaha or Ski-Doo? There is a plus to the Ski-Doo in that it also offers a programmable learning key that allows you some peace of mind when letting a less experienced rider try out your sled.
COMPARISON: Read our review of the Inside the FOX QS-3 Shock
Although new to snowmobiling, throttle by wire is an established and proven technology on modern automobiles and many sport vehicles like motorcycles, performance watercraft and off-road Side-by-Sides. Now for 2016 Yamaha brings an updated version of its decade-old motorcycle technology to select Vector and Venture snowmobiles. If you want a hint as to what may come to Yamaha sleds in another 10 years, check out Yamaha's 2015 YZF-R1M and its high tech electronics, including a unique Ohlins Electronic Racing Suspension. But more on that in 10 years when we dish on the 2026 Yamaha sleds!