Make Your Own Performance Cruiser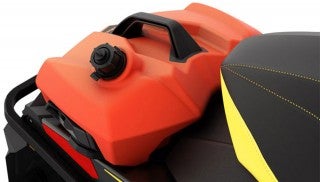 Customize your sport sled into a go-anywhere performance cruiser
Hang on you 35 and younger snowmobilers, the Maine-based Farmer's Almanac predicts another "real" winter with penetrating cold and lots of snow. Keep in mind that Almanac prognosticators got it very right last winter.
Their prediction for another serious winter will be good for snowmobilers, especially the ones who ordered a new sled. You'll be able to rack up extensive miles, making that sled purchase look like a good deal come next April. Where last winter may have been the first serious winter anyone younger than 35 ever experienced, now you'll be an experienced winter survivor with knowledge of what those older than 35 already knew. So, enjoy the knowledge you've gathered and put it to good use on the trails.
Putting that knowledge to use may start with prepping your sled for a long, chilly, snowy season. Now is the time to start thinking about things that you wished you had done to your sled last season but didn't. Hey, was that low profile racy windscreen on your sled really worth it or did you wish you'd gotten a more substantial windbreaker? Your sled had some storage in the seat compartment, but maybe it's time to add custom accessories to accommodate a map, a hat, extra gloves, a cell phone or even a day's worth of take-along snacks.
You don't want to give up any of the performance feel and look of your sled, but maybe you'd like to make it a bit more versatile and rider-friendly, especially when that rider you want being friendly is you!
We hated the thought of changing up our Ski-Doo racer wannabe by replacing its cool looking flyspeck of a windshield and bold yellow hand guards in favor of something that actually diverted wind and provided more on-trail warmth. But, we did it. Occasionally we're sorry, but rarely when riding into a 20-below zero gale or scurrying off trail through low hanging branches.
We also discovered that even on short rides, we liked the convenience of storage for some real tools, extra spark plus, another drive belt, a quart of oil, spare mitts and trail mix. For longer rides, we needed more places to stow gear that just didn't come standard with our sport-tuned wannabe racer. We gave up some of the "sport" look in favor of being comfortable for the long haul. We most assuredly did not give any of the sled's handling or performance. Quite the reverse since as we became more comfortable with the sled, we enjoyed it more, rode harder and longer.
To customize your sled for enjoying the long haul of the predicted next real winter, here are some add-on suggestions to consider.
Wind Deflecting
The obvious place to start looking for component upgrades for your newer sled will be the sled's manufacturer. Once snowmobile companies realized how profitable parts and accessories could be they zeroed in you as their customer. Why not? You already own their brand and they can make accessories that not only fit but blend into your sled's styling. Plus, did we say that the snowmobile manufacturers offer brand-specific accessories because of the profitability? In Polaris' case, Parts, Garments & Accessories (PGA) account for 16 percent of the company's nearly US$4 billion in total annual sales. Arctic Cat also reported PGA being 16 percent of last year's total sales. PGA is a big deal.
Fortunately, the original equipment manufacturers are not the only game in town. When it comes to add-on windshields, there are non-OEMs that offer excellent alternatives. When we switched out our flyspeck sport windscreen, we went to a taller and wider Cobra brand windshield that fit our Ski-Doo perfectly.
Manufactured by Powermadd and available through the company's online store as well as a variety of distributors and dealerships, there is a 17-inch tall windshield designed to fit Ski-Doo's modern REV-XP models. The Cobra replacement, which is clear with a black fade, is more permanently affixed to your sled as you utilize pre-existing holes in the dash to mount the product. The windshield retails for US$105.
Another option, of course, is to purchase a bigger windshield from Ski-Doo's own online store. You'll find quite a variety of Ski-Doo-specific options, but one that caught our attention was a medium height version with dark smoke side deflectors and darkened base. This gives your sled quite the "stealth" look, retaining the sled's image as a superior trail sport performance model. We just wish that Ski-Doo had its online store available when we upgraded to our somewhat sedate, but very functional style. The suggested retail for the windshield kit starts at US$135.
Yamaha Snowmobile Gear and Accessories
One thing that we really like is how Arctic Cat's online store provides a very useful graphic for how its accessory windshields look on its models. The graphic lets you judge exactly how tall and wide a replacement would fit. Tall windshields will cost from about US$120 to close to US$140.
Polaris has been very active with its accessory products, offering model-specific windshields for its latest 2015 AXYS platform sleds. You'll find a wide assortment of low, mid height and tall versions engineered to mount quickly and easily to the sled's existing mounting hardware. You can count on Polaris' quality as it borrows knowledge from its Indian and Victory motorcycle product lines to instill top grade component manufacturing in the sled windscreens that it sells.  The new AXYS add-on products provide optical-grade polycarbonate and construction that is actually 20 percent thicker than the stock windshield. The 18.5-inch mid-height AXYS windshield retails for just US$100. Polaris' accessories shopping can be accessed online via its snowmobile site.
For older snowmobiles, you're more apt to find that aftermarket suppliers like Kimpex, Powermadd and others will have the best windshield selections. The sled manufacturers aren't going to carry as much product for decade-old sleds. Plus, you can check in at sites such as Dennis Kirk and others for parts to fit discontinued brands.
Stowage Options
As you travel the trails and hit various pit stops along the route, check out what the "other guy" has done for onboard storage. We're constantly amazed at just how ingenious snowmobilers are when it comes to packing the most useful gear in a minimum of space.  Car makers tend to be so proud of themselves when they add a couple new cup holders, but that's nothing compared to the useful stowage concepts a snowmobiler invents.
We've been out on the trail and seen riders with high performance sleds that you wouldn't think could hold a cell phone. But, these riders had it figured out. Inside the windshield they'd mount a special wraparound bag. They even added a bag on the riser bar. Low slung saddlebags and an integrated tunnel bag will be filled with loads of extra gear. Even with their sleds loaded up, there is little to no impact on the sled's on trail go-fast performance.
Serious high mileage tour riders can really teach you a thing or two about what to take along and how to take it. Gross as it may be, they taught us years ago to hold on to worn-out undergarments so that they could be left behind in the garbage on a weeklong ride. It frees up space for trail souvenirs.
But, tips aside, when you look to enjoy a weekend and need to pack gear like sparkplugs, tools and modern electronic gear, you'll want compact storage options. As mentioned, a windshield bag can be handy for things that need to be accessible like a wallet or cell phone. The handlebar and riser bag options can do dual purpose as a hat and map holder.
Through a variety of outlets, including Dennis Kirk and others, Snobunje sells a very nifty handlebar bag that retails for about US$60. It accommodates upwards of 270 cubic inches of gear, attaches quickly and easily to your sled's handlebar area, has a map pocket and holders for a water bottle and cell phone.
Powermadd offers a bag that utilizes the area around a tall riser bar that you might install for deep mogul pounding. Not only do you gain storage but it also cleans up the "look" of the sled and provides a cushioning pad on the bar. This item retails for about US$50.
Choices in Aftermarket Snowmobile Skis
Once again we go back to the sled manufacturers who have developed proprietary ways to secure their OEM accessories to their various models. Ski-Doo's LinQ system not only provides a hook up for bags, but also a unique "fuel caddy" that allows you to carry a couple gallons of spare fuel. Pricing for the fuel caddy varies depending on what sled you have, but figure paying about US$125.
Polaris developed a complete line of Pro-Fit gear to quickly attach to its new 2015 AXYS Rush and Switchback models. The Indy series features "Lock & Ride" accessories that slip into the T-slots designed into the tunnel. Polaris owners will find a catalog's worth of gear to suit their needs.
Arctic Cat offers "Sport" handlebar muffs for about US$50 that quickly attach (and detach) with Velcro. This would be something to keep packed away for those upcoming minus-20 degree riding days.
Regardless of whether the Farmer's Almanac is right or wrong about the approaching winter of 2014-2015, you can easily prep your sled – and yourself – with just a little planning. These add-ons will provide improved comfort for you with virtually no loss of on-trail sled performance. Don't be surprised to find that since you are more comfortable, you'll enjoy the ride more and end up putting away more miles per trip!