Add-Ons for Your Arctic Cat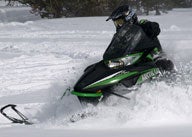 Customize your ride with upgrades designed to fit your new Arctic Cat
As the holidays approach it's time to make certain that your significant other knows exactly what you'd like for the riding season and for your significant sled. As snowmobilers, we know that now is a great time to get the new toy set up just right and that may include getting it ready with some new add-ons. We've listed a selection of gear for your sled's mechanical performance, its style, your style and its comfort. This is simply a starting point, as we know that any snowmobiler can always come up with an endless list of gear.
Here's a selection for Arctic Cat riders to help them get a serious start on their holiday list. Happy Holiday shopping!
Custom Seating
Arctic Cat used BOSS Seats a few years on some powder sleds before settling in on their own design. So if you add a BOSS Seat to your ProClimb or ProCross 2012-2013 model year Arctic Cat, you're simply following a trend initiated by the factory itself. Plus, the latest designs are an inch shorter and up to 10 pounds lighter than the stock seat.
If you like to Buy American, know that BOSS Seats are now 100 percent Made in the USA of top materials and quality by experienced craftsmen. Ride comfort comes from a premium advanced seat foam formula that has made BOSS comfort a given. Plus, BOSS designs include an innovative Vent System featuring a special closed cell foam claimed to be virtually 100 percent resistant to retaining water, which can easily add pounds.
With a suggested beginning retail of US$550, BOSS seats offer key features that include: quality black finish with BOSS logo; innovative foam formula that retains shape, adds comfort, and reduces moisture retention; and storage compartments with YKK water-resistant zippers. Each seat comes with easy step-by-step installation instructions.
You can purchase custom-styled BOSS seats directly from the Utah-based company that can be specified with 10 different color options and three different foam densities to suit your weight or riding preference. Or, you can purchase high quality standard black seats from "official" BOSS dealers such as First Place Parts in Aberdeen, SD, Specialty Sleds of Edmonton, Alta. or Snow Big Deal, Pleasant Mt., Utah.
Custom Graphics
One of the sport's fastest growing add-on niche products are graphic wraps. And one of the most creative graphics suppliers is Michigan-based ArcticFX, which has been supplying sled design packages since 2004. If you want a bold new look for your ProCross or ProClimb Arctic Cat, ArcticFX has an incredible array of options ranging from a "Texas Holdem" skull design to a pink and black "Sled Diva" graphic or a patriotic "Oh Canada" package in red and white. Pricing ranges from US$299 for the "Oh Canada" graphic to additional costs for custom designs. As an added customer service, the company offers one-year of replacement (at cost) if you should have an accident and damage your graphic package.
To discover what choices you have, visit http://www.arcticfxgraphics.com/ to see a list of stock packages. If that doesn't do it for you, contact the company and discuss what you're thinking. As the company says, "If they make it, we have it or we can get it within days." That simply means that ArcticFX Graphics can pretty much do whatever you can dream up.
Wear Your Style
This "official" Team Arctic Jacket leaves no doubt where your snowmobile sympathies lie. This jacket is all Arctic Cat in true racing Arctic Cat lime green. Nothing subtle here! Bright bold color simply shouts "Arctic Cat!" But, this garment is more than color; it brings more than 50 years of snowmobile knowledge into keeping you warm and dry. There are 100 grams of 3M Thinsulate for warmth. The fabric is coated with waterproof, breathable material that combines with fully taped seams to protect against wind and cold. While its lime green color stands out in a crowd during the day, 3M Scotchlite Reflective materials add safety for night riding.
As with most modern snowmobile and outerwear, the Team Arctic Jacket includes an MP3 player pocket that can also hold a Samsung Galaxy or Windows phone.
This "official" Team Arctic jacket retails for US$259.95. To see this and other Arctic Cat apparel and accessories, visit the Arctic Cat online store at store.articcat.com.
Adjustable Helix
Shockwave Performance has updated its line of innovative adjustable ramp helixes to fit the latest ProClimb and ProCross model Arctic Cats. The Minnesota-based company created an adjustable ramp helix design that permits quick and relatively simple adjustments that help you keep your sled at peak performance. The company's new design fits the 2012 and newer Arctic Cat models.
Shockwave's idea has been to help riders keep their sleds running strong as they meet the demands of changing snow, weather and altitude. The Adjustable-Ramp Helix allows you to make changes in the ramp angle to keep your power delivery in its sweet spot. The Adjustable-Ramp Helix designed for the 2012 Arctic Cats provides 16 degrees of change in ramp angles – from 38 degrees to 54 degrees.
This one design effectively replaces multiple fixed-ramp helixes and can be installed with a socket wrench. No clutch modifications are necessary since the Adjustable-Ramp Helix uses the same spring-mounting holes as the helix being replaced.
Making an adjustment on Adjustable-Ramp Helix can be done by turning the dial with an Allen wrench, which fits into an adjuster ring. Each full rotation of the adjuster ring is approximately four degrees. Thus, each 1/4 rotation is approximately one degree. Turn the adjuster ring clockwise to raise RPM; turn the adjuster ring counter clockwise to lower RPM. No disassembly is required, as both the clutch and the Adjustable-Ramp Helix remain assembled in your snowmobile.
The suggested retail for the new Arctic Cat Adjustable-Ramp Helix is US$249.00.
Related Reading Arctic Cat Bolt-Ons Power Up Your Arctic Cat This Summer Specialty Springs for Arctic Cat M-Series Boondocker Provides a Boost for Ski-Doo and Arctic Cat