Klim Snowmobile Gear Review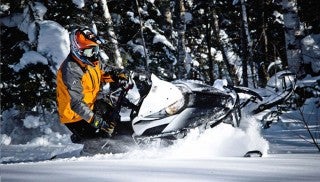 Klim earns its reputation everyday you stay warm in the steep and deep
For about 20 years Klim has been our go to, trustworthy, I-bet-my-life-on-it outerwear product company. Even before we began supplying opinions and test reviews for Snowmobile.com, Test Rider Kevin Allred and I relied on Klim for our mountain riding jaunts. We've tried a number of other high-grade to mid-level brand equipment, but found few that match the capabilities a Klim coat/parka bib/pant delivers.
As snowmobilers make their coat/parka, pant/bib, helmet, boot and glove purchases for the 2015-16 riding season, we share our thoughts after season-long use of Klim's new Adrenaline GTX Boa boot, Valdez parka, Togwotee bib, Fusion glove, and Pro Snow Radius goggle.
Every year, Klim gives us a call and invites us to its headquarters to learn about its latest products and technology we snowmobilers want to know about. Every year we are awestruck at how the company harnesses such wild garment/outerwear tech. It is as exciting as motor and suspension tech.
New Snowmobile Gear from KLIM in 2015
Klim's Valdez parka and Togwotee bib are both built with industry-exclusive Gore-Tex Pro Shell technology, which Klim declares is "the most durable, most breathable and best 'Guaranteed To Keep You Dry' technology on the snow." We were introduced to this new Klim tech last November and wrote about in a December feature, which led us to receive many products mentioned in this article.
The Valdez parka has a newly designed ventilation system and uses 420D CORDURA upper arm overlays with a tough nylon construction. Its vents on the backside are backpack compatible where the vertical vents remain exposed regardless of backpack size; its ventilation capabilities come from eight ports. It has easy to reach pit, wrist, bicep and chest vents, where the vent zippers are glove-friendly. The Valdez parka has an interior storm or powder flap and helmet-friendly adjustable collar.
The Togwotee bib has 420D nylon overlays in the knees, inner boot and cuff areas. From years of testing and tapping into its sponsored athletes' testimonials, intelligent comfort-mapping and ventilation systems were integrated into the bib. In short, the bib has full-length waterproof YKK zippers on legging sides, three external pockets, two mesh-covered thigh vents, removable and anatomically shaped knee and shin pads, and double stitching in key areas.
The Fusion glove is Klim's most fully insulated glove designed for maximum comfort. It uses Gore-Tex Gloves + Gore 2-in-1 technology for waterproof, moisture wicking and windproof tech. The gloves have 200 grams of 3M Thinsulate Insulation on the top of hand and 60 grams in an internal divider on top and below the hand. It is a gauntlet glove that has an easy cinch and release system.
Understanding KLIM Snowmobile Gear
The Adrenaline GTX Boa boot, probably our new favorite Klim product, shines with its two separate cable BOA system. Klim resisted moving to a BOA system until it could assure the public its BOA system was tough, adjustable at two points, top and bottom, and could withstand the rigors of frozen backcountry riding.
The Radius Pro Snow goggle is Klim's latest goggle and incorporates military-spec anti-fogging technology. Its vents and vent material allows air to move around the goggle, and allows moisture to move off the face. Additionally, the goggle is designed to keep moisture from moving onto the face. The goggle is Klim's best to date.
We can't get enough of Klim's products. The Valdez parka and Togwotee bib were outstanding. It was hard for us to move to a full length bib, as we were concerned about overheating, but the bib kept us comfortable, cool and dry, thanks in part to Gore-Tex, its well-placed and designed vents and paneling. The Valdez parka, in our favorite color, orange, proved rugged and we applaud Klim's backside vertical vent system, which allowed moisture to exhaust away even if a rider wore a backpack. We wished the parka had thumb holes for the sleeves.
The bib's latch system to the boot was easy to secure to. The pant cuff, at the gaiter, has an additional latch that keeps the outer pant shell from climbing up above the gaiter. If you have these pants/bibs, take a moment to study its pant cuff latch system. With two separate and functional latches, snow should never, ever, wander up the pant leg.
Klim's BOA-system boot was worth the wait. We have several Klim boots, Radium GTX, which we still wear, Adrenaline GTX boot, which we still wear, and the new BOA Adrenaline GTX boot. Decisions, decisions, decisions…. The Radium boot is the hardest to slip on, but it is metal tough and once on, comfortable. The lace up Adrenaline GTX boot is warm, comfortable and built with a strong sole. Now the BOA-equipped Adrenaline GTX boot is all Adrenaline GTX boot, but with the capability for riders to dial-in a stiff- or loose-level for either the boot's upper half or lower half. In short, a custom fit – loose or snug – is your choice, which is hard to accomplish with a lace system. The boot, with a Klim over-the-calf sock, delivers warmth, water-wicking, and superb stability. We highly recommend this boot with its combined 600 grams of 3M Thinsulate and Gore-Tex insulation, and Gore-Tex inner membrane.
MotorFist Snowmobile Gear Review
The Fusion glove with its tough goat hide material, tanned to resist water and allow moisture to wick out through a Gore-Tex membrane, is a durable good product. The 2-in-1 technology allows riders to wear the glove with a fleece, water-wicking liner or without. With handlebar and thumb warmers being dependable, we rarely use the inner liner, except on sub-zero days, or when motoring from the trailhead to the backcountry on cold mornings. The gloves' paneling is designed to prevent finger and palm fatigue, which we agree it does, and with an over-the-cuff gauntlet, it is easy to don and doff, cinch and loosen.
The Radius Pro Snow goggle is the goggle Klim has always wanted. Its first generation goggle, from over four years ago, had some tech problems from a subcontractor who fell asleep at the wheel, allowing quality to slip. We had this first generation goggle and it was a fog magnet. Klim has since recovered and has brought to market a goggle that is intelligent. With its anti-fog treatment, which was first developed by NASA during project Gemini, the goggle works hard to resist icing over. It has air chamber volume-boosting dimensions, meaning Klim's Radius Pro Snow goggle is designed to have more air volume between the eyes and the lens' interior surface. Additionally, the goggle has a Klim-exclusive dual-pane lens with an advanced polycarbonate (PC) outer lens for scratch resistance. The goggle itself has a deep technical description on Klim's homepage, which we encourage all to go to and read.
What we learned from a season's use is the Valdez parka is tough, warm, cool and comfortable. It is somewhat stiff, but that is expected when riders want a parka that is impact resistant. We'll wear it. Its shoulders have a slip-resistant surface that prevents a backpack's shoulder straps from sliding down. And its many vents, including the vertical back vents, make this jacket A-1 in exhausting body heat and sweat. As mentioned above, we do with it had a thumb hole inner liner at the cuff; we like the security a thumbhole lockdown system provides.
The full-length Togwotee bib was hard to move to, as we've always worn a pant, secured only at the waist, or a half-bib, where the bib only secured near the belly button area. But, as we wore the full-frontal Togwotee bib, we thought, "Hey, this is great." It was not a bib that overheated the body, but did keep us cool due to its smart Gore-Tex membrane. The bib with its vents, as well as the Valdez parka's vents, provided the evacuation routes for heat and moisture.
The Radius Pro Snow goggle, Fusion glove and Adrenaline GTX BOA boot are three of Klim's best products; all other products written herein exceed expectations. Much attention is given to coats and bibs, and in our opinion, goggles, boots and gloves deserve as much attention. If our toes and fingers are cold and our goggles restrict vision, then a good day turns into a bad day.
We forgot to mention, Klim's F4 helmet and F4 ECE helmet, which we tested two years ago, are sweet helmets, which work in tandem with Klim's Radius goggles. We encourage using both when in the backcountry; your head and eyes will appreciate the pairing.
Klim continues to march forward, gaining sales and customers. With its sponsored athletes, dedicated in-house snowmobilers, reliance on Gore-Tex, Cordura, Thinsulate, and NASA-built tech, Klim continues to deliver products that keep us safe, warm, cool and dry.