Five Snowmobile Events to Check out This Winter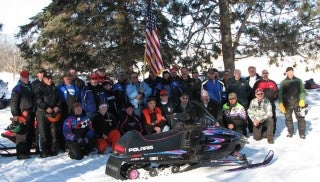 Pack up your truck and check out these events
As folks who live in northern climes, we're all a bit different from most people living below the Snow Belt. We're really different if we actually go outside between December and March. And, how crazy are we if we fire up snowmobiles and play in the cold and snow? Pretty crazy, huh?
Even we, the chosen frozen, can get stuck in a rut of the same old. We have our favorite snowmobile places to go, our favorite trails, pit stops and, even when we venture out a bit, we do so with an attempt to maintain a level of familiarity. It's our comfort zone.
Still, it can be exciting to seek out a challenge that may reduce our comfort level as we try new places to ride and new adventures to share. Breaking out of our comfort zone can lead to wonderful experiences and stories that we can relate time and time again.
As a young snowmobiler in New Hampshire, I usually rode the back woods near my hometown, but then March rolled in and my local snow vanished. That's when I found a retired fellow to ride with who suggested we try some northern snows on the backside of the White Mountains. There was a highway up there that was closed in the winter, but ran for miles and offered some hillsides to run up and over. It was perfect. Outside of our comfort zone and miles away from the trails we knew, we ended up having a remarkable day. The sun was warm; too warm as we could hear the running water eating away the snow pack in the snow covered ditches. But, this had been a very snowy winter and the snow was deep. So deep that once when we stopped on a flat spot alongside the roadway, it took a moment to realize that we were actually perched on a picnic table! We had a good laugh at that.
By ending our riding season outside our comfort zone, we returned home with memories to get us through until the next winter arrived.
Snowmobile Events To Put On Your Bucket List
We suggest that you could break the daily snow grind by looking for some new adventures. We've listed a few not so typical adventures to consider for the upcoming snow season. After all, the Farmer's Almanac (https://www.snowmobile.com/blog/2014/08/the-farmers-almanac-predicts-a-cold-winter.html) is suggesting that the winter of 2014-2015 will again be long, snowy and cold. So chill out and check out these potential getaways.
Frostbite Days Monticello, Minn. January 5-11, 2015
The town of Monticello, Minn., kicks off January with its annual Monticello Frostbite Days, scheduled for January 5-11, 2015. Held on a 38-acre plot in Wright County, you'll find plenty to enjoy at this "community" event. Activities include a fishing contest; snow bowling, a medallion hunt and Vintage Snowmobile Show & Swap meet.
The Monticello Chamber partnered with The Monticello Lion's Club and the Monticello Trailblazers snowmobile club to create and promote this community event.
There will be various vintage snowmobile events, including radar runs as well as demo rides of sleds and ATVs. For more information, check out: http://www.frostbitedays.com/.
Veterans Appreciation Ride Silver Bay, Minn. January 10, 2015
This 7th Annual Veterans Appreciation Snowmobile Ride is a unique event devoted to thanking America's veterans. It is sponsored and conducted by Minnesota United Snowmobilers Association (MNUSA) and Minnesota Snowmobile Education and Advancement Fund and will be held Saturday, January 10, 2015 in Silver Bay, Minn.
MNUSA sponsors note. "The ride is provided as a token of appreciation to the veterans who have given part of their lives to serve all of us."
The First Annual Wahkon SNOW Film Festival
Breakfast, lunch, dinner and one night's lodging will be provided to the attendees and 20 snowmobiles will be available to those that want to try snowmobiling. Others are invited to come along and bring their own snowmobile. This year's event will showcase some of the most famous and highly regarded trails in Minnesota.
All veterans and active duty military personnel are welcome to attend. For more information, visit: http://mnsnowmobiler.org/index.php?pageid=576.
Snodeo 2015 Rangeley Lakes, Maine January 22-24, 2015
Here's an opportunity to have some fun with fellow snowmobilers while you become acquainted the 150 miles or so of groomed trails in the Rangeley Lakes area. You'll find many cookout areas set up alongside the trails, readily identified by the area's trail map. These trails are groomed daily as the snow season progresses and offer both mountain and lake riding opportunities, including a 65-mile lake loop.
The Snodeo kicks off with a Casino Night on Thursday the 24th. Snodeo headquarters, located at the Rangeley Inn, hosts a welcome party and auction night on Friday, with radar runs, a poker run and snowmobile parade scheduled for Saturday the 24th.
The host club, The Rangeley Lakes Snowmobile Club, is among the largest member snowmobile clubs of Maine's 277 clubs. For more information contact: The Rangeley Lakes Snowmobile Club, PO Box 950, Rangeley, ME 04970 or email [email protected].
9th Annual Kaye Johnson Memorial Vintage Snowmobile Ride Hayward, Wis. February 7, 2015
Held in memory of Kaye Johnson with all proceeds earmarked for the American Heart Association, this marks the event's ninth annual run. The ride begins at the Trails End in Hayward, with the first group of riders going off at 11AM. This event has become one of Wisconsin's biggest vintage rides. So, if you would like to see, hear and experience the world of snowmobiling as it used to be, check out this ride and ride along.
Waconia Ride-In Vintage Snowmobile Event
For more information check out the Association of Wisconsin Snowmobile Clubs (AWSC) link at: https://www.awsc.org/Clubs/Club-Events/HAYWARD-9th-Annual-Kaye-Johnson-Memorial-Ride.aspx.
The Black Hills South Dakota All Season Long
Although not hosting any singular hallmark event, the Black Hills of South Dakota is an area that you really must try at least once. From the east it sits on the way to West Yellowstone, but seems to be too frequently passed through. But this is can be a great area for snowmobiling as it blends a hint of Yellowstone and mountain riding with a strong flavor of New England backwoods trails.
Rated as one of the top 10 snowmobile trail systems in the US, the Black Hills Snowmobile Trail System is consistently recognized for the quality of its groomed trails, signage, maps and services. This trail system offers 350 miles of groomed trails, plus off-road snowmobiling in most of the Black Hills National Forest.
If you bring your own snowmobile, it must be licensed. If it's licensed in another state, it may be used in South Dakota without additional licensing. If not, you can arrange a temporary license good for five days.
We've had great experiences in the Black Hills snowmobile areas, which can actually flow into nearby Wyoming's trail system for added mileage. This area is loaded with Old West flavor and history in nearby cities like Lead and Deadwood.
We especially liked the area for its diverse trails, which include runs through pine forests, open meadow areas and climbs to unique mountain views. The trails are groomed on a regular basis beginning in mid-December through the end of March.
We would caution that you definitely check Black Hills websites for snow conditions. The main site to bookmark would be the South Dakota Game, Fish and Parks at http://gfp.sd.gov/to-do/snowmobile/default.aspx. This area can get lots of snow in a short time, but because this area can be warmer than other areas it can lose it quickly as well. So, call ahead.