The First Annual Wahkon SNOW Film Festival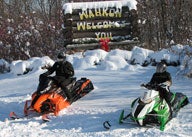 A Minnesota pit stop stages the first ever snowmobile film festival
Although more than 4,500 miles separate Wahkon, Minn. and Cannes, France, the two villages have some things in common. Both are home to waterside film festivals. Cannes enjoys 67 years of presenting films to the public, while Wahkon began its first annual film festival on a bright blue sky, below zero day this past December 7th, presenting the best of the year's snowmobile action titles.
The first SNOW (Somewhat North of Wahkon) film fest was headquartered on the south shore of Mille Lacs, Minnesota's second largest lake at 200 square miles. And, while nary a Kardashian nor a peek of Brangelina was available, the first film fest drew plentiful snowmobilers as local snowmobile club members sold memberships to help support efforts to maintain their many miles of snowmobile trails.
Drift Skippers snowmobile club member and trail groomer Terry McQuoid said that he had spent the past few days grooming areas with more than 22-inches of snow to prepare for visiting snowmobilers. A lifelong resident of the greater Wahkon area, he noted, "This is as good an early snow as I've seen. There's a solid base on the trails and the best areas have very ride-able snow to start off the season."
Minnesota's 5th Annual Veterans Appreciation Ride
That was good news for Iowans Nick Leonard, Lisa Pritchard and Robert Rehms who had trailered sleds more than 335 miles from Des Moines, Iowa. Leonard said he has typically ridden more than 2,000 miles a season in recent years, often traveling to northern Wisconsin, the Black Hills of South Dakota and upper Michigan. Serious Arctic Cat enthusiasts, the Iowa group counts a 300-horsepower turbocharged Cat among their rides.
The idea for this first ever snowmobile film festival belongs to Rob Dubbs, proprietor of Muggs of Milles Lacs, the preeminent snowmobile stop in the area. An avid snowmobiler himself, he recognizes the secrets to creating a successful snowmobile pit stop: "Equal parts good food, good drinks and hospitality, all stirred with a swizzle stick of snowmobiling passion."
Having ridden virtually all the routes in and around the Mille Lacs Lake area, Dubbs understands the snowmobiling mystique and can assist riders with local trail information and lore.
While not expecting the eagerly anticipated early dump of snow, Dubbs had billed the weekend event simply as a SledFest and an opportunity to kick start snowmobiling enthusiasm by showcasing the best snowmobile action videos that he could obtain. Billed as the Wahkon World Premier, this first SNOW Fest gained support as a number of sponsors such as KLIM, 509, Polaris and Boondockers supplied items to help get the first event off to a good start. Various snowmobile-oriented items including helmets and apparel were donated for a raffle.
The town of Wahkon numbers approximately 72,000 fewer citizens than Cannes, but the excitement and participation are shared as SNOW Fest viewers took in the spectacle of hardcore mountain riding showcased by the various film makers.
A First Timer's Visit to Hay Days
The nascent Wahkon Film Arts Board had a difficult time judging the best of the films, but ultimately gave its "Golden Snow Globe" award to 509 Volume 8. Noted Wahkon Film Arts Board chairman, Steve Dubbs, "509 Volume 8 was a consistent favorite, plus they gave us the best price."
As a new tradition on the shores of the 132,000 acres of Mille Lacs Lake, Muggs already is planning to make the Second Annual Somewhat North of Wahkon Film Festival even bigger and better. Although they can't guarantee another early snowfall and early season riding opportunities, the Muggs ownership plans larger vintage and modern sled displays and a sampling of even more all-star snowmobile videos.
As for upcoming events, Wahkon will serve as the base for the 2014 Minnesota Football Vikings Arctic Blast snowmobile charity ride. Plans are underway for a downtown parade, fireworks and main street events stretching from the gas stop to Walleye Dundee's on the lake. To enhance the viability of the area for snowmobilers, a new trail leads off Mille Lacs and off the popular 126-mile long Soo Line snowmobile corridor.
While Wahkon may not overtake Cannes as a destination film festival, Cannes will never hold a large appeal for diehard snowmobilers. Would a self-respecting snowmobiler trade in a multi-layered KLIM suit for a Speedo? Certainly not in early December when the high temperature never registered a plus digit for the day.
As film festivals go, Cannes has a 67-year head start and the support of a film industry and film icons such as George Clooney, Steven Spielberg and George Lucas. So, the reality is that Wahkon trails badly in its first year compared to the traditional French film festival, but even Cannes didn't become an international hit its first go. Check back in 67 years to see how the 67th Annual Somewhat North of Wahkon Film Fest is doing.
"This is only Year One," said Steve Dubbs of the Wahkon Film Arts Board. "We expect to only get bigger and better. What does Cannes have that Wahkon doesn't? Bikini-clad girls? Movie stars? Warm Mediterranean beaches? We have snow. Expertly groomed trails. And the best of the best in snowmobile action videos."