Snowmobile Events To Put On Your Bucket List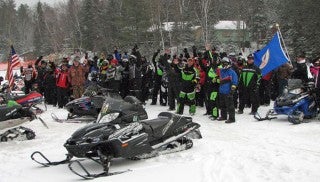 Seven essential events for snowmobilers
The winter of 2014/2015 began just before dawn on June 21. Each day after that gets shorter until the winter solstice reverses the trend and we head back to longer days. But, for now, as the days count down to the real on-snow snowmobile season, we can embrace the cooler evenings and look to jumpstart our snowmobiling by taking in some special snowmobile-specific activities.
The 47th Hay Days kickoff, held in North Branch, Minn, is just one event that signals the beginning of a new sledding season.
Check out this selection of winter warm-ups. These are not the only shows in the snowbelt, but they can help you get a fix on your sledding addiction. Varied in event type and geographic region, we hope that this grouping of snowmobile events allows you to plan some sledding activities and help you better enjoy the winter ahead. After all, at the winter solstice on December 21, 2014, the days once again begin to stretch out and winter's days are numbered.
The Outlaw Alternative 21st Annual Outlaw Grass Drags Princeton, Minn. August 22-24, 2014
The Outlaw Grass Drags is an alternative to Hay Days if you want to schedule a similar swap meet and grass drags experience on an earlier date. Now in its 21st season, the Annual Outlaw Grass Drags is one of the premier snowmobile events of the summer – providing Minnesota snowmobilers with drag races, a swap meet and a preview of new-for-2015 products.
Supported and organized by the non-profit Rum River Trail Association, the Outlaw Grass Drags helps the organization's six sustaining snowmobile clubs meet the financial needs of maintaining its 500 miles of snowmobile trails. Funds raised from the event go to make the trails safer and more enjoyable for snowmobilers riding the Rum River trails.
The three-day Outlaw Grass Drags event is held off US Hwy 169 in Princeton, Minn. at 3708 Baptist Church Road. Gates open at noon on Friday and 7AM on both Saturday and Sunday. Adult admission for Friday and Sunday is US$10. Saturday's fee is US$15. For more specific information visit the official event website at http://www.outlawgrassdrags.com/.
The Grand Daddy Event 47th Annual SnoBarons Hay Days North Branch, Minn. September 6-7, 2014
Pushing a half-century of snowmobiling history, the 47th annual SnoBarons Hay Days is the grand daddy of snowmobile "must visit" events. It's what snowmobilers need to put on their bucket lists because it embodies virtually all aspects of snowmobiling – past, present and future.
You'll find a humongous swap meet that will provide "what the ?" moments and pieces of "snowmobilia" that will take you back in personal history. There will be parts and accessories to sleds old, older and never heard of. You can barter, buy and swap all kinds of items from riding gear to complete vintage sleds and one-off engines.
A First Timer's Visit to Hay Days
The present consists of snowmobile manufacturer displays of the latest 2015 models, as well as new apparel and add-ons. Aftermarket makers of apparel, accessories and new go-fast parts will be available to show you why you need their latest items and provide hints of future snowmobile "must have" gear. Various snowmobile dealers and trailer makers tend to offer pre-season specials too good to pass up. At least that's what they claim.
Over the years Hay Days has evolved into a spectacle with grass drag races, new products, food tents and an ever-changing list of entertainment. This year Hay Days offers what event organizers call its Motorsports Expo.
One Motorsports Expo consists of twice-daily shows of motorsport riders performing various gravity-defying acrobatics and aerials on sleds, ATVs and dirt bikes. In addition to the wild vehicular acrobatics, event organizers added a special TerraCross ATV race.
The second motorsports expo puts you in the action at a special Demo Track, where you can test drive Arctic Cat, Polaris, Yamaha and Can-Am four wheelers and Side-by-Sides. Test rides are free to those 21 years of age and older with proof of age and valid driver's license.
As noted, Hay Days is the oldest event of its kind, tracing its history back to 1966, when there were few snowmobile clubs. The current sponsoring club, the SnoBarons, celebrates its 46th anniversary.
The Hay Days grass drags has been the sustaining focus of the SnoBarons and is what club officials point to for the club's long-term success. The Hay Days event provides a common purpose and explains why the event has managed to grow year by year, until it is now recognized as the largest event of its kind in North America.
Hay Days started out in November of 1967, taking in a single afternoon and known simply as the "Hay Day" race. As the result of land development during the 1970s, the event has been held at different locations over the years. By 2010 the event needed to move once again. But this time the move was to its current proprietary site in Chisago County.
From an initial attendance of a few hundred racers, spectators and curiosity seekers, Hay Days has grown into a two-day event that draws thousands of snowmobilers, who consider the event as the Official Start of Winter.
The financial success of Hay Days enabled the club to create the SnoBarons Grant Program, which provides financial assistance to other snowmobile organizations and clubs to construct bridges and warming houses on their trails. Other Hay Days generated funds go to support scholarships and charities.
Admission for the two-day event is US$20 for Saturday, US$10 on Sunday. You can purchase a two-day pass for US$25. For more information, visit the Hay Days website at http://www.snobarons.com/.
Snowmobile Hall of Fame ISHOF 25th Anniversary Induction Ceremonies Eagle River, Wis. September 12-14, 2014
Twenty-five years ago, Elmer Cone of Bovey, Minn., developed a concept for an International Snowmobile Hall of Fame to honor and recognize those snowmobilers who had created the sport, built its infrastructure and helped it to grow into an international winter recreation.
His idea of creating a snowmobiling hall of fame to recognize those pioneering entrepreneurs, adventurers, volunteers, trail and program builders celebrates its 25th anniversary with ceremonies at the International Snowmobile Hall of Fame in Eagle River, Wis., the iconic "capital city" of snowmobiling.
Hall of Fame Celebrates 25th Anniversary, To Induct Three
The weekend of September 12-14th, ISHOF will celebrate its 25th anniversary by honoring past hall of fame members and inducting three new members.
If you would like to be part of the 25th anniversary celebration or simply visit the International Snowmobile Hall of Fame (ISHOF) and museum, check out the organization's website: http://www.ishof.com/.
New Hampshire Snowmobile Fall Swap Meet New Hampshire Snowmobile Museum Bear Brook State Park, NH September 20, 2014
The New Hampshire Snowmobile Museum will host its annual Fall Swap Meet, Saturday September 20, 2014 on the grounds of the NH Snowmobile Museum, located in Bear Brook State Park. In case you've never visited the NH Snowmobile Museum, put it on your short list of future things to do.
The NH Snowmobile Museum traces snowmobiling's beginnings to the needs of the local logging industry, trappers, and rural people for dependable over-the-snow transportation. You'll find information about the important role New Hampshire played in establishing snowmobiling as a viable and acceptable form of recreation.
The New Hampshire Snowmobile Museum recognizes the significance of the sport of snowmobiling thanks to people like New Hampshire native Paul T. Doherty, who envisioned a place where people could learn about the history of snowmobiling. He believed that there should be a location where people could go to feel the excitement of the sport; through it's memorabilia and machines. He felt that it could help people understand the important role snowmobiling plays in the state's economic and recreational mix.
The museum became a reality in 1985 when the non-profit New Hampshire Snowmobile Museum Association was created. NH's Bureau of Off Highway Vehicles provided space at two Civilian Conservation Corps (CCC) buildings near Bear Brook State Park in Allenstown, NH. It became the first and only state-sponsored snowmobile museum in the United States. This one-of-a-kind museum complex boasts a collection of more than 80 snow-traveling machines along with a large collection of memorabilia.
For more information about the museum and New Hampshire snowmobile events, visit: http://www.nhsnowmobilemuseum.com/.
The Maine Event 2014 Maine Snowmobile Show Augusta, Maine October 17-19, 2014
Billed as the 'World's Largest Snowmobile and ATV Show" and encompassing 500,000 square feet of snowmobile and ATV products, this show has it all.
Show sponsors claim: "If you're in to snowmobiles, ATVS and an all around Powersports enthusiast, this is the show for you! As soon as you step foot on the show floor, you'll be blown away with the incredible roster of exhibitors and the feature events taking place around the show, not to mention the enormous Outdoors Event Area with Live racing and Freestyle Shows. You'll find huge Manufacturer Displays showcasing all of the 2014 sled and ATV line-ups. With more corporate manufacturer displays at this snowmobile and ATV Show than any other across North America… All under one roof, over one weekend."
Toronto International Snowmobile, ATV & Powersports Show Report
The show has been designed to be family friendly and the place to make great savings. It's billed as a "huge, quality Buying Show." Over its 27 seasons, the show has become the event where you can expect the best selections, best deals and best display for what's new in snowmobiling for 2015.
The "World's Largest Snowmobile and ATV Show" runs from October 24 through October 26th at the Toronto International Centre. Admission is CD$18 for adults. For more information about events, vendors and parking, visit the event website at torontosnowmobileatvshow.com.
Minnesota Vets' Ride 2015 Minnesota Veterans Appreciation Ride Silver Bay, Minn. January 10, 2015
The Minnesota United Snowmobilers Association and Minnesota Snowmobile Education and Advancement Fund will hold their 7th Annual Veterans Appreciation Snowmobile Ride on Saturday, January 10, 2015 in Silver Bay, Minn. The event is held each year at different locations across Minnesota.
Minnesota's statewide snowmobile association views the appreciation ride as "…a token of appreciation to the veterans who have given part of their lives to serve all of us." The event sponsors provide breakfast, lunch, dinner and one night's lodging to the attendees. There will be 20 snowmobiles available to those wanting to try snowmobiling. Others are invited to come along and bring their own snowmobile.
Minnesota's 5th Annual Veterans Appreciation Ride Report
All veterans and active duty military personnel are welcome to attend. Pre-registration is required. For information, visit the event website: mnvetsnowmobileride.org.