2014 Polaris Snowmobile Lineup Unveiled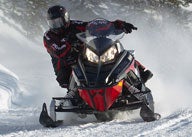 Indy series sees major expansion while mountain models tweaked
Last year's return of the popular Polaris Indy name foreshadowed what looks to be 2014's "Year of the Indy." From that 2013 base of 600 Indy and upgraded 600 Indy SP come seven more Indy versions, including five 550cc fan-cooled models and a top of the line 800 Indy SP. Slotted between the new 550 Indy short track and that 800 Indy SP are versions sporting a 144-inch track length in light utility and two-up guise as well as a fully-equipped 550 Indy Adventure 144 model.
The powder models underwent serious change last season and continue into 2014 with tweaks to a series of sleds that have dominated sales as well as deep Western snow pack. The top of the line Polaris Pro RMK models continue in varied track lengths and again use Polaris Cleanfire 600 and 800 two-stroke twins.
Chris Wolf, Polaris director of snowmobiles, confirmed strong deep snow sales being up through the end of 2012 and that Polaris enjoyed a Number One sales ranking. He noted for that period that the overall snowmobile industry reflected sales growth in Canada with a modest decline in the US market. He also said that Polaris was witnessing a decline in sales of both four-strokes and short track trail sleds. Overall, though, he offered that Polaris was outperforming the industry as a whole and experiencing growth in selected model areas.
The 2014 model lineup reflects Polaris' reading of the snowmobile marketplace. There are virtually no four-stroke models other than the Turbo IQ LXT, which is essentially a carry-over model. The list of Polaris trail sleds with a track length less than 136-inches numbers six – four Indys and two RUSH Pro-R models. The Polaris reaction to market changes takes into account the redefinition of a "trail" sled as buyers shift over to sleds with longer bump-bridging rear suspensions paired with improved performance from modern fuel-injected powertrains.
Pro-Ride Choices
You'll note that Polaris dropped half of its RUSH offerings for 2014, leaving only the 600 and 800 Rush Pro-R Walker Evans equipped models with the 121-inch RipSaw track. Buyers most likely were moving over to the 136-inch equipped Switchback models that promise improved ride and little discernible drop in overall on-trail performance. Plus, with the extended track, riders can venture off trail with greater confidence. The Switchback series offers versatility and models with all the bells and whistles if you opt for the 600 or 800 Pro-R versions, which come standard with a Walker Evans premium "piggyback" adjustable shock package, a Cobra track with 1.35 lug height, and the Pro-Ride rear suspension. The base 600 and 800 Switchback versions continue.
Based on the Switchback set up, Polaris offers both 600 and 800 power choices in the 2014 Switchback Adventure. Designed as a long distance runner, the Adventure models offer Polaris' innovative Lock & Ride cargo system, which can include removable saddlebags and accessories especially designed for snowmobile touring.
For off trail adventuring, Polaris adds a 600 version to its Switchback Assault 144 line. Powered by either the 600 or 800 Cleanfire two-stroke twins, the Switchback Assault features an uncoupled rear suspension to spin its 144-inch Cobra track. While you will enjoy the benefits of a full footprint in off-trail snow, the suspension rails are tipped at the ends to make on-trail running as nimble as running a shorter track. The Freestyle seat and ProTaper handlebar offer off-trail riders ease of movement and control.
Powder Performance
The Switchback Assault is not to be confused with the 800 RMK Assault, which is closely related to the lightweight RMK deep powder models. The RMK Assault uses a Pro-Ride chassis with a carbon fiber overstructure for weight reduction and improved chassis rigidity – so important when maneuvering in backcountry snows. The RMK Assault is all about keeping it light and potent with no extraneous pieces. The front end is adjustable and comes with top line Walker Evans compression shocks. The rear suspension is clean and designed with lightweight handling in mind. Wide runningboards, a deep lug track, lightweight flat top seat and hydraulic disc braking system blend into a backcountry sled powered by Polaris' top of the line 800cc semi-direct injected two-stroke twin.
While the Assault rider makes for the backcountry, RMK riders can head for the hills aboard one of Polaris' best-selling deep snow models. The base RMK models feature two 600-engined versions with a choice of 144-inch or 155-inch track and an 800 RMK with the 155 track. These sleds come with RydeFX shocks, Gripper deep keel skis and an adjustable ski stance from 39 to 41 inches center to center.
The feature-laden Pro-RMK offers one 600-engined model powering a 155-inch track. There are two 800 Pro-RMKs. One spins a 155 track while the other comes with the longer 163-inch track length. All Pro-RMKs feature exclusive-to-Polaris Walker Evans rebuidable shocks, a Pro-Lite saddle, the innovative QuickDrive belt system and ProTaper handlebar. The lightweight 417-pound Pro-RMK 155 returns with the coil-over rear suspension mounted under the Pro-Ride chassis with its carbon-fiber overstructure.
These powder models helped Polaris lay claim to its status as having the best-selling deep snow sleds in the West.
Indy Expansion
While Polaris makes sales in the powder, the company makes serious news for 2014 as it focuses on re-establishing the Indy name as a born-again Polaris brand. Nine Indy-based models enter the 2014 model year. Five come with fan-cooled power, three with a 600cc semi-direct injection Cleanfire twin and one with the high-performance 800cc two-stroke.
The Indys using the Fuji-built 550 two-stroke twin also come with CVTech's Powerbloc 50 drive and matched Invance driven. The higher horsepower fuel injected twins use Polaris' familiar P85 and P2 drive combination.
The 600 and 800 Indy SP versions are the stars of the Indy sport performance line. They have the trail-performance 121-inch Hacksaw track and premium Fox shocks. The base 550 and 600 Indys have a Shockwave track and RydeFX shock package.
Stretched out with the 141-inch track, you'll find the 550 Indy Adventure with a tall windscreen and storage for pleasant solo touring. The Voyager version is designed with a rear rack and capability as a light utility model.
Also built around the 144-inch platform, the 2014 550 Indy LXT 144 provides an option of two-up or solo riding, plus room for cargo. Convenient electric start and pushbutton reverse for the 550 fan-cooled twin make this sled rider and budget friendly.
Early Purchase
In addition to the models available throughout next season, Polaris will offer special deals for early purchase on select models. The 2014 Polaris SnowCheck Select order period runs through April 23, 2013. During this timeframe you can order limited edition RMK, Switchback, RUSH and INDY LE models. Some of these sleds will be available with a choice of factory-painted tunnel and rear skid rail colors as well as limited edition side panel color options.
For specific information on preseason model options, you should check with your local Polaris dealer. Also you can go online at http://www.terraindomination.com/ to design your own custom model, which you can print out and take to your Polaris dealer, who can place your SnowCheck Select order.
Related Reading
2013 Polaris Indy 600 SP Review: Real World Test
2013 Polaris 600 Indy SP Review – Video
2013 Polaris 800 Pro-RMK 155 Review – Video
2013 Polaris 800 Pro-RMK 155 Review – Video
2013 Polaris 800 Switchback Adventure Review – Video
2013 Polaris 800 Switchback Assault 144 Review – Video