Minnesota's 5th Annual Veterans Appreciation Ride Report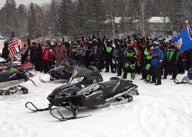 Snowmobilers say a big "thank you" to military veterans and their families
Snow dust rose and blew north toward Canada as snowmobiles stretched in a thin line across the top of Minnesota. More than a hundred snowmobilers traversed sections of Kabetogoma Lake, which runs for miles nestled inside Voyageurs National Park just south of the borderlands between the United States and Canada. These riders, many of whom were US military veterans, were participating in the fifth annual Veterans Appreciation Snowmobile Ride promoted by Minnesota United Snowmobilers Association (MnUSA) and were heading to a sponsored lunch at Ash-Ka-Nam Resort located at the conjunction of the Ash River, Kabetogama and Namakagan lakes.
Held on Saturday January 12th, the ride started from the parking lot of host hotel AmericInn and represented the support of more than 60 sponsors including local International Falls snowmobilers, area clubs and businesses. As MnUSA explained, the point of the event was a straightforward recognition and appreciation "…of our veterans who have given part of their lives to serve all of us."
Donors and supporters provided funds and materials that allowed the ride to invite veterans to participate regardless of whether they were snowmobile veterans or novices. Arctic Cat sent a semi load of snowmobiles the 200 miles from its Thief River Falls headquarters to International Falls and donated apparel for the veterans to use. Polaris loaned sleds and gear for the veterans who came from all over Minnesota with family or friends.
Co-chair of the event Larry Shepherd, himself a 20-year veteran of the US Air Force, noted that the ride involved more than 80 veterans. A former soldier noted that he hadn't snowmobiled for a number of years but came because his buddy had asked him to come along. They drove more than 360 miles from the southern part of Minnesota to the northern border area. While he hadn't ridden in quite a while, he said that he really enjoyed the ride aboard a borrowed 2013 Polaris Indy SP, supplied by the Roseau snowmobile manufacturer.
Concerns about snow conditions for the ride vanished on the morning of the event, which began with near normal January temperatures and scattered blue skies despite the incessant whining of Weather Channel talking heads spreading weather terrorism about Winter Storm Gandolf. The Weather Channel's new phenomenon of naming virtually any weather system seemed a bit ludicrous to the snowmobilers gathered for the veterans ride. The weather experts pointed out that wind chills could drop below zero and winds would rise throughout the day and impending snow could make the terrain icy and slick. Well, thank goodness for that. Because the day before event planners arrived at the site, northern Minnesota recorded 40-degree highs, the warmest temperatures in the state! The weekend – Winter Storm Gandolf not withstanding – was shaping up to be normal by Minnesota standards for January. And the Weather Channel's "threat" of snow became positive.
Concerned about conditions, the day before the ride was to get underway, a small group of riders scouted the route to make certain that it would be ride-able and safe. The consensus proved it would be safe, but there would be sections of slush at some passages between lake bays.
At the morning meeting before the ride got underway, Shepherd and regional Minnesota Department of Natural Resources training and safety officer Shelly Patton explained the route and the need to adhere to strict group ride protocols such as maintaining extra distance between sleds on the iced lake surfaces and using hand signals for on-trail communications. Once on the lake and with the ride underway, it became obvious that the lower temperatures and the effects of Winter Storm Gandolf had served to enhance the route and ride by freezing up many troublesome slush spots and adding fresh snow for lubricating suspension slides.
At the pre-ride meeting International Falls Mayor Bob Anderson welcomed the 100-plus attendees and provided a bit of background on the city, including a promotional toast to the city's 102-year-old paper industry. Early in the ride, snowmobilers would work their way past large lots of stored timber that waited to be converted to "X-9" copier paper sold at Office Max stores across the country. He also told the group about the advantages of International Falls' history as the "nation's ice box" and how its cold weather make the city a perfect area for auto manufacturers to come for cold weather testing and to test car batteries.
In fact, during our stay, Hyundai engineers had four vehicles on site running around all weekend hooked up to various electronic testing gear. Two boxy Kia Soul shaped vehicles were covered with strapped on camouflage disguises outside and full interior covers to hide the dash and steering areas. An undisguised Hyundai Veloster vehicle seemed normal enough, except for dual hand cut exhaust pipes coming out the rear. Winter testing is serious and profitable as the mayor related.
With the "welcomes" out of the way, riders proceeded to the parking lot, gathered up in assigned groups, designated by various colored duct tape affixed to helmets to help ride leaders and trail sweeps riders know who was with what group. Simple and effective. Depending on the ride leader, groups would get to the noon rendezvous at Ash-Ka-Nam resort in manageable stages for a warm lunch. At the end of lunch the entire assortment of veterans and ride volunteers posed for a group photo.
Throughout the day the effects of Winter Storm Gandolf took shape as temperatures continued to drop to seasonal lows and winds picked up across the lakes. But, despite the fear-mongering of television's winter weather "experts," this group of snowmobiling veterans knew that the best riding happens between plus or minus 10-degrees. So, with occasional sunshine and fresh snow, the fifth annual veterans ride soldiered on with a return to base camp at the AmericInn and a scheduled dinner and evening event at the VFW back in International Falls, where VFW Peter Graham Post 2948 Commander Terry Randolph and his associates hosted a sit down meal for the riders.
A bevy of prizes donated by local businesses and snowmobile supporters were awarded after the dinner. And then, the event officially concluded, to be rehashed in earnest and comic detail back at the base hotel's lounge, where we discovered that the 100-plus riders had traveled more than 10,000 sled miles out to lunch and back.
We had the opportunity to chat with event co-founder Shepherd and other riders and sponsors. There was a feel of genuine concern that the veterans have a good time on this ride. This annual ride in appreciation of Minnesota's veterans is one of snowmobilers giving back to others and welcoming veterans whether on active duty, returning from recent duty or having served in past conflicts back home and saying "Thank You!" For this writer, who is a both a veteran snowmobiler and a veteran of America's most unpopular war, the ride meant a great deal and we were delighted, honored and grateful to be part of it.
Related Reading Polaris Pioneers 50th Anniversary Allagash Ride My Born-Again "First Ride" Snowmobiling is Freedom for Real Guys High Tech Sledding in Ontario Ontario Adventure to Moosonee