Snowmobile Sales Leaders Through the Years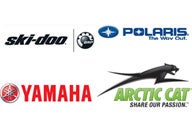 Every sled maker has been No. 1 at least once
Whether it's a blessing or a curse, being around the snowmobile business for a goodly number of years — okay, decades! — allows us a unique ability to be less bowled over by "modern" technologies. There have been a good number of creative solutions to make snowmobiles easier to ride and more reliable. Many of those concepts came early on and have become commonplace. And the technology sometimes determined a manufacturer's sales position.
If you can imagine it, every one of the existing snowmobile manufacturers has been Number One in overall sled sales at least once in their corporate lifetimes. Ski-Doo, which essentially created the recreational snowmobile market beginning about 1959, lost out to Arctic Cat by the mid-1970s but has come in this century to reclaim that Number One ranking.
Arctic Cat stole Ski-Doo's position with innovative ideas like a parallel rail slide suspension that worked and moving the engine forward off the main tunnel to improve cornering and handling. It was enough to let Arctic Enterprises gain Number One status. Plus, the company used some very clever and innovative advertising that cemented the sled to rider relationship to the point that many Arctic Cat owners claimed they'd give up snowmobiling rather than own a non-Arctic Cat snowmobile. That incredible brand loyalty is what allowed Arctic Cat snowmobiles to rebound from a near death experience that began with the 1981 liquidation of the snowmobile division and continued until the next "Cat" appeared in the summer of 1983 under the Arctco, Inc. banner.
Interestingly, Arctic Cat sales amounted to 38 percent of the entire snowmobile market — the year after Arctic Cat sled production stopped. Cat owners wanted one last Arctic Cat before the brand disappeared and scrounged them from any Arctic Cat dealer who had one available. With that kind of loyalty the new owners at Arctco, most of them former Arctic Enterprises employees and executives, came into the venture with a demand for their sleds if there was a promise of a Cat future.
While Arctic Cat dropped from Number One due to its hard times, Yamaha quietly took over the sales leadership. You would have been hard pressed to know that Yamaha was the new Number One. The company expressed understated modesty, but took its role seriously, attempting to bring innovative sleds like the 80cc SnoScoot to market, which has more demand now than it did back in the 1980s.
While this was Yamaha's first time as market sales leader, the company had been innovative in the snowmobile business since its earliest days. Part of Yamaha's entry into the sport came as the company saw snowmobiles providing its snowbelt motorcycle dealers with a product to sell in the non-motorcycle season. Yamaha had to have thrown a scare into the other sled makers in the 1970s. This was a company that built and was known for highly developed two-stroke motorcycles. It was Yamaha that brought oil injection to the sled business. Its Autolube engine injection and slide valve carburetors were standard on the first 1969 SL351 Yamaha. Fortunately for the competition, Yamaha kept many of its performance tricks like reed valve induction and power exhaust valves for its wheeled side of the business — for a while! Yamaha gained quite a reputation from the 1971 Eagle River World Championship Derby when Mike Trapp's lighter and smaller 433cc engined Yamaha racer beat Ski-Doo legend Yvon Duhamel's 800cc Blizzard. Still, it took Arctic Cat's financial disarray to ease Yamaha into sales leadership.
With Yamaha leading the sled business, Polaris was able to evolve from being a division of Textron to a standalone entity run by former Textron-Polaris executives who managed the 1981 buy-out from the large international conglomerate. Riding the popularity of the Polaris Indy, which proved to be the sport's hottest selling snowmobile, the company earned Number One sales status, holding that title until Ski-Doo's REV series of sleds brought the Canadian company full circle as Ski-Doo reclaimed the top sales spot once again.
Surviving in the snowmobile industry was never easy even in the "Good Old Days." At various points in the battle for Number One, the manufacturers have been prone to one-upmanship and corporate intrigue.
When Textron announced that it was looking to divest itself of its snowmobile group, Bombardier responded by attempting to buy the Polaris snowmobile division. Bombardier planned to merge its Ski-Doo group with Polaris and even had a tentative deal ready in the early autumn of 1980. That deal died when the US Justice Department objected to the sale and threatened action.
Still a corporate infant in late 1981, the standalone Polaris company put in a bid for the Arctic Cat brand of snowmobiles and gear. Since a deal couldn't be worked out prior to a February 1982 deadline, which would have allowed Polaris time to manufacture 1983 model Arctic Cat brand sleds, the agreements ended.
Instead of four snowmobile manufacturers, had circumstances gone in slightly different directions, we could have just three or, perhaps, only two existing sled makers.
As you may have noticed, the four sled manufacturers don't always play well together. It's an historic fact. Fast-forward to 2011 and you'll see more intrigue. In the recent past Arctic Cat has sued Polaris for alleged patent infringements on its exhaust system. There has been the evolution of electronic reverse systems for two-stroke motors, which started with Bombardier as RER. And now we have threats of serious legal action over chassis designs. This one reminds us of the many legal actions that accompanied the transitioning from bogie wheel to slide rail suspension designs in the 1970s. And how about all those incredibly complicated front suspension concepts that would go from racetrack and might show up in trail sleds? Seems that Polaris was comfortable with its trailing arm links and the resulting Indy concept evolved gradually. Ski-Doo tried many forms of independent front suspensions ranging from strut types to a progressive rate (PRS) trailing arm design.
Under the hood, much has transformed snowmobiles to the reliable units we ride hundreds of miles in a day. Electronic fuel injection is now standard, but don't ask Polaris about its early EFI models and the cost of its lawsuit getting there.
Four-stroke engines abound on modern sleds. The leader has been Yamaha, which began converting from two-strokers to four-strokes back in the early 1970s when it brought out the XS1 motorcycle with a 650cc single overhead cam twin. Its motorcycle expertise highlighted the RX-1 four-cylinder, four-stroke snowmobile introduced in 2003. This sled brought Yamaha's Genesis design to a high revving sled. The one-liter engine featured a refined electronic fuel injection that benefited from a 20-valve system that provided two exhaust valves and three intake valves per cylinder. Since the appearance of the Genesis motor, every other sled maker has countered with some form of "performance" four-stroke, but none with the sophistication of that motorcycle derived quad. To get the performance that Yamaha pulls from its normally aspirated Genesis engines, other sled makers took to adding turbos.
With this history it seems that evolution continues and probably we can expect some critical yet-to-come technology to turn sales leadership once again. It will be interesting to see how the next Number One handles its leadership role and what technology or set of circumstances brings it to prominence. When it comes to snowmobiling, what goes around will come around — again!
Related Reading BRP Lawsuit against Arctic Cat Ends 2011 with a Bang Arctic Cat Takes a Short-Term Risk Polaris Gets On The Gas In A Down Economy What's Old Is New Again Snowmobile Evolution Continues in 2012