Ski-Doo tMotion Suspension Review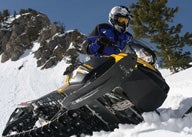 Further testing reveals tMotion is the real deal
Some of us snowmobile-type writers are suspicious fellows. Count me in that group. When we see new things we not only ask "Why," but also want the chance to see if it really works. Forgive us for our jerkiness here, but some of us remember a time when some snowmobile manufacturers did "new" things that didn't work, said they did and then got quite upset with us when we wrote the truth — as we saw it, which was inevitably wrong in the manufacturer's eyes.
We also remember a time quite a long time ago when the then Number One brand claimed that it was the innovation leader and the sales leader. We never could figure where they got their numbers, but we could see with our own eyes and feel with our fanny that they were not the technological leaders of the day.
If that company was the leader, why were its engines still on the tunnel in front of the rider, who was frequently getting carburetor spit blown back on him? And why was the other leading sled company building a trail-smoothing slide rail suspension for its aluminum chassis sleds when the industry leader still used bogie wheels?
In this snowmobiling version of "the emperor's new clothes," no one was fooled about who the technology leader really was. In fact, sales results showed that in the US, at least, the leader was Arctic Enterprises as that company was in the process of embedding the idea that if you couldn't ride an Arctic Cat, you needn't ride anything. It was this innovation and marketing that made Arctic Cat the iconic (and only) brand that could survive a corporate meltdown and return as one of only four major snowmobile manufacturers in the world.
And then there was the issue of a snowmobile maker coming up with engineering solutions that were different just for the sake of being different. Again it involved the old pre-BRP regime of Ski-Doo, but this time the Arctic Cat involved was the "new" guys who returned as a virtual startup under the name Arctco. My recollection was that as sleds became heavier and heavier, consumers were demanding reverse gear for their sleds. One solution was a shaft and some simple gears, which could easily retrofit older Arctco-built models and be offered as a kit. The other was a seemingly convoluted solution that rivaled Rube Goldberg designs. Both worked, but one was simple and one was not.
But, since that regime disappeared with the "Last of the Red Hot Deals" and the house cleaning undertaken by Tony Kalhok, prior to the circa 2004 arrangement with Bain Capital and the formation of BRP, Ski-Doo has been quite innovative. In the modern era, credit Ski-Doo with the innovation of Rotax Electronic Reverse, which is used by all snowmobile companies selling two-stroke engine.
All of this is simply prelude to why we have been so very, very interested in Ski-Doo's latest technologies. It's the old "fool us once" theorem. In this case, or the case of the rMotion suspension and "S" chassis for trail sleds and the new for 2013 tMotion and "M" chassis for deep snow sleds, we've wondered if this is all marketing gimmick or does it work as claimed?
Forgive us our long-suffering suspicions. From the trail side, we readily admit that the rMotion works as claimed. While the runningboard mounted pieces make for great eye candy, the base rMotion works as well, costs less and will make you happy once you've arrived at your riding preferences. In one way this may be a better set up than the Polaris Rush Pro-Ride, which elevated the ride height in the first iteration, but has now been brought down in its latest versions.
So, when Ski-Doo decided to contest the powder sled category and Polaris' hot-selling RMK Pro specifically with its new tMotion, we had thoughts of "here we go again." When we first saw the tMotion and had it explained, we were trying to figure out if this was snake oil or a true innovation. Admittedly dubious, we decided to actually wait and see what our deep snow experts had to say at the annual test session when they could ride the new tMotion against the new lighter Polaris RMK Pro.
First impressions showed us that the tMotion works, and as one test rider noted, it made the Ski-Doo feel light and nimble, which was the intent. This specific test rider is one of the most honest, down home snowmobilers you'll ever meet. So, when he said the tMotion did what it was claimed to do, we stopped our suspicions — sort of.
This is a new era and our doubts, suspicions and that "sort of" ends here because our mountain riding staff had the opportunity to test out a tMotion equipped Summit in a post-test session follow up. Indeed, they were able to include other riders in on the fun. But, heck, let Western editor Matt Allred tell you about that.
Matt Allred's Test Ride Follow Up
On March 21, Ski-Doo's Steve Cowing, Media Relations and PR Manager, dropped me a note stating a 2013 XM Summit X 154 was available for our use and was I interested. I slammed the house door shut, fired up the GMC, hooked up the trailer and with great coolness walked into Bott Yamaha/Ski-Doo, Idaho Falls, Idaho, and nabbed my ride.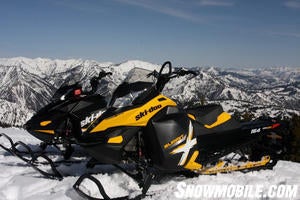 Here the 2012 XP Summit X and 2013 XM Summit X display their colors and personality. Neither one are alike — literally. The XM Summit is much bolder and fresher.
Outside Alpine, Wyo., the weekend of March 24, we threw the 2013 XM Summit against our 2012 XP Summit X 154, and our other 800s, the Polaris Pro and Arctic Cat M8. We were mostly interested in how the two Summit Xs faired against each other. We were in spring conditions, concrete snow in the AM and soft slush-like snow in the PM. These conditions are prime to test a snowmobile's handling.
Assisting us were three of our seasoned test riders, Kade Klingler, Danny Stowell and Greg Hunstman; you have read their comments before in other evaluations. Below are their quick conclusions.
Klingler
The difference between the 2012 and 2013 is night and day. I had a really hard time getting used to the 2012 — it always wanted to pitch me over the front, and it was difficult to hold a sidehill. The 2013 holds a sidehill comparable to the RMK Pro. The new tMotion rear suspension and track really helped the sled get on its side, and the balance to keep it on its side was unreal. I was amazed at the ease of going from being pointed downhill, rolling it on its side, and carving across the hill, or driving back up the hill. The track hooked up on the firmer snow better than the other brands' tracks, and the XM felt like it had more power than any of the other sleds. The XM will give the Polaris Pro a run for its money. I didn't expect to love this sled like I did. I know I'm not supposed to use the sidehill bar, but they addressed that complaint as well from 2012. [Editor's note. We want and teach our test riders to minimize – drastically – mountain grab bar use.]
Hunstman
The 2013 XM Summit is a joy to ride. Compared to its predecessor, the 2012 XP Summit X, it feels lighter and much more nimble. Even in shallow spring snow, it sticks a sidehill with little effort. For the past two years I have favored the Polaris Pro because of its incredible maneuverability; the Pro is just plain easy to ride. The 2013 XM Summit is now its equal. Way to go Ski-Doo!
Stowell
When I saw the new flex-style tMotion suspension and track at the West Yellowstone EXPO, I could see the reasoning behind the design, but wondered if it would truly work as advertised. When I rode it on a rough trail to the riding area, it did OK, but when we hit the climbs, WOW. In typical spring conditions this snowmobile and its suspension worked. It had a bit of a learning curve, but it did not take long to master. The XM Summit felt light and playful. Transitioning from side to side required little effort, and it gave me great confidence on sidehills.  As I told the Allreds, the XM Summit will convert many riders.
Related Reading Inside Ski-Doo's tMotion Suspension 2013 Ski-Doo Summit X Review – Video First Impressions of the 2013 Powder Sleds