An Out-of-Towners' Guide to Planning the Perfect Ontario Snowmobile Trip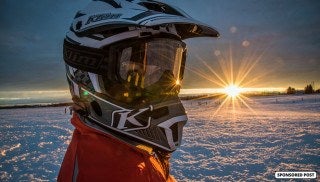 Here's where to eat, stay and ride
So you've decided to travel to Ontario for a snowmobile trip. Maybe you're going to visit your aunt up in Sudbury, or meet up with your old college roomies from Michigan in Wawa. Or heck, maybe you've decided to bond with your teenager by reconnecting with nature on a rustic, outdoor adventure in Temiskaming?
Whatever the reason, one thing is certain: you've picked a great province to visit, with ample places to ride, stay and eat along the way. No snowmobile? No problem! Snowmobile rentals are available in close proximity to many major riding areas for those unable to bring their machine along for the trip. Guided tours are also an option for those who don't feel like going it alone.
To make things even easier on you, we've partnered with Ontario Travel to offer this handy guide to planning your ideal Ontario snowmobile trip. Read on to discover the province's top areas to visit, along with tips on where to stay, rent a snowmobile and grab a bite.
NORTH
Thanks to the often-uninhabited landscape, Ontario's North is a true snowmobilers' paradise, with plenty of OFSC routes to explore and a plethora of amazing trails. Better yet: there are a number of excellent loops you can ride that connect between Cochrane, Abitibi, Timmins and beyond.
NORTHEAST
Northeastern Ontario is home to thousands of kilometers of trails, ranging from wide-open to tight and tree-lined, winding through forested areas. From Mattawa to Manitoulin and everywhere in between, there are endless options for riders looking to visit, stage, ride and explore. Check out a few of our suggested areas to visit below, then for even more great ideas, click here.
SOUTHWEST
Southwestern Ontario is unique in terms of both its weather patterns and riding areas, allowing snowmobilers to ride from Lake Huron to Lake Erie. Amazing hospitality, great food, and cozy accommodations can be found throughout the area as well.
CENTRAL
If you weren't planning to head into the depths of Northern Ontario on this trip, a stay in the central region might be more suited to your travel needs. Not to worry, there are still plenty of places to ride and enjoy.
No matter what part of the province you're traveling to, you're going to need to ensure you have the proper permits to operate on OFSC trails prior to riding. For more information on permits, including current fees for day permits and how to purchase them online, please visit OFSC.on.ca.
Looking for even more suggestions on how to plan the perfect snowmobile trip to Ontario whether you're coming from the States or elsewhere in Canada? Visit NorthernOntario.travel and OntarioTravel.net today.
Lead photo by: Casey Cordeiro (TGH Creative)