Carver Performance: Shock Tuner Extraordinaire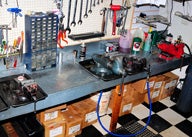 For Mike Carver shock tuning is one the black arts
When it comes to snowmobiles there are three black arts: pipes, clutches and shocks. Finding someone who will share their knowledge in any one of these areas is not always easy. But one of those guys who does share his knowledge in the area of shock tuning is Mike Carver at Carver Performance.
Carver has been tuning shocks for nearly a quarter century and what started as a personal venture to make his own race sleds perform better has turned into a full-time business helping customers make their sleds ride better on the trails and perform better on the race tracks.
"I started racing in the early to mid-1980s," said Carver. "When the sleds started coming with Fox shocks on them that's when I started doing my own shocks."
There were no schools Carver could go to and learn suspension tuning, he learned by trial and error. Little did he know, his self-teaching would form the basis for him to reach his goal of owning his own business in the snowmobile industry.
"I had always wanted to do my own business, like in small engines or a dealership-type way," he said. "I just always wanted to be on my own, that was always my goal when I was racing to learn sleds and help other people."
By the mid-1990s Carver had become one of the go-to guys for shock info and he had gone into business setting up shocks from his home shop. His reputation was enough to get him a job as the factory support technician for Fox Racing Shox. It was the impetus for his dream of starting his own suspension tuning business.
"One of the things that really got me going was I got the job doing the race support for Fox," said Carver. "That was in 1997. That got my name out there and really got me on the map."
Carver worked for Fox until 1995. Today, he spends all his time at his own shop and, of course, at the races. Since 2000, Carver Performance has been located right next to Highway 32 in St. Hilaire, Minn., just a few short minutes down the highway from Arctic Cat in Thief River Falls. Owning a suspension-tuning business you would think Carver would have a wrench in his hand most of the day, but, he says, more often than not he's on the phone with customers.
"During the season I'm on the phone most of the time, talking to guys about their setups and what they want to do. When they send us their shocks we get in contact with the customer to talk to them about what they want done. I take notes and then I tune that person's shocks to do what they want. I do not have a book full of stock codes for models and rider weights, every customer's shocks are tuned specifically for them."
While your average rider may not be all that concerned with the black arts that surround a snowmobile, properly tuned shocks can make a huge difference in how a snowmobile performs. And according to Carver, it may be the most important of the three.
"It's big. I mean, whether it's racing or trail riding, suspension is everything for a comfortable ride. To be able to tune your shocks and suspension to the way you ride is everything."
While Carver Performance specializes in Fox shocks, they will tune any rebuildable shock a customer may have. For more information in Carver Performance visit http://www.carverperformance.com/.
Related Reading How to Install an Aftermarket Track Track Studding the Right Way How to Install Custom Handlebars Start a Fixer-Upper Project This Summer