2011 Arctic Cat F8 EXT Review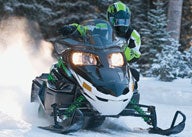 A new power in the extended track competition
Arctic Cat makes lemonade out of the current lemon economy as it gets time to fully evolve and upgrade its snowmobile line up. At least that's how we see it. Look at the new for 2011 Arctic Cat F8 EXT. If that's not a perfect example of evolution we don't know what is.
Last year Arctic Cat offered its rambunctious Z1 Turbo in a stretch track mode, the Z1 Turbo EXT. Frankly, that 177-horsepower four-stroke Twin needed the longer track for added grip. That sled proved popular enough to sell out, leaving no doubt that an 800cc two-stroke powered EXT most likely would be a hit also. And it is!
With media love, the revamped 800 Twin scored big with western powder riders as the Arctic Cat M8 helped the Thief River Falls, Minnesota manufacturer gain sales in a volatile market. That same 800 Twin powered some popular F-Series chassis sport models, too. There was an obvious void. For 2011 that void is filled.
New EXT
The new F8 EXT may be a few horses shy of its four-stroke brethren, but setting this 160-plus horsepower two-stroke into the EXT chassis is bound to gather buyers. The Suzuki-built two-stroker flat out works! While the competition from Polaris and Ski-Doo will challenge last year's proven powerhouse, Arctic Cat's 800 doesn't lose a step. It pulls hard from idle to top end with nary a stutter along the way. What it does for powder heroes, it will do for on and off-trail sport riders. It's as rider-friendly as a 600 but offers the lake crossing power of the turbo — well, that is a slight exaggeration. It runs fast enough to make you want to keep an eye on the digital speedometer.
Over the past few seasons the Arctic Cat models have gotten better and better. Maybe the economy is slow, but the evolution of the Cats has been anything but. When first introduced the F-chassis seemed okay, but not as effective as true Cat believers expected. They clung to their Firecats. Then Arctic Cat engineers zeroed in on handling and cornering. Wow, the chassis went from okay to oh-my-gosh good! Then Cat engine builders revisited the 800. That was another oh-my-gosh!
For 2011 Arctic Cat pairs an exceptionally strong two-stroke Twin with an exceptionally good chassis and gives us all one of the best ever crossover models to hit the trails this season. Because both the 800 Twin and the turbo-charged four-stroke put strong power to the snow, the use of the 144-inch track makes good sense. With the added length versus the 128-inch track of the F8 Sno Pro for example, the new F8 EXT hooks up better, while bridging some of the stutter bumps better, too.
Rough Trail
In our test riding of the Arctic Cat line for 2011, we frequently found that the entire line, but especially the EXT models, handled the rough trails as well if not better than other more ballyhooed competitive sleds with terrain-dominating features. At our West Yellowstone test site, Arctic Cat engineers watched and listened as media riders brought their sleds back to the venue. Those attending to the 2011 Arctic Cat test units managed a quiet air of letting the Arctic Cat product speak for itself, which it did — vocally!
As we said, the sled may be "new," but it isn't radically new, rather a joining of two very good pieces making an even better whole. The engine is the high-output 794cc Twin with its bore/stroke of 85mm/70mm. Revamped last season, the model at our test site came with the latest computer mapping in its electronic fuel injection. The throttle bodies measure 46mm and react crisply to the batteryless fuel injection system, offering a smooth throttle pull that seems seamless on the trail. You can roll on the throttle out of a corner like a smooth sport motorcycle. This is a very easy sled to control.
The 160-hp Twin comes with Arctic's power exhaust valves that give it easy on-idle throttle and maximizes full open throttle. The clutching system is what you expect from current generation Arctic Cats, an RPM-sensing driven with the proven ACT Diamond Drive planetary gearcase. To ease day-to-day living with this sled, you get the advantage of push button electronic reverse.
Chassis & Handling
The stretch chassis mimics the Z1 Turbo EXT. The base design is Cat's Twin Spar that positions the motor low and centers the rider for maximum control. Up front the 125-inch long sled carries Fox Zero Pro shocks on the seventh generation A-arm front end. The slide-action rear suspension uses a Fox Zero Pro shock with internal floating piston on the rear arm. There are coupling blocks and torsion spring adjustability to further control ride. Suspension travel "maxes" out at 13.5 inches in the rear with up to 9.5 inches of controlled movement up front.
The long track is designed to be both lightweight and free-rolling. The Cobra track measures 15-inches in overall width and 144-inches in length with 1.25-inch lug profile.
As this is one of the top of the line Arctic Cat models for 2011, you would rightly expect the best features like the adjustable seat, incredibly adjustable handlebar and even electric start as standard fare. The multi-function gauge reads out in both digital and analog. Dual halogen headlight and bright tail light provide ample safe riding on the trail, day or night.
Make no mistake; this is not just an extended track Arctic Cat. It is a serious on and off-trail sled with plus features and exceptional power to match any other crossover out there for 2011. If last season is any indication, if you want a 2011 Arctic Cat F8 EXT you might want to order this sled early.
2011 Arctic Cat F8 EXT Specs
Engine
Arctic/Suzuki 794cc, two-stroke, liquid-cooled, twin; 46mm throttle body, batteryless electronic fuel injection
Horsepower
160-plus
Drive
Arctic RPM sensing drive with Arctic roller cam ACT driven
Front Suspension
Arctic AWS VII A-arm suspension; Fox Zero Pro shocks; 9.5-inches of travel
Rear Suspension
Arctic Slide-Action parallel rail slide with Fox Zero Pro shocks; up to 13.5-inches of travel
Length
125.0 in
Width
47.25 in
Ski Stance
43.0 in
Track
15 x 144 x 1.25 Cobra
Weight
N/A
Fuel Capacity
12.6 US Gal
MSRP
N/A
Related Reading
2010 Arctic Cat F8 LXR Review
2010 Arctic Cat F8 Sno Pro Review
2010 Arctic Cat F5 LXR Review
2010 Arctic Cat Crossfire 8 Review
2010 Arctic Cat Z1 Review
All Things Arctic Cat on Snowmobile.com