2013 Arctic Cat XF1100 Turbo Cross Tour Review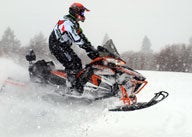 Cat's Turbo motor powers up the image of sport touring
We're not sure who started the real concept of "adventure" touring, but we do know that Arctic Cat literally blows away the competition with its 2013 Turbo Cross Tour model. Think of this as a crossover on performance enhancing drugs that even Lance Armstrong couldn't imagine.
Fast Facts
Engine Type:Horizontal In-line
Cylinders:2
Engine Stroke:4-Stroke
Valve Configuration:OHV
Displacement:1056 / 64.4
Starter:Electric
Turbocharged:Yes
View Full Spec
Arctic Cat doesn't pussy foot around when it comes to offering up high performance snowmobilers the rides they really want. Yeah, yeah, we know that sport touring should be a nice blend of performance-oriented features with an agreeable amount of luxury touches like travel bags, a storage rack, tallish windscreen and electronic goodies. Frankly, Ski-Doo nails that category with the GSX series, which neuters the MXZ's sport aspects in favor of Grand Touring touches. That's one way of approaching the sports touring, one-up category.
Or, there's the Arctic Cat way, which means no holding back in the performance department. There's no neutering here. The only other serious competition to the Turbo Cross Tour is Polaris' 800 Switchback Adventure. But, Arctic Cat matches that with its own 800 Cross Tour model. So, when it comes to ferocious, our money's on the Cat turbocharged four-stroke. As we mentioned in our review of the base XF1100 Cross Tour, if you wanted more performance, there was an option. This is it.
We admit to being impressed with how Arctic Cat engineers knock out horsepower on the Suzuki-built four-stroke. There's no other snowmobile manufacturer with as much turbo experience as Arctic Cat. It started with the T660 engine and continues with this big twin. Cat claims 177 horsepower at 7850 revs and 121 ft/lbs of torque at 7300 rpm. That's a nice claim that ensures strong corner-to-corner get up and speeding ticket top speeds. That's more than enough base performance to power any number of modern econo-sport automobiles such as the Chevrolet Cruze, Fiat 500 or Ford Fiesta. Of course, in some cases the Arctic Cat at US$14,399 would be priced in the same neighborhood as some of those economy cars. This is not an economy snowmobile.
What the Turbo Tour offers is unique all-around performance that gets you off trail or down the trail in stylish fashion. It's essentially the ultimate crossover. It has great, but controlled power. It has speed. It has acceleration. It has storage. It has innovative ergonomics.
Consider that the Turbo Tour packages virtually all of Arctic Cat's considerable snowmobiling expertise in one unique product. It has a race-inspired Arctic Cat double wishbone front suspension. With its Fox Zero Pro gas shocks and coil over springs, you get upwards of 10 inches of travel and a suspension that allows the skis to grip and cut into corners.
The rear suspension may seem a bit simple in comparison to the Polaris externally shocked Pro-Ride or Ski-Doo's rMotion designs, but we defy you to bang the bumps with the Cross Tour and see if it truly lacks anything you need. With 14.5 inches of rear axle travel, the turbo Cross Tour provides excellent control and ride action off trail or on groomed trails. Then, there is that unique-to-Arctic Cat slide action built into the front torque arm. This little bit of suspension "give" assists the coupling action that keeps the skis planted. Here you do get a Fox Float 2 shock on the rear arm and a Fox Zero Pro with internal floating piston to assist the front arm. Simple suspension tuning can be done via block adjustments. These are the attributes of a superior ride.
Of course, there is more performance-oriented engineering invested in this super sport-touring sled. The chassis is the latest ProCross design with two-piece construction for superior durability; a tapered tunnel for maximum comfort and rider control; plus a triangular design of the spars to minimize weight while ensuring maximum rigidity and strength. This sled borrows from the successes of terrain racing and the lessons learned from chassis building for everyday riding in all conditions. Plus, we know of no other snowmobile company that lists on its active roster an engineering expert who pioneered the first successful slide rail suspension, devised lightweight aluminum aircraft-riveted platforms, oversaw Arctic Wishbone suspensions and brought high-performance braking to today's models. Designer, engineer, racer, innovator, pioneer and Arctic Cat legend Roger Skime poured his heart and decades of in-the-saddle experience into the current litter of Arctic Cat snowmobiles.
Look at the low-placement of the driveshaft-mounted hydraulic braking system. The entire drive train bears the "Mark of Skime" as it utilizes lightweight components like a magnesium chaincase and snowmobile-first engineering, such as the larger driven clutch that provides a longer than "normal" clutch center-to-center distance. Why do that? It helps to keep the drive belt cooler, reducing premature belt wear. It's that kind of snowmobile-first thinking that gives the Turbo Cross Tour its premium performance capabilities. Low mounted engine. Centralized ride position. Curved handles for rider control. Wide runningboards for balanced foot position. All of these things blend seamlessly to create a great riding snowmobile that suits an aggressive rider or a serious weekend sport rider.
The Arctic Cat 2013 XF110 Turbo Cross Tour is a steroid enhanced party animal. It can go "Yuppie" in a hurry, what with its standard heated seat, goggle storage bag, rearview mirrors and other goodies. Those are all "braggers" to rub in the face of your buddies riding their primitive sport sleds. You can be the bigger person by offering to store some of their gear in the Cat's travel bag or strap it down in the rear-mounted rack. But, you won't be taking flack for lack of performance.
In addition to one of the most potent four-stroke engines to ever lay a stretched-out 141-inch Cobra track to powder, the Turbo Tour affords you great "dance" ability off trail thanks to the leverage of the handlebar-mounted mountain strap and the 5.5-inch riser bar. Powering off trail comes with the territory with this Cat. This sled may get nice-to-have features for sport touring, but underneath it all lies an XF1100 Turbo designed for hammering serious off-trail routes.
There are three versions of the 2013 Arctic Cat Cross Tour and they all share the underpinnings of Cat's most serious off-trail sportsters. The most aggressive is the Turbo Cross Tour, followed by an 800cc two-stroke twin powered model and the "base" non-turbocharged version of the 1100cc Suzuki four-stroke. If you really want to ride the meanest sport-touring sled of all, the XF1100 Turbo Cross Tour has no challengers. Just don't underestimate the capabilities of this niche-defining snowmobile. It will amaze you at what it can do and where it can go.
2013 Arctic Cat XF1100 Turbo Cross Tour Specs
Engine
Suzuki/Arctic Cat turbocharged 1056cc 4stroke, twin cylinder; liquid-cooled; EFI with 48 throttle body
Horsepower/Torque
177-hp @ 7850 RPM; 121-ft/lbs torque @ 7300 RPM
Drive
Arctic Cat 6-post rpm sensing drive with 10.75-in diameter roller cam driven
Front Suspension
Arctic Cat ARS — 10-in maximum travel; Fox Zero Pro shocks with sway bar
Rear Suspension
Arctic Cat FasTrack slide rail — Aluminum-bodied Fox Zero Pro shock on front arm; Fox Float 2 on rear arm; 14.5-in of maximum travel; slide-action coupled design
Length
125.0 in
Width
48.0 in
Ski Stance
Adjustable 42.0 – 43.0 in.
Track
15 x 141 x 1.25 single-ply Cobra
Weight
NA
Brake
Hydraulic disc system
Fuel Capacity
10.6 US Gal
MSRP
US$14,399
Related Reading
2013 Arctic Cat XF1100 Cross Tour Review – Video
2013 Ski-Doo GSX Series Review
2013 Polaris 800 Switchback Adventure Review – Video