2015 Arctic Cat Bearcat 5000 XT GS Review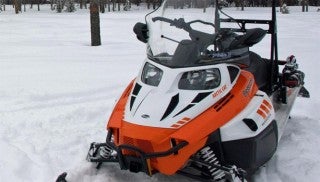 A unique sled that makes you enjoy riding it
Last March out in West Yellowstone, we had an end-of-the-day epiphany when we took out the 2015 Arctic Cat Bearcat 5000 XT GS for an official "shakedown" ride. Truth be told, we expected to make short work of that ride. After all the Cat wasn't really new, having been introduced a few seasons ago.
The chassis is old-school Arctic Cat Twin Spar and the engine a reminder of Suzuki's once close partnership with Cat. Plus, the Bearcat 5000 XT GS makes no pretensions about being exactly what it is: a straight-forward utility sled with wide track, low end gearing for grunt cargo hauling and articulating rear suspension for back country mobility. That being the view we held before boarding the Bearcat, we figured we'd make a very short loop, run up to maximum speed, make a few off-trail turns, get some technical photos at our usual spot and then head back in. It would be easy and we'd knock this cargo-hauling beast off our list.
However, all that being the truth, the other truth about this sled slapped us across the face with a realization that, yes, it is all of the above, but it's quite a bit more. That's what we discovered and that reality shamed us. The Bearcat 5000 XT GS is a total blast to ride. There's really nothing quite like it in the snowmobile marketplace. You ego-sport guys will nod as how that's a good thing. We would have been a naysayer to its fun quotient, too, but we took the time to get to know this sled in all its heft. You know, it's the heavy set date you get set up with that can only be described as being kinda cute with a great personality, but turns out to be a terrific partner. That's the XT.
COMPARISON: Read our review of the 2015 Polaris 600 Indy Voyageur 144
On paper the XT isn't anything special, except that the sum of its componentry makes it a unique sled. There's that older design Twin Spar chassis that was Cat's main stab at "rider-forward" design. Long time Cat fanciers never came to fully embrace that platform, much preferring the old Firecats and such. Fortunately for Cat, those riders tuned into the ProCross, ProClimb and ProTour generation, which likely will replace this Bearcat as soon as next season.
At 125 horsepower, a one-liter Suzuki four-stroke Twin gives the XT low end and mid range performance that's well suited to its design, which is towing or hauling gear. Actually, the XT was specially designed to pull a lightweight modified groomer to maintain "feeder" trails and sections of single sled width trails common to the East.
The XT is one of those snowmobiles that is truly purpose-built. Collaboration between one of Arctic Cat's oldest and largest volume dealerships, Livingston's Arctic Cat of Hillsboro, NH, and Cat's product manager, Joel Hallstrom, the Bearcat 5000 XT GS was always destined to be the draft horse in front of the plow – or, the tow sled in front of the mini-groomer. Livingston Arctic Cat sells a lot of Arctic Cat sleds in central New Hampshire, where trails can be unkind to big tractors trying to yank a groomer through narrow, winding and tree-lined routes. Snowmobilers in that portion of the snowbelt had used old bedsprings or club-made lumber drags to knock down the spiked mogul tops where big groomers couldn't go. Now and again, you can still run across the remnants of an old bedspring "groomer" back in the woods. It was this joining of need combined with a listening and willing sled maker to take the idea of creating a uniquely equipped sled to haul an equally unique downsized groomer, which you can get through your Cat dealer.
COMPARISON: Read our review of the 2015 Ski-Doo Expedition SE ACE 900
While the "base" XT comes loaded, you can add a snowplow, an assortment of cargo retainers and seating options to accommodate a trio of travelers. It's the basic goodies that make the XT stand out and make its US$14,299 price tag a relative bargain when compared against Cat's turbocharged ZR9000 RR (MSRP US$16,049) or  M9000 HCR mountain race replica (MSRP US$15,649).
This base XT comes well equipped and includes: * Electric start * Engine heater * Radiator * Push-button reverse * Dual halogen headlight (four-bulb) * Multi-function digital/analog gauge * Electric gas gauge * High/low hand & thumb warmers * Extra-high and wide windshield * Accessory outlet, rocker and actuator switches * Mirrors * Spacious under seat storage * Mountain strap * Front receiver bumper and heavy-duty rear bumper * Pintle hitch * Transport mount * 2,500 lb.winch with receiver mount, roller fairlead & 50 ft. of steel cable * Light bar for floodlight, and beacon * Rear tunnel mat
The optional tow-along groomer will maintain a four-foot wide trail and is set up with dual electric actuators to control the depth that the unit's four spring loaded and pivoting edges cut into the trail snow. Properly set up, the Bearcat 5000 XT GS operator can control the drag while underway – just as with a big groomer.
The power to handle this work comes from the venerable 1056cc Suzuki Twin that has powered various Twin Spar sleds since the original 2007 Jag Z1. Simply said, the Suzuki Twin works well in this application as Cat engineering refined the six-post rpm-sensing Cat drive clutch to work smoothly through the 10.4-inch diameter Arctic roller cam driven and related lowered gear range. Torque is amplified for extremely stout drive-off and more than adequate mid range power. Top end is relatively low, but you'd expect that anyway. Still, we found the Suzuki could wind out enough to give us speeds to match most posted trail speed limits.
The ride for this utility sled was surprising considering the need for stiff enough rates to handle up to three riders and haul cargo or a groomer. The articulating rear suspension features a two-inch diameter rear arm shock working in conjunction with adjustable torsion springs and fiberglass overload springs. This set up smacks of "old school" engineering, but it's a proven arrangement that Cat knows works well. That's exactly what you want on a sled that will carry you out on late night grooming runs or tracking loads across the tundra. The long 154-inch by 20-inch wide track with its 1.37-inch tall lugs can arc through 13 inches of travel. Up front the seventh generation of Arctic's "wishbone" suspension gives you 8.5 inches of travel, which is controlled via solid duty hydraulic twin tube shocks with coil-over-spring assistance.
COMPARISON: Read our comparison of the 2014 Arctic Cat Bearcat Z1 XT Limited vs. Ski-Doo Expedition SE 4-Tec 1200
Elevated to accommodate underseat storage, the XT saddle puts you upright to allow you great down-the-trail vision behind the huge windshield. On-trail control surprised us as the sled is much more nimble and fun than we expected from a unit with eight-inch wide dual-carbide skis. The front ski stance is adjustable and can be set in to a minimum of 40 inches or out for a 44-inch maximum stance. Although seemingly implausible, there's a mountain strap to help you leverage this 50-inch wide beast through loose snowfields.
As noted, we were set to do a short ride, but the whole XT concept just tickled our fancy, what with the flashing orange beam announcing our presence through the late afternoon Yellowstone snow fog. Even facing stinging fresh powder blowing over the trail, we felt as secure as a highway snowplow operator in a Dakota snowstorm. This sled proved incredibly competent and unexpectedly fun to ride. Riding past a bevy of rental sled riders out on the trail, we slowed ahead of them and used our flashing light to help guide them across a gray and hard-to-see trail section. It was then we became Trail Commander, rescuer of unwary snow travelers. In those conditions and with the confidence the XT allowed us, we felt as though we had a superpower. Wolverine, watch out!
Seriously, though, our stint aboard the Bearcat 5000 XT GS gave us a great appreciation for what a well-thought out Utility sled can be. In some respects, if we could have only one snowmobile that we knew needed to last a long time, had to perform a myriad of duties from hauling cargo to patrolling trails and such, we'd give this sled consideration. It just works extremely well at its intended design purpose. Plus, as we found, it has a unique flair for fun, totally unexpected from a pretty much pure utility sled. We guess that Arctic Cat's marketing is right when it says this sled leads you to want to play hooky now and again. We won't underestimate this genre of sled again. It's just too much fun to miss. And how else can we play Trail Commander?
2015 Arctic Cat Bearcat XT GS Specs
Engine
Suzuki 1056cc, liquid-cooled, 4-stroke twin; 48mm dual throttle body, electronic fuel injection
Horsepower
125 (claimed)
Drive
Arctic Cat 6-post rpm sensing drive with 10.4-inch diameter Arctic roller cam driven
Front Suspension
Arctic Wishbone Suspension (AWS VII) with hydraulic twin tube coil-over-shocks; 8.5-in maximum travel
Rear Suspension
Arctic Cat parallel rail articulating suspension; adjustable torsion springs; coupling blocks; Arctic Cat 2-inch diameter rear arm shocks and torque-sensing linkage; fiberglass overload springs; 13.0-inches of travel
Length
137.0 in
Width
50.0 in
Ski Stance
Adjustable 40.0 – 44.0 in with dual skag 8-inch width ski
Track
20 x 154 x 1.375 in
Weight
NA
Fuel Capacity
17.0 US Gal
Features
Standard: Push button reverse; electric start; heavy duty bumper; deluxe multi-function digital/analog gauge; accessory outlet; under seat storage; "mountain" strap; hitch; mirrors; beacon and floodlight on "light" tower Optional: cargo rack; additional seating options for up to three persons; backup light; gear and storage bags
MSRP
US$14,299