2014 Arctic Cat Bearcat Z1 XT Limited vs. Ski-Doo Expedition SE 4-Tec 1200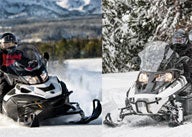 Comparing two heavyweight touring-utility snowmobiles
When you want to make an impression in the snow, either of these top of the line heavyweights with their 20-inch wide by 154-inch long tracks will do it. Heavyweight snowmobile manufacturers Arctic Cat and Ski-Doo compete mightily in virtually every segment of snowmobiling, including a relatively new touring/utility niche that demands top of the line features.
Fast Facts
Engine Type:Horizontal In-line
Cylinders:3
Engine Stroke:4-Stroke
Valve Configuration:DOHC
Displacement:1170.7 / 71.4
Starter:Electric
Turbocharged:No
View Full Spec
Both the 2014 Arctic Cat Bearcat Z1 XT Limited and Ski-Doo's 2014 Expedition SE 4-Tec 1200 take basic utility snow-ability into a realm of snow coach luxury. These sleds combine the features of a basic ultra-long track sled with appointments demanded by two-up luxury sled buyers. Not only do the two sled manufactures fit these touring/utility models with extreme snow-ability in the form of wide and long tracks spinning around articulated rear suspensions, but they blend in comfort features like plush seating for up to three (if one of you is a child), ample onboard storage, electric outlets and heated seats. Each manufacturer adds its own special features to differentiate its model from the competitor. Ski-Doo adds a handlebar-operated Air Control ride and tilt steering. Arctic Cat adds a heated seat as standard.
Obviously you wouldn't expect to see these sleds running the corridor trails of the Midwest, but you could expect to see them breaking their own paths in Scandinavia, Russia or northern Quebec. With international snowmobile sales individually outstripping the United States and Canada this past season, snowmobile builders like Arctic Cat and Ski-Doo have paid more attention to the needs of those buyers. Sport sleds like the ZR and MXZ series remain popular, but where groomed trails are more of an exception than a rule, snowmobile buyers have different priorities.
COMPARISON: Read our review of the 2013 Ski-Doo Tundra Xtreme
Those riders still want to enjoy winter, but they need sleds with greater snow-ability than riders in North America. They also demand on-trail comfort and convenience. Those bush-beating sleds of old just don't cut it anymore. Yes, the old style "international" market sleds got the riders out to remote cabins and work areas, but they tended to be little more than super-stretched platforms for extra long tracks. They had the bare essentials, but lacked the comfort features that two-up and sport touring riders came to view as standard gear. As the international market has grown, so has demand for more upscale utility sleds that can be used for sportier recreation.
Interestingly, Ski-Doo has a sister brand, Lynx, located in the heart of the international marketplace. With its Lynx manufacturing facility in Rovaniemi, Finland, Ski-Doo can gather excellent customer data and solicit feedback to update its snowmobile product for that market. In many ways, the 2014 Expedition series of sport utility sleds is an extension of Ski-Doo's Grand Touring model, but blending in more rugged and useful features needed for utility functions.
From the Grand Touring the 2014 Expedition SE gains the comfort of an air spring ride. With easy operation via a handlebar-mounted rocker switch, the Expedition's air shock sets the sled for cushy riding for one, two or possibly three people. Unlike the Grand Touring, though, the Expedition SE's SC-5U rear suspension adds an articulating rear section to enhance reverse operation with the 154-inch track.
Arctic Cat also offers an articulating rear suspension on its Bearcat Z1 XT Limited. Instead of an air spring shock, Cat provides fiberglass overload springs to enhance the suspension. Both Arctic Cat and Ski-Doo use a 20-inch by 154-inch track. Cat specifies a taller 1.375-inch lug profile for off-trail bite. Ski-Doo feels that a 1.25-inch lug height works well enough. Either way, these sleds carry more than 3,000 square inches of track surface. Compare that to the 1,800 square inches common to a sport sled's 15×120-inch track.
When creating your own path, both Cat and Ski-Doo engineering groups recognized the need for extra snow flotation gained by wider and longer tracks, but also understand the need for improving front-end float. You'll find eight-inch wide "float" skis on the Bearcat and 41-inch long Pilot 6.9 skis on the Expedition SE.
COMPARISON: Read our review of the 2012 Arctic Cat Bearcat Z1 XT Groomer Special
The front suspensions of both touring/utility models share engineering from their touring counterparts. Since the Arctic Cat is based on the Twin Spar platform, you'll find an adjustable Arctic Wishbone VII front suspension. The ski stance can be extended from 40 to 44 inches. The Ski-Doo Expedition has a narrower stance of 38.4 to 40.1 inches built off Ski-Doo's standard double A-arm design.
As mentioned, Arctic Cat starts with its older style rider-forward Twin Spar platform. Although Ski-Doo's Expedition is based on the REV concept that initiated a breakthrough in the riding position of modern snowmobiles, this model adds off-trail specific features in what Ski-Doo calls its REV-XU platform. The "XU" offers a flatter, more "float-friendly" pan shape to give the Expedition SE 4-TEC 1200 increased snow-ability in areas where groomers don't go.
The whole idea behind these designs is to create a snowmobile that provides the ability to go virtually anywhere and can be used for both utility and recreation. The large track surface is a start. Adding high flotation skis and a bottom pan design that can keep the front on top of the snow is the finishing touch. Of course, with all of these "must haves" built into these touring/utility sleds, they are not light at all. The Ski-Doo has a claimed weight of more than 700-pounds. Although Arctic Cat does not publish weights in this classification, expect a similar weight to the Ski-Doo.
COMPARISON: Read our review of the 2014 Polaris Indy Voyager
Both of these top line models rely on proven one-liter four-stroke engines. The Ski-Doo features a Rotax triple displacing 1171cc and producing more than 130 horsepower. Arctic Cat counters with one less cylinder from its Suzuki-built four-stroke twin. Cat claims about 125 horsepower from the 1056cc liquid-cooled engine. Where Ski-Doo delivers power to the track through its own eDrive2 primary and QRS secondary drive, Cat uses a proven Arctic-designed six-post rpm-sensing drive clutch tuned to a 10.4-inch diameter roller cam driver.
Both of these models offer reverse, but Ski-Doo also gives you two forward speeds. Developed by Lynx, the ftwo-speed plus reverse gearbox gives you low-end grunt from a first gear ratio of 3.23 to one. The top gear ratio is set at 1.98:1. If you are looking at serious tundra running, this does set the Ski-Doo apart from the Bearcat. But, other than that, these two sleds are designed for tough sledding with an air of comfort and conveniences to make getting off the beaten path quite enjoyable.
Ultimately, both the Expedition SE and the Bearcat Z1 XT Limited are utilitarian in concept. But with all of their "touring-oriented" features, off the grid riding is no longer all work and no play. Plus you can invite a friend to ride along and make a very good impression.
| | | |
| --- | --- | --- |
| | 2014 Arctic Cat Bearcat Z1 XT Limited | 2014 Ski-Doo Expedition SE 4-TEC 1200 |
| Engine | Arctic Cat/Suzuki 1056cc, liquid-cooled, 4-stroke twin; 48mm throttle body electronic fuel injection | Rotax 1171cc, four-stroke triple; double overhead cam; liquid-cooled; 4-TEC electronic direct injection; tuned exhaust |
| Horsepower | 125+ | 130 |
| Drive | Arctic Cat 6-post rpm sensing drive with 10.75 inch diameter Arctic roller cam driven | Ski-Doo/Rotax eDrive 2 with QRS driven; 2-speed synchromesh gearbox with reverse |
| Front Suspension | Arctic Wishbone Suspension VII (AWS) with hydraulic twin tube shocks with coil-over-shocks; 8.5-in maximum travel | Ski-Doo dual A-arms with spring over Motion Control shocks; up to 8.3-in travel |
| Rear Suspension | Arctic Cat parallel rail articulating suspension; adjustable torsion springs; fiberglass overload springs; 2-inch diameter rear arm shock; 13.0-inches of travel | Ski-Doo SC-5U articulated parallel slide rail with Motion Control center shock and Air Control rear shock; up to 13.4-in travel |
| Length | 137.0 in | 128.0 in |
| Width | 50.0 in | 46.9 in |
| Height | N/A | 52.3 in |
| Ski Stance | 40 to 44 in | 38.4 to 40.1 in |
| Track | 20x154x1.375 | 20x154x1.25 RipSaw |
| Weight | N/A | 710 lbs (claimed) |
| Brake | Axial master cylinder with disc on driveshaft | Hydraulic disc with stainless steel braided brake line |
| Features | Standard: Twin Spar chassis; push button reverse; electric start; heavy duty front and rear bumpers; detachable passenger seat; digital/analog gauge; accessory outlet; rear storage bag; curved handlebar; heated seat; tall windshield; underseat storage | Standard: REV-XU chassis; 4-position tilt steering; multi-function gauge; 2-up modular seat with under seat storage; 8.0-inch riser block; mechanical reverse; electric start; mirrors; storage bags |
| Fuel Capacity | 17.0 US Gal | 12.0 US Gal (87 octane) |
| MSRP | $13,199 | $13,599 |