2016 Arctic Cat Snowmobile Lineup Preview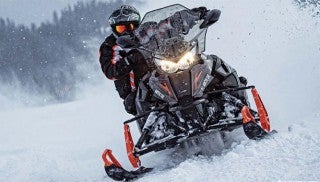 New clutching, new tranny, new engines!
Based on what we saw last season with the new-for-2015 Pantera 7000, Arctic Cat has, indeed, attacked the utility segment with one of the most solid line-ups of versatile and utilitarian sleds we've seen in decades. But, that's not what true powder hounds want to hear about. They're from the "What have you done for me lately" school. Fortunately Arctic Cat's 2016 play sleds should make them and hard-charging trail riders plenty happy.
Cat's M-series of ProClimb models feature key upgrades designed for serious deep snow and backcountry riding. There are five major improvements to the ProClimb-based stretch track sleds that will count with deep snow Cat riders:
• New mountain-specific ProClimb 7 ski • Lightweight mountain Float-Action suspension • New front Arctic Mountain Suspension (AMS) with new spindles and geometry that result in 2.4 pounds less weight to steer • New fixed vertical steering post • New PowerClaw three-inch lug track on select models.
New M SE
The M Series adds an all-new M SE model to the powder mix that combines the new AMS front suspension with the Float-Action rear unit with improved HCR cooling system and power from either Cat's own 6000 series two-stroke twin or the potent Suzuki-built 800cc twin to spin a 141 or 153-inch track. While the SE is actually the base M for 2016, all the upgrades built into it dramatically elevate the SE from the previous base models of 2015.
Cat's M Series will feature a range of performance options from the homemade 600cc twin or Yamaha-built 1049cc four-stroke triple to the muscular 800cc two-stroke and turbocharged Suzuki 1100 four-stroke twin. Track lengths stretch from a somewhat modest 141 incher up to a 162-inch PowerClaw with the three-inch lugs. The ski stance on select models will be offered with up to four inches of adjustability. Plus, all the M Series and the XF High Country get the ultra-rigid ProClimb spindle manufactured using aluminum forgoing technology.
Options? Cat's powder runners take little for granted, you will have a variety of specialized seats to provide exceptional ergonomics for the aggressive and active rider, more relaxed seating with rear storage and a lighter weight seat with five-inch shorter bun and 1.5-inch lower profile.
COMPARISON: Read our review of the 2015 Arctic Cat M7000 Sno Pro + Video
The Float-Action rear suspension is a redesign of the previous unit, but with greater snow-ability and fitted with a variety of model-specific premium shocks to master the ride delivered from Cat's track selection. The 2016 choices will be:
• 2.25-inch PowerClaw for the M SE and XF High Country • 2.6-inch PowerClaw on the M Snow Pro and M HCR • Newly available 3.0 PowerClaw for the M Limited that's 2.5 lbs lighter than the 2.6-inch track
You'll find that Arctic Cat engineering zeroed in on the type of steering systems it feels work best for the various models. The XF High Country will continue with the innovative telescoping vertical steering, while all two-stroke M models will go with a fixed steering post and vertical steering. The four-stroke M models will also get a vertical steering system as well.
As you'd expect, Arctic Cat will offer uniquely styled and equipped Limited models for early buyers, including a bright Arctic Cat green M SnoPro Limited with various engine and track combinations.
Crossovers
The growing popularity of Crossover snowmobiles gives Arctic Cat a great opportunity to refine its line for 2016, which it has done by settling in on key models fitted with one of three chassis: ProTour, ProClilmb, and ProCross.
The XF CrossTour is new for 2016 and brings a hint of Pantera to the adventure segment. The ProTour chassis allowed Cat designers to combine the flatter angled platform with a 146-inch length RipSaw Quiet Track and ARS front suspension. The CrossTour features the famed Slide-Action suspension, plus high windshield and rearview mirrors. Powered by the Yamaha-built 1049cc four-stroke for smooth on- or off-trail adventures and equipped with the auxiliary 4.3-gallon rear fuel tank, CrossTour riders can enjoy an all-day ride with few pit stops!
Cat's CrossTrek is another crossover model, but based on the trail sport ProCross chassis for more nimble and sport handling. It's fitted with the 137-inch Cobra track for grip, but adds storage features like a large rear tunnel bag and side bags that let you bring along key gear for the ride. This CrossTrek draws power from a Cat 600 twin as well as Suzuki 800cc twin. Four-stroke performance can be mild with the Yamaha 1049cc engine or positively wild if you opt for the turbocharged Suzuki 1100.
To handle the power and torque generated by an 800cc Suzuki two-stroke or turbo four-stroke, Arctic Cat turned to Team Industries to enhance virtually all of Cat's powertrain systems for 2016. You'll find this year's Cat will feature new Team Rapid Response drive clutches and Team-developed Boss Rapid Response drivens under the hood. Cat engineers expect the Team products to be stronger, more durable and increase longevity. Plus, the engineers note that the Team drive has five percent less rotating weight and the driven four percent less versus the 2015 components.
COMPARISON: Read our review of the 2014 Arctic Cat XF 7000 Cross Country Sno Pro + Video
Cat's High Country model blends trail action with powder potential as it uses the same engine options as the CrossTrek but lets them power a 141-inch track under the ProClimb chassis. This model gets the new AMS front end with Fox Float 3 shocks, while the other non-ProClimb based models are fitted with the ARS suspension. The rear suspension is also powder specific as the High Country works with the Float-Action 141 as opposed to a Slide-action variant.
Trail Performance
The performance category is based on the ProCross platform and mostly offers upgrades to a lineup that's become familiar for its nifty handling and on-trail bump prowess. The key new model is the 2016 ZR Limited, a Spring Only model in bright Cat green livery. Available in either the 129 or 137-inch track lengths with four power options, this new-for-2016 Cat features new Quick Switch 3 (QS3) Fox shocks. The QS3 takes the guesswork out of shock tuning as you can quickly switch between a soft, medium or stiff setting. This shock package is also offered with the ZR El Tigre.
Cat's litter of ZR sports sleds includes the popular Sno Pro models with the more aggressive setup as well as the LXR models with their more comfort-tuned settings. For the serious and most aggressive Cat trail rider, look to the ZR RR with bold Team Arctic graphics and more aggressive rear suspension calibrations.
While the ProCross platform is the standard-bearer for Cat's trail sports line, you will find a good value in the Twin Spar Lynx 2000, which is powered by the fan-cooled Suzuki 570 two-stroker twin.
ProUte Chassis
As we mentioned early on, Arctic Cat virtually reworked its entire utility line, basing it on the Pantera ProTour platform. Still, the work platform is more than just a Pantera design. The ProTour series of touring and two-up models are highlighted by the returning Pantera 7000 and an all-new luxury-equipped Pantera 7000 XT Limited and an all-new Pantera 3000 with Arctic Cat's new 700cc four-stroke twin.
COMPARISON: Read our review of the 2015 Arctic Cat Bearcat 5000 XT GS
The new Bearcats utilize what Cat calls its ProUte chassis. This platform can be found on the Bearcat 7000 XT GS groomer special, the base Bearcat 7000 XT version and the Bearcat 3000 LT. This model is the showpiece for Cat's new ATV-based 700cc, 65-hp four-stoke twin. Another innovation from the Thief River Falls, Minn. engineering crew is an all-new Easy Shift three-speed transmission, featured on the Bearcat XT. The Cat-designed tranny gives you the normal high and low ranges, plus a super low gear for impressive hauling capability.
The new Bearcats ride on variations of a new Xtra-Action articulating rear suspension that handles the 154-inch long by 20-inch wide Quiet Track.