2016 Arctic Cat XF 7000 CrossTour Review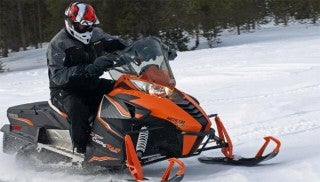 For the rider who places a premium on mileage
What do you get when you blend an Arctic Cat Pantera with a CrossTrek? Try a new for 2016 CrossTour, which features a version of the ProTour platform that was introduced last season on the reinvented Pantera touring model. Throw in some crossover pieces from the XF series of CrossTrek models then add comfort must-haves and power it with a proven Yamaha four-stroke.
Fast Facts
Engine Type:Horizontal In-line
Cylinders:3
Engine Stroke:4-Stroke
Valve Configuration:DOHC
Displacement:1049 / 64
Starter:Electric
Turbocharged:No
View Full Spec
Let me guess, that Pantera heritage is a turn-off. Too big and cumbersome for venturing off trail? True, it's not a ZR or XF 7000 CrossTrek, but give Cat engineers some credit. The touring-bred chassis offered ample room for a long track and Cat engineers used it to put a 146-inch length Ripsaw to the snow. The 15-inch wide track's 1.25-inch lug profile affords adequate grip. Plus, the CrossTour rear suspension is the active Slide-Action design that works great on trail but also can bust some moguls when you run the backwoods. You'll find iterations of this sliding action design on all of Cat's top sport sleds. This version provides 13.5 inches of overall travel.
Up front the CrossTour faces down groomed or ungroomed snow surfaces with Cat's readily recognizable tall spindle ARS ski suspension. Cat uses its own internal floating piston shocks in both the front and rear suspensions. "Helper" coil springs are mounted over the front shocks to manage the available 10 inches of travel.
COMPARISON: Read our review of the 2016 Arctic Cat Pantera 7000 XT LTD + Video
The CrossTour will be more acceptable to riders coveting comfort more than aggressive back country thrills. The ProTour chassis, while regarded as the lightest and strongest modern touring platform Cat has offered to date, subverts some deep snow capability with its flatter more trail oriented design. Cat refers to this characteristic as offering a "neutral" rider location. That's marketing speak for more touring, more trail orientation than off trail and aggressive stand up and bang over bumps character.
Arctic Cat took the ProTour chassis, which is an extended version of the basic ProCross, and incorporated the same basic front end with it's race-bred A-arm design and proven handling. The end result is a well-rounded sport touring sled that offers strong performance to maximize daily mileage.
The CrossTour is for the rider who places a premium on mileage. That rider will appreciate the flatter plane of the chassis that places him in a forward and centered position to command the trail, smoothly respond to advancing sweepers and accommodate an occasional touring partner. If you desire to carry a passenger, you can upgrade with a two-up specific seat, but figure that the standard ProTour saddle will be just fine. To help keep you on the trail longer to make a strong mileage statement, the CrossTour comes with a standard auxiliary fuel tank at the rear. Combine the front tank's 10.7-gallon capacity with the 4.3-gallon rear tank and you have a total of 15 gallons to feed that efficient Yamaha four-stroke.
We expect the durable Yamaha 1049cc triple to enjoy improved mileage and overall performance thanks to Cat's switch to a totally TEAM clutch system, which gives you a TEAM drive paired with TEAM's Rapid Reaction BOSS driven. This new for 2016 drive system offers weight reduction, a claimed 250 percent improvement in wear resistance, improvements in durability and quicker shift response to enhance overall acceleration.
Supplied by Yamaha, the 7000-Series C-TEC4 1049cc engine features Arctic Cat specified electronic fuel injection that is programmed to maximize the engine's midrange and overall fuel efficiency. You'll also find that Cat designers virtually eliminated the powertrain's engine braking, giving the sled more of a free-rolling two-stroke "feel" when you let off the throttle. With the Yamaha triple as the centerpiece, Cat engineers rig it with their own EFI specs and move the exhaust to a canister mounted on the side with its exit behind by the right front ski. Traditional and patented Yamaha practice is to have the engine's exhaust exit out the back, under the seat.
COMPARISON: Read our review of the 2016 Yamaha Viper S-TX 137 DX
The CrossTrek series offers more engine options, including the Yamaha C-TEC4, which is the only engine choice for the 2016 CrossTour. Aside from the 2016 Yamaha SR Viper S-TX 146 DX, which was built by Cat for Yamaha, this Cat model is unique for 2016. There is no non-Arctic Cat derived sled that comes close. Ski-Doo's Tundra Xtreme uses a telescopic front suspension and is less touring ready and more suited to the Eurasian Steppes or Arctic tundra. Polaris doesn't even offer a four-stroke option. And, Yamaha, for the most part, has what Cat has right down to the auxiliary fuel tank. So, in this case a similarly priced sister to the CrossTour.
There are differentiators between the CrossTour and the Pantera, but you'll find that the CrossTour is, above all, a much sportier version. The windshield height is 11 inches versus the 17 inches that comes with the Pantera but, of course, there are other windshield options available. Heated seating is standard on the CrossTour. In addition to the added fuel tank, there is available covered storage to protect extra gear or trail goodies you want to bring along.
The four-stroke XF 7000 CrossTour combines the ease of electric start with easy-to-engage push-button reverse. You'll find an easy to read set of gauges and even a convenient 12-volt outlet to power up a smart phone or GPS unit. The styled front sport bumper is constructed of aluminum, but strong enough to fend off brush and protect the CrossTour's nose.
COMPARISON: Read our review of the 2015 Ski-Doo Tundra Xtreme
We enjoyed the overall on-trail character of this sled because it proved to ride and handle very well. That 146-inch track length bridges a lot of those annoying smallish bumps and smooths out your ride. The ProCross skis with the dual split runners really helped make this 127-inch long sled corner almost like a shorter ZR. Comfort-wise we found the ProTour saddle very easy on our bottom, plus being heated, it added another degree of comfort.
While all of that reflects the attention to creature comfort that you would expect from a touring Cat, we also expected – and found – above average leverage from the nicely curved handlebar and easy to use hand controls. The CrossTour is very much a comfort Cat that can be ergonomically tuned to suit your riding preferences.
Would we recommend the Arctic Cat CrossTour for challenging the deepest back country? Not really, we'd take the CrossTrek in that case, but we'd certainly consider it when we want to head out for a long weekend on unfamiliar trails that might range from nicely groomed to untouched fire roads. Know that you can count on this sled for consistent mile-after-mile performance, regardless of trail conditions.
2016 Arctic Cat XF 7000 CrossTour Specs
Engine
7000-Series C-TEC4 Yamaha 1049cc, liquid-cooled, 4-stroke triple; 3x41mm electronic fuel injection
Horsepower
135 hp (claimed)
Drive
TEAM Rapid Response rpm sensing drive TEAM Rapid Reaction BOSS driven
Front Suspension
Arctic Race Suspension (ARS) with Arctic Cat internal floating piston coil-over-shocks; sway bar; 10-in maximum travel
Rear Suspension
Arctic Cat parallel rail Slide-Action suspension; coupling blocks; adjustable torsion springs; torque-sensing link rear arm; Arctic Cat IFP shocks; fiberglass overload springs; 13.5-inches of travel
Length
127.0 in
Width
48.0 in
Ski Stance
Adjustable 42 to 43 inches with ProCross-6 ski
Track
15x146x1.25 Ripsaw Track with "Quiet Track" technology
Weight
NA
Brake
Hydraulic disc brake
Features
SStandard: ProTour platform; electric start; deluxe digital gauge; accessory outlet; sport front bumper; locking storage bags; adjustable curved handlebar; rearview mirrors; ProTour heated seat; auxiliary 4.3-gal fuel tank Optional: hitch; skid plate; gear and storage bags
Fuel Capacity
15.0 US Gal (87 octane)
MSRP
US$15,599