2010 Polaris 600 IQ vs. 600 IQ Shift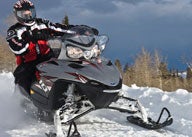 Is the 600 IQ worth an extra $1,000?
Last season Polaris offered you three versions of 600 trail sport performance models — the premium 600 IQ Dragon SP, a standard 600 IQ and a price-leading 600 IQ Shift with twin carb motor. If you figure that the new 600 Rush replaces the top line Dragon SP, you'll find Polaris comes to 2010 with just two entries in the popular "120" category. You'll also find that the base 600 IQ remains pretty much the same right down to its unchanged US$8,999 price tag. The "econo" version 600 IQ Shift went up a grand from US$6,999 last season to US$7,999 for 2010. There is a powerful reason for the price hike.
Since Polaris decided to drop its "dirty" twin carb 600cc twin from all models this season in favor of its fuel-injected Cleanfire 600, there had to be a price spike. Both 600 IQ models share this motor, but you gain about five extra horsepower for your pricier IQ Shift, not to mention much smoother and quicker responding throttle action. The Cleanfire Injection two-stroke runs more efficiently and should give you better fuel economy, while helping Polaris meet US environmental requirements.
Shifting Line Up
Where the basic 600 IQ sport performance model comes with full factory decorative styling in silver with spiffy red, black and white decal details, the Shift version remains true to the design-it-yourself concept that Polaris introduced with its Shift line. The idea is — was? — to let you page through the Polaris accessories catalog and pick out specific Shift decal packages, or not. We say "was" because last spring the 600 IQ Shift disappeared from the Polaris 2010 marketing line up. There was a fan-cooled 550 IQ Shift and that was it. But, apparently Polaris dealers helped the company reconsider and here it is.
As already mentioned, the 600 Dragon SP was replaced by the Rush. Sometimes, when a top of the line model gets dropped, its features move down a notch. That's not the case here as last year's middle of the pack 600cc sport model remains virtually unchanged. The 600 Dragon's nifty Walker Evans shock package moves over to the new Rush, but 600 IQ owners shouldn't fret too much as the base package consists of RydeFX high pressure gas shocks with an internal floating piston. These shocks work on the IQ's A-arm front suspension and the rear suspension's forward arm. The rear arm relies on a Fox brand PS5 gas shock to work with the parallel slider's coupled action.
RydeFX
While the exclusive to Polaris Walker Evans shocks carry more panache, the 600 IQ's standard Ryde FX HPG IFP shocks demand respect. They feature a one-piece extruded aluminum cylinder construction that is strong, offers corrosion resistance and is light in weight. The shock comes with an integrated ice scraper built into the cylinder head assembly that prevents moisture from contaminating the innards. These shocks also feature a large diameter O-ring on the internal floating piston that keeps the shock's gas and oil from mixing with one another. You probably won't even notice the shock's half-inch chromed rod that effectively adds an improved surface finish to enhance the life of the seal as well as provide extra resistance to pitting and corrosion. That will make a difference as you trailer your sled over salted and slushy highways.
"Both models offer better than average suspension travel — front and rear!"
You 600 IQ Shift owners will discover the Ryde FX MPV shock absorbers offer outstanding trail performance, too. They have a large range of adjustments that allow riders to fine tune the shock's compression action. Made of anodized aluminum, MPV series shocks use a gas cell and feature a patented Low Fade Orifice Carrier Piston that transitions from a smooth low speed ride to a firm, more controlled setting when you kick in the throttle and need high speed handling.
Both models offer better than average suspension travel — front and rear! The A-arm front end gives you 10-inches of travel while the IQ slide rail offers nearly 14-inchs of action. The rear rail unit is coupled so that you can dial-in whatever amount of ski lift or ski pressure you prefer.
As with modern Polaris two-stroke motors, the Liberty Cleanfire twin comes standard with Polaris' push-button electronic reverse. While you can specify electric start, the Liberty 600 remains an easy starting, easy to pull motor.
Model Differences
When we compare the specifications and features of these two models, we're a bit hard pressed to find a thousand dollars worth of difference. The 600 IQ gets the better shock package, but both share the same motor and Polaris P85 drive and P2 driven clutches. The Phantom hydraulic disc brake works just fine for both and even the fundamental styling is the same. The lightweight Freestyle seat is used on both models and each comes with a 12-inch tall clear windscreen. If you are hard charger, you'll want to add Polaris' optional handlebar hooks to either version, as neither model offers them as standard equipment.
There is a difference in the tracks. The 600 IQ uses a 15-inch wide by 121-inch Hacksaw track with one-inch lug height, versus the less aggressive 121-inch Shockwave track with 0.91-inch lug profile on the 600 IQ Shift.
Depending on whether you want to personalize your sled or stay with factory styling might make a difference in your choice between a 600 IQ or the plain black 600 IQ Shift. Unless you can truly tell the difference in shocks and the gripping action of the track, it might be difficult to spend extra to get those features in the 600 IQ. Truthfully, we would pop for the more stylish and slightly more expensive 600 IQ. Then again, we could use the money we saved and deck out the basic black 600 IQ Shift with a nice tunnel bag, a more colorful windshield and that retro Polaris TX graphic kit. Oh, heck, we don't know which we'd go for after all. We do know that either one would be a pleasant sport cruiser with good power, outstanding ride and long term value.
| | | |
| --- | --- | --- |
| | 2010 Polaris 600 IQ | 2010 Polaris 600 IQ Shift |
| Engine | Polaris Liberty 599 twin cylinder; liquid-cooled; Cleanfire fuel injection; | Polaris Liberty 599 twin cylinder; liquid-cooled; Cleanfire fuel injection; |
| Horsepower | 120+ | 120+ |
| Drive | Polaris P-85 drive; P2 driven | Polaris P-85 drive; P2 driven |
| Front Suspension | Polaris IQ — 10-in maximum travel; RydeFX HPG IFP — High pressure gas shocks with internal floating piston | Polaris IQ — 10-in maximum travel; RydeFX MPV shocks |
| Rear Suspension | Polaris IQ — 13.9-in of maximum travel; RydeFX IFP gas shock on front arm, Fox PS5 on rear arm | Polaris IQ — 13.9-in of maximum travel; RydeFX MPV on front and rear arms |
| Length | 115.0 in | 115.0 in |
| Height | 48.5 in | 48.5 in |
| Width | 48.0 in | 48.0 in |
| Ski Stance | 42.5 in | 42.5 in |
| Track | 15 x 121 x 1.0 HackSaw | 15 x 121 x 0.91 Shockwave |
| Weight | 478 lb (claimed) | 475 lb (claimed) |
| Brake | Polaris Phantom hydraulic | Polaris Phantom hydraulic |
| Features | Electronic reverse | Electronic reverse |
| Fuel Capacity | 11.5 US Gal | 11.5 US Gal |
| MSRP | $8,999 | $7,999 |
Related Reading
2010 Polaris 550 IQ Shift Review
2010 Polaris Rush Review
2010 Polaris 800 IQ Review
2010 Polaris IQ Turbo Dragon Review