2010 Polaris RMK, Dragon & Assault Review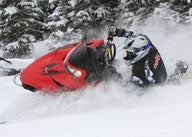 Throwing down with Polaris' 800 RMK lineup
Polaris holds to the concept, "If it ain't broke, don't fix it." For model-year 2010 Polaris brings to the buying public virtually the same RMK it delivered in 2009; a few changes do adorn these mountain models, but these are mostly to the eye candy – graphics and colors. However, the RMK remains a competent mountain sled that should — and must be — considered along with the other brands and models. Look how viable Cat's Ms are, and know the XP Summit/Everest is in its third year.
Polaris' three 800 RMKs come with a standard feature we in Snowmobile.com high mountain Boy Scout camp greatly appreciate – boondocking savvy. An RMK eight-zero-zero is agile, easy to roll, maybe the easiest in the industry, and will unstitch a mountain's backside quickly and efficiently.
Dragon
Love 'em or hate 'em, the Dragon graphics stir arguments. For me? Big deal. Let's haggle over the real facts. The Spring-buy sled has three option colors, red, black or white.
It is a highly diversified stomper, capable of steep-n-deep agility, finesse in the trees and sweetness on the trails. It comes loaded with arm- and hand-friendly Pro-Taper handlebars that give a natural feel. These bars absorb shock and dampen motor and terrain vibration.
A nice standard feature you'll find on the Dragon are ice-scratchers. Though insignificant in the "woo-hoo" category, it is a splendid selling feature and one that speaks highly of Polaris' commitment to the mountain rider.
The premium 800 RMK Dragon comes in two track lengths, 155 and 163; each track is Polaris' Series 5.1 track that claws on 2.4-inch lugs. The track grips and holds loose and light snow and resists blowout. However, in hard (compacted) snow, the paddles will fold somewhat and lose some grip.
Polaris places its 800 Dragon RMK 155 at 472 pounds dry; the longer 163 Dragon at five pounds heavier.
As with its RMK and Assault classmates, the Dragon is powered by Polaris' Liberty 800 Cleanfire (fuel) Injected (CFI) twin-cylinder two-stroke motor. It is a powerful motor that is adept to changing elevations, conditions and loads. Up until 2010, it was the horsepower king; the new 2010 Cat 800 H.O. motor eclipses the 155 horsepower CFI motor by five ponies, depending on media material and dyno tests. But know this, when yo-yoing the motor's pull rope, you will need all the rope's length to light the motor's fire.
Up front and under the motor, the Dragon controls mogul-mania by utilizing Walker Evans air shocks on the IQ front A-arms and spindles. Out back, the Dragon dampens a mogul's bad attitude by using a Walker Evans Air shock (front rail), and a standard Walker Evans shock at the skid's butt end. Stopping power comes by way of Polaris' Phantom/Cyclone hydraulic disc break with lightweight rotor.
Though the Dragon may be the heaviest two-stroke premium mountain sled on the snow, it has no intentions of showing it; not with its steroid-induced torque-filled motor. Now, when we say heaviest, we must be responsible and report it's only about 20 pounds over that of its competitors (depending on track length).
Cost for the 155 Dragon is US$10,899.00; whereas the 163 is priced at US$11,299.00.
No-frills RMK
The sapphire blue RMK is Polaris' entry-level 800 RMK, a no-frills RMK to speak, but one that has heart and soul to body slam a mountain. In reality, I consider the 800 RMK as mid-level, not entry; it delivers excellent performance. It is an RMK 800 and an 800 it will be. Entry level is relegated to the 600s.
The standard RMK 800 comes in two track lengths, 144 and 155. Though it is not as loaded as the Dragon, it comes with RydeFX shocks on all corners, fixed post handlebars with 5.25-inch riser block and J-hooks. No Pro-Taper bars here.
Like the Dragon, it uses the P-85 primary clutch and lightweight Team Industries' driven. These are excellent clutches; industry durability leaders.
The RMK uses the Series 5.1 track, for the 155, and Series 4.1 for the 144. Like the Dragon, the RMK uses the Gripper skis with adjustable ski widths ranging from 39- to 41-inches center-to-center, and Phantom hydraulic disc break.
Cost for the 144 RMK is US$10,099.00; whereas the 155 is priced at US$10,499.00.
Backcountry Assault
Alongside the deep-powder RMK 800 and RMK Dragon 800 is Polaris' backcountry 800 RMK Assault, a matte black freestyle sled that is made for flying, dropping and whipping. The Assault's Pro-Taper bars lack a center mountain strap, which I think is a mistake, and its track length is a 146 (not a 144, nor a 155). I believe a 155 Assault would be a smart product build for Polaris and would give the buying public two choices. Anyway, the stiff-durometer competition-track is for hard-pack climbing. This track's weakness is that it will cut powdery snow out from the tunnel and sink the chassis, just like Cat's M8 HCR.
The Assault comes equipped with Walker Evans piggyback air shocks. (I believe the 800 RMK Dragon should have these, to give the hardcore huck-and-chuck mountain riders more reason to abuse their mountain sleds.) These piggy-back shocks have ample surface area for extra cooling and large capacities for hard hits. The Assault's ski stance is adjustable from 41.5- to 43.5-inches center-to-center.
The Assault is part 800 Dragon RMK, part 800 Dragon Switchback and part 800 Dragon SP. Be sure to visit Polaris' website to get all the details.
Here is a mind teaser. The shorter Assault is 15-pounds heavier than its 155 RMK Dragon counterpart. How is that? Due mostly from its dense and stiffer track, larger volume shocks and wider A-arms.
The Assault is famous for "Camp Assault," where professional freestyle riders educate the lucky-enough-to-ride-with-them riders.
Cost for the Assault is US$10,799.00.
The Scholarly Details
Does all this make sense? 800 RMK (entry, or mid-level, depending on your view), 800 RMK Dragon (premium) and 800 RMK Assault (premium backcountry freestyle).
For all these models, the handlebars and seat are perfectly-matched for extreme maneuvering and transitioning from sitting to standing; seat and handlebar heights are ideal for assertive mountain riding. Furthermore, the RMKs' running boards are traction savvy and clean well of powder and ice. However, the boards can use some width. We mis-step these at times and do the ol' one-foot hop-along trying to catch up with the RMK.

The Cleanfire 800 motor snaps to attention and launches the mountain sled, regardless of track length. Yet, horsepower is thirsty, and the 800 likes to down fuel as if attending a high school senior kegger.
Each RMK's cockpit (seat and handlebar) is built mountain-rider compliant; it gives that "tall in the saddle" feel. We applaud Polaris' attention to weight saving engineering, though, such as how the RMK developers have routed the handlebar wiring harness, using as little wire as possible. The engineers also built a tunnel-integrated heat exchanger that allows coolant to dump its heat through a thin wall on top and inside the tunnel, hence, integrated.
The RMK 800s are nimble. Though they are the heaviest of the 800s, their superb balance makes them deceivingly light; the three 800 RMKs skillfully swing right or left in any snow condition; it is not uncommon for drivers to "override" the RMKs as they obediently adhere to driver input. The Snowmobile.com Mountain Team does not notice the weight difference between the RMK and the lighter Summit X and M8 Sno Pro; except when stuck.
We have learned when mass (weight) is dropped near ground level in a snowmobile's chassis, the weight being motor and drive train, the harder it is to pull a sled up on one ski. Higher mass makes the sled easier to roll, but stability is compromised. Engineers battle with mountain-rider neurosis; we want it both ways – stable and tippy. So in spite of its heavier weight, all three RMKs easily roll to their side. This is due in part because the RMKs do not have direct drive (low-hung weighted mass), and an aggressive rider forward design.
That is why the three 800 RMKs – RMK, Dragon and Assault – continue to show they are highly diversified, capable of steep-n-deep agility, finesse in the trees and sweetness on the trails; they support Polaris' vision of Terrain Dominating Control.
However, we must be honest here, the lighter the snowmobile, the easier it is for the OEM to sell that model. Simply, to place more 800 RMKs in the backcountry, Polaris must deliver a lighter RMK 800.
2010 Polaris RMK, Dragon & Assault Chart:
| | | | |
| --- | --- | --- | --- |
| | 2010 800 Polaris RMK | 2010 800 Polaris Dragon RMK | 2010 Polaris 800 Assault RMK |
| Engine | Polaris Liberty 795cc, liquid-cooled twin; Cleanfire injection; single exhaust | Polaris Liberty 795cc, liquid-cooled twin; Cleanfire injection; single exhaust | Polaris Liberty 795cc, liquid-cooled twin; Cleanfire injection; single exhaust |
| Horsepower | 150-plus | 150-plus | 150-plus |
| Drive | P85 & Team | P85 & Team | P85 & Team |
| Front Suspension | IQ RMK Double Wishbone Adjustable; 9-in travel; RydeFX shocks | IQ RMK Double Wishbone Adjustable; 9-in travel; Walker Evans air shocks | IQ Double Wishbone Adjustable; 10-in travel; Walker Evans air piggyback shocks |
| Rear Suspension | RMK parallel rail slide; 15.5 inches travel; RydeFX shocks | RMK parallel rail slide; 15.5 inches travel; Walker Evans shocks | RMK parallel rail slide; 14.5 inches travel; Walker Evans Coil & Walker Evans Comp. Adjustable shocks |
| Length | 129.0 in | 129.0 in | 128.0 in |
| Width | 46.5 in | 46.5 in | 48.0 in |
| Height | 49.5 in | 49.5 in | 49.5 in |
| Ski Stance | 39-41.0 in | 39-41.0 in | 41.5-43.5 in |
| Track | 15x155x2.4 Series 5.1 | 15x155x2.4 Series 5.1 | 15x146x2.125 Competition |
| Weight | 487 lb | 472 lb | 487 lb |
| Fuel Capacity | 11.5 US Gal | 11.5 US Gal | 11.5 US Gal |
| MSRP | $10,499 | $10,899 | $10,799 |
Related Reading:
2010 Polaris Turbo LX Review
2009 Polaris 800 RMK Shift 144 Review
2009 Polaris 800 Assault RMK 146 Review
2008 Polaris 800 Dragon RMK