2016 Polaris Snowmobile Lineup Preview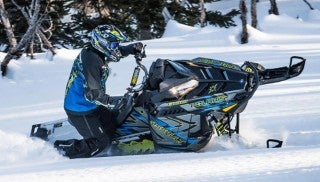 Lighter, stronger, more responsive Pro-RMKs and a versatile line of Indys
When Polaris unveiled its 2016 800 Pro-RMK in West Yellowstone at the end of January, you knew something was up. Polaris didn't get to be a US$3.8 billion company without careful planning, where every move means something. In this case, the revealing of the new Pro-RMK proved that, yes, Polaris' best selling individual model would be worth the wait and that Polaris deep snow riders should expect even more new in the weeks ahead. The wait is over and Polaris pins the metaphorical throttle to the bar with a 2016 lineup of powder sleds that exceeds the line that set the standard for mountain riders.
If the Pro-RMK was light at 417 pounds, the 2016 version does it one better by dropping down to 408 lbs. Plus, it's more powerful with a much quicker responding, more consistent Polaris-engineered and built Cleanfire 800 two-stroke twin. This is virtually the same 800 that made the eyes of Pro-S and Pro-X riders water. The previous 800 was good, the new 800 is much better. Its response is outstanding in the flatlands, in the elevations where Polaris Pro-RMK riders go, it will be an instant hit as it ramps up quicker than before, offers crisp response to allow riders to get out of trouble spots in an instant and has the power to spin any of the various length tracks you chose on a new Pro-RMK.
If the new engine was that good in 2015, why didn't Polaris fit it to the 2015 powder keggers? The key reason was that the engine had been created in concert with the new AXYS front to blend into the external swing arm of the Rush and Switchback Pro-XC suspension system.  For 2016, the Pro-RMK gains a Rush-like front engine compartment, complete with its unique engine mounting and airflow packaging for the newest 800, but altered to accommodate the needs of running in deep powder. The tunnel is all new and has been designed to complement an all new front suspension that features forged aluminum A-arms, taller spindles and new premium shock options. The raised front is part of what Polaris calls its AXYS chassis. Its raised design helps improve lift to get the sled up on the snow quicker. Then there's a new rear suspension with lighter rails that adds lift and improves weight transfer. Polaris engineering managed to add 15 percent more rigidity to the design while it cut out three pounds.
COMPARISON: Read our review of the 2015 Polaris 600 Pro-RMK + Video
The new Polaris Pro-RMK models feature a choice of Series 6 2.5-inch lugged track or a new three-inch lug Series 7 track, which is claimed to be the lightest in the industry for 2016.
The SKS Returns
Building on the proven performance and popularity of the Pro-RMK, Polaris re-introduces another legendary name, the SKS (Snow King Special) that will come with a 155-inch track, chaincase drive rather than the QuickDrive of the Pro-RMK, ProTaper handlebars and 39 to 41-inch adjustable ski stance.
If you have trouble deciding which kind of RMK rider you are, Polaris either simplifies or complicates the issue with unique accessory packages. The Backcountry package is designed for the rider who heads out to the far reaches. An Ascend package is fitted with accessories complementing the high marker, while the Explore is designed for the new SKS and offers added protection like AXYS bumpers front and rear as well as skid plate and specially styled spindles, windscreen and ski hoops.
The 2016 powder line up will consist of 600 and 800 Pro-RMK models, base RMK, the new SKS and AXYS-based RMK Assault.
Trail Sports
The original AXYS rider-balanced concept continues into 2016 with the Switchbacks and shorter tracked Rush models. Power will again come from the Polaris-developed 600 and 800 Cleanfire two-stroke twins. Improvements center on increased range from a 12-gallon fuel tank, upgraded AXYS seat, LED lighting that is claimed to be 80 percent brighter than other lighting systems in the industry, plus longer and wider runningboards for up to 15 percent more foot room.
The Rush series offers four base models: the Rush Pro-S that's lower to the snow and features trail sport comfort settings or the more aggressive set up of the Rush Pro-X. Both offer a choice of 600 or 800 power.
A new limited edition 800 Rush Pro-S Night Lightning LE offers high content, but will have very limited in-season availability. It features black tunnel and rails, matte black front bumper, ROX adjustable handlebar riser, premium Walker Evans shocks with high and low speed compression adjustable shocks.
But, don't worry; you can specify a full line of AXYS accessories to give your Rush a style of its own.
COMPARISON: Read our review of the 2015 Polaris 800 Rush Pro-S + Video
The same applies to the Switchback series, which also features Pro-S and Pro-X versions, but adds a fully equipped Adventure model. Joining the 600 Switchback Adventure is a new 800 version, which features new Fox three-position dial-adjust front ski shocks, Cobra track, air shock in the rear suspension, and Polaris' exclusive Adventure cargo system.
Switchbacks also enjoy suggested packages to include a crossover package with mid-height windscreen, heated windshield bag, front bumper and cargo rack. Adding the X2 Touring package converts the Pro-S into a two-place sport-touring sled, complete with AXYS X2 passenger seat, rear rack bag, tall windshield and other trail touring accessories.
Off Trail Assault
The Switchback Assault is based around the 144-inch track length with two engine choices, the 600 or 800 Cleanfire. The most aggressive Assault for 2016, the 800 Switchback Assault 144 Terrain Dominator Series LE, easily stands apart with its Lime Squeeze graphic package, blacked out tunnel and rails, and matte black Extreme front bumper.
Many of the new for 2016 Polaris models can be fitted with the unique to Polaris interactive 4.3-inch color LCD display that brings automobile-like GPS and onboard information to snowmobiling. You can make calls, check on your sled's diagnostics, plus establish maps and enter your own waypoints. Combined with the Polaris RiderX app, the interactive display can truly enhance your ride.
The Indy
Polaris' Indy almost has become a snowmobile line of its own. There are two-up Indys, Adventure Indys, utility Indys and full-on performance Indys. The 550 fan-cooled two-stroke twin has found new life in the Indy model line as it powers a sport 550 Indy as well as longer tracked 550 Indy 144, plus two Voyageurs, two Adventure models and the 550 Indy LXT touring derivative.
COMPARISON: Read our review of the 2015 Polaris 600 Indy Series
Let's not gloss over the Indy's performance potential, which stars with the top of the line 800 Indy SP. New for 2016 is an all-new 600 Indy SP Terrain Dominator, based on the 600 Indy SP, but equipped with retro Midnight blue graphics, 1.25-inch lugged RipSaw II track, digital display, and electric start.
Polaris, if not Indy alone, seems to have a snowmobile to satisfy any snowmobiler. The serious powder rider will totally enjoy the all-new 2016 AXYS Pro-RMK, new AXYS-based Assault, versatile Indy line, and both the on- or off-trail performance of the Rush and Switchbacks. If a floor model doesn't do it for you, chat with your dealer and ask about special accessory packages that make virtually any 2016 Polaris uniquely suited to your riding style and tastes.