2012 Ski-Doo Summit SP 600 H.O. E-TEC Review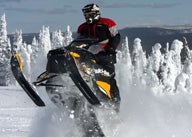 Small bore, high tech E-TEC is for powder players
What kind of a mountain rider are you? Are you a brash 800 rider? Or are you an 800 rider – in thought and café talk only? Or, are you a mountain rider who knows you live in an 800 world because that is the expected world to live in, but in reality a 600 world floats by?
Fast Facts
Engine Type:Horizontal In-line
Cylinders:2
Engine Stroke:2-Stroke
Valve Configuration:Reed Valve
Displacement:594.4 / 36.3
Starter:Pull
Turbocharged:No
View Full Spec
I will admit it. I am a 600 guy who walks on Planet 800. Yet, I do like to visit the 600 world, my roots, and throw a few down with my fellow walking 600 aliens. Seriously though, many 600 class snowmobiles are not purely relegated to the rental fleet. Here are two examples: Ski-Doo Summit SP 600 H.O. E-TEC and Polaris RMK 600 Pro. That's it folks. Arctic Cat dropped its M6 to concentrate on its new ProClimb M8 and M1100. My opinion, I think Cat should offer a 140-ish M6 ProClimb.
Polaris surprised the media masses with its 600 RMK Pro, believing the buying public wants such a rocket ship that acts big but comes with a small bore. Equally so, Polaris believes in its light and strong RMK Pro chassis.
Ski-Doo's SP 600 H.O. E-TEC Summit (H.O. for High Output ) is a serious mountain sled. Though it does not come with X-package amenities, it is a grunt get-er-done sled. Remember, with E-TEC technology, the sled is miserly on fuel and oil; BRP claims 21 MPG.
E-Techie Engine
The Summit SP 600 H.O. E-TEC is a liquid-cooled twin cylinder two-stroke motor with electronic direct fuel injection. The motor produces 120 horsepower, and perhaps a bit more at max RPM. The quiet motor hits hard in the hole for a six-oh-oh and pulls strong through its powerband.
The motor's actual displacement is 594.4cc and has a bore and stroke of 72x73mm. Peak RPM is 8100, but the engine likes to operate around 7700 / 7800 RPM range.
The H.O. E-TEC is a techie motor. Its brain matter is comprised of a central computer which makes 8,000 computations every second. Can you do that? Anyway, the central computer calculates — exactly — the required fuel, oil and oxygen ratios for each stroke, that is, revolution. This math-genius computer builds so much heat that it is cooled by an external source, fuel. BRP's engineers routed the engine's fuel lines through the computer. Wintertime fuel at high elevations in the Rockies is cold, truly cold, and the cold fuel, through simple thermodynamics is a very good heat exchanger.
Besides the exact fuel, oil and oxygen calcs, the E-TEC is fuel-efficient because fuel injects into a cylinder exactly when a piston closes its respective exhaust port, no fuel rushes out the pipe to be pulled back into the cylinder when the piston travels up on its powerstroke.
The drive clutch is BRP's TRA-III with the companion QRS driven. The clutches have wide adjustment ranges and work well together to keep the dive belt cool. The two clutches are dialed in for the most common mountain elevations.
Suspension
Like the 800 Summit, the 600 comes with Ski-Doo's S-36 handling package, which gives the Summit superb sidehilling and tree maneuvering acumen.
The 600 H.O. E-TEC Summit has a dual A-arm suspension with High Pressure Gas (HPG) shocks. To allow easing side hilling, the Ski-Doo mountain design team gave the H.O. E-TEC 600 Summit a narrow ski stance, narrower than the competitors by four- to five-inches; ski stance is an adjustable 35.7 to 37.4 inches.
The SC-5M rear suspension is a progressive rising rate rear skid that is smooth from small bumps to large bumps, at various speeds. Its gentle approach angle and spring setup allows the Summit 600 E-TEC to transfer well and float with ease.
The E-TEC 600 Summit has two track options, a non-ported 16 x 146 x 2.25 PowderMax track, or the longer non-ported 16 x 154 x 2.25 PowderMax track. This is purely preferential, but for me, with a 16-inch wide track, I choose the 146 as it has excellent floatation and the 146 spins faster than the 154. But, hey, that's me. Ski-Doo eliminated the ported tracks from its Summit line claiming the non-ported track improves traction and flotation. We agree.
The seat is the narrow XP X Summit seat that has an excellent curve for bum comfort. The material is tacky, which is needed when snorkeling through deep January powder.
The cockpit has a combo analog/digital instrument pod that gives engine and speed vitals with boldness. Its numbers are crisp and loud in color tone. Handlebars are mountain specific with J-hooks, a mountain strap is standard.
The REV XP platform provides wide runningboards that have large holes for the snow to fall through. The snow evacuation holes are raised with spikes to lockdown a boot. The runningboards are reinforced to provide strength.
On-Snow Impressions
The S-36 handling package gives the Summit easy roll from center-left to center-right with simplicity. For model year 2012, the S-36 handling package comes with minor shock and spring adjustments that give it a bit sweeter feel over the 2011, not that the 2011 was bad. You might think that its narrow ski-stance could give the appearance that the Summit would be unstable on the trails. Not so. We found the Summit stayed glued to the trails.
The 600 E-TEC motor is deceiving, in that its quietly-built power is unsuspecting. With that, mountain tops and trees rush quickly to the driver; the 600 H.O. E-TEC is stealthy and manly.
The only grump we found is the Pilot DS skis, shortened from the spindle back, at times break the snow's plane and falls into the snow — this mostly on descents and near trees where the snow is soft. When this happens, the Summit wants to dive into a tree well or off the mountain. Is this an all-the-time event? No. But, the rider must adjust and be situation-aware when descending off a slope and near tree wells. I would like to see more length to the ski, from the spindle back.
Now for my wish, and there are two. I would like to see two new models from Ski-Doo, a 600 H.O. E-TEC Summit X, in a 146, and a 600 H.O. E-TEC Freeride in a 146. I think the buying public would be receptive to this. The 16-inch wide track gives great flotation and with the light chassis, these wish-list sleds would tackle deep powder and be nimble in the trees.
I know the 800s receive all the attention and amenities, but Polaris would not have built an RMK 600 Pro if it did not believe a demand existed.
Ski-Doo has the motor and the platforms, and as long as the 600 E-TEC produces the juice it does, a 600 X-package Summit or a 600 Freeride may be the option a rider needs to feel 800 strong when they are on a 600 budget, or when their therapist tells them their inner space really holds a 600 world.
2012 Si-Doo Summit SP 600 H.O. E-TEC Specs
Engine
Rotax liquid-cooled, 594.4cc direct injection twin with 2-into-1 exhaust and exhaust valve
Horsepower
120
Drive
Ski-Doo TRA III with QRS secondary
Front Suspension
Dual A-arms with HPG shocks and up to 8-inches of travel
Rear Suspension
Ski-Doo SC-5M slide rail suspension and HPG shocks; up to 14-in of travel with 146-in track
Length
127.0 in (with base 146-inch track)
Width
44.3 in
Height
51.2 in
Ski Stance
Adjustable from 37.4-inches
Track
16 x 146 x 2.25 PowderMax
Weight
454-lbs (claimed for 146-inch base 600 E-TEC)
Fuel Capacity
10.6 US Gal (Premium unleaded recommended)
Features
Standard: 8-in riser with J-hook handlebar and mountain strap, digital multi-function gauge, electronic reverse; Options: electric start, hitch, mirrors, temperature gauge
MSRP
US$10,149
Related Reading
2012 Ski-Doo Summit 800 Review [Video]
2012 Ski-Doo Freeride Review [Video]
2011 Ski-Doo Summit Everest 600 H.O. E-TEC Review
2010 Ski-Doo Summit 600 Review