2013 Ski-Doo MXZ TNT 800 E-TEC Review – Video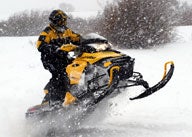 Ski-Doo brings the XS platform, rMotion and 800 power to the TNT series
For as impressed as we sometimes may seem with the latest Polaris Rush, 600 Indy models or Arctic Cat's ProCross trail sport sleds, it all stems from how well those sleds measure up to the "original" – Ski-Doo's MXZ REV. Ski-Doo jumped ahead of the commonplace at the start of this century with its introduction of the ride-forward REV. While the competition may have initially bad-mouthed the concept, they all knew that they would have to redesign their models to compete against it. They did. But as they did, Ski-Doo evolved its REV. For 2013 the REV evolves once again and the "original" continues to set quite a pace in styling, ergonomics, ride and lightweight handling.
In fairness to the competition, Ski-Doo hasn't had all the great ideas. It borrowed a few conveniences as we see in the 2013 Ski-Doo MXZ TNT 800 E-TEC. Both Polaris and Ski-Doo must have liked Arctic Cat's idea of diverting warm under hood air to heat gloves or goggles in a behind the windshield "warm" box. Ski-Doo and other competitors have begun utilizing the multi-level intensity hand warmers that mimic those found on recent Yamaha models. And Ski-Doo re-evaluated its standard SC-5 rear trail suspension to evolve it into the rMotion as a direct counterpoint to Polaris' Pro-Ride. Only available on select sleds last season, the rMotion moves to more models, including one of our all-time Ski-Doo favorites, the light and nimble TNT.
The first day or so of the annual new model test session in West Yellowstone, we didn't see any TNT models on our schedule. Toward the end of the first day, we commandeered a TNT 800 that was sitting unused in what we considered a lonely, forlorn condition. We'd been riding the latest of everyone else's similar models and, while they all were pleasant, fun and quite exciting, we needed our "original" REV fix. By the time we brought the TNT back to the paddock area, we recognized a basic truth. The REV is still the original. It still has class leadership, even though others have crowded into the playing field.
It's kind of like, well, you know how when you go on a trip somewhere, it's all new and really exciting. But when you get back home again, everything is familiar, feels just right and comfortable. You enjoyed the trip and being somewhere else, but in the end, it helped remind you that you really enjoy being home. That's how this writer feels about the Ski-Doo MXZ TNT. We've liked it right from the start.
When we rode the first modern TNT, it caught us by surprise. We didn't believe a sled could be so light or handle so adroitly. It begged to be tossed slideways into corners. It was incredibly responsive.
That describes the 2013 Ski-Doo MXZ TNT 800 E-TEC. There is a caution. This sled at 468 pounds and with 160-plus horsepower can get into a corner much more quickly than the first carbureted TNT 600 did. You'll be darn glad that the latest TNTs come with a high quality Brembo disc brake. The power that the 799.5cc twin puts through the TRA VII drive clutch and to the 120-inch long Ripsaw track comes on quickly and forcefully. If you check the specifications on this US$12,099 sled, there isn't much separating it from the higher priced preseason MXZ X or XRS models as far as straight ahead performance goes.
All of the MXZ 800s come with the latest direct injection Rotax two-stroke twins. While you can tell your "green" friends that your Ski-Doo is environmentally friendlier than past two-stroke engined sleds, it is also much more responsive to the throttle trigger. Keep in mind that the engine's main onboard computing unit makes so many calculations per second (8,000 plus) that Rotax engineers decided to cool it with fuel just to keep it from frying itself. That's great bench racing talk, as is the fact that the E-TEC twin gets up to 19 miles per gallon on the trail for a range of more than 200 miles. You'll find the engine fires up with a single pull – but you won't care as this model enjoys standard electric starting along with the famed Rotax Electronic Reverse system. Power and conveniences like the automatic fogging feature for easy "summerization" highlight this high-powered runner.
We've yet to take into consideration the new for 2013 "XS" styling that provides a much more sophisticated "look" as well as better through the snow movement as the reshaped, rounded cowl gets you over into the snow easier, quicker and puts you a bit more forward in the seat. Yet, with a more rounded styling, there is actually increased wind protection as the handguards have been updated, the standard windscreen features fluted sides to divert more air, and the body shape has been reworked to improve the flow of air and snow around the rider.
This XS upgrade separates the 800 version from the 2013 TNT 600, which retains the previous body and base "X" platform.
Ski-Doo's rMotion rear suspension, new to the TNT for 2013, delivers up to 15-inches of travel, which is controlled by HPG Plus lightweight, rebuildable KYB high-pressure gas shocks. While the MXZ TNT 800's basic rising rate rMotion suspension will not feature the runningboard-mounted easy-adjust modules that could be ordered on the early-order MXZ X models, it works the same. Once you find your favored setting(s) you wouldn't need to change them anyway. We suggest that the shock and suspension be placed in the soft settings first. Try this before going for the stiff set-up. You might surprise yourself with just how much action you get on the trail bumps. If you are a big bump rider, go ahead, set up for stiff riding. Our feeling is that if you were a true big bump rider, you'd have placed an order for the "X" package already. Just know that the rMotion on the 2013 MXZ TNT 800 gives you the option for both.
On the trail is where the MXZ TNT excels. The spec sheet looks good, reads great, but you ride the trails and this sled is great. Big bumps? It'll let you have fun in a dirty roadside ditch line. Groomed trails? Expect excellent handling under virtually all conditions. High mileage? If you must cruise for a long mile day, know that it can do that, but, then, you should rethink the MXZ in favor of the Ski-Doo GSX with similar features but designed more for long haul cruisers. Tight trails? Big smiles come when you head into a tight, twisted section. This is a very nimble sled and now, with rMotion, even more predictable. We especially like the light pull on the throttle and the exceptional engine response you get from this direct-injected powerplant with its wide, easy to handle power band and then that great top end rush for coming off the corner and hitting the straightaway.
Yeah, so we didn't have the MXZ TNT 800 E-TEC on our schedule at first, but we adapted and had way more fun as we rode unmolested and unsupervised by doting factory engineers. When we brought the sled back we recalled our opinions of the competition. The other sleds are very good. They ride very well. We enjoy them. But we were at home aboard the MXZ TNT. And we remembered how we were ranking the competition against the "original" class leader. For 90 percent of all snowmobilers, the 2013 Ski-Doo MXZ TNT 800 E-TEC is more sled than you'll ever need.
2013 Ski-Doo MXZ TNT 800 ETEC
Engine
Rotax ETEC 800 R two-stroke, 799.5cc, electronic direct injection twin with 2-into-one exhaust; uses premium unleaded
Horsepower
163.9 (Claimed)
Drive
Ski-Doo eDrive 2 primary drive with QRS secondary
Brake
Brembo Hydraulic
Front Suspension
Ski-Doo dual A-arms; spring over HPG Plus gas-charged shocks controlling up to 9-inches of travel
Rear Suspension
Ski-Doo rMotion controlled parallel slide rail with HPG Plus shocks control arms; up to 15-inches of travel
Length
114.4 in
Width
47.9 in
Height
47.6 in
Ski Stance
42.4 in
Track
15 x 120 x 1.25 RipSaw
Weight
468 lbs (claimed)
Fuel Capacity
10.6 US Gal
Features
Rotax Electric Reverse; new REV XS chassis and styling; straight aluminum handlebar with J-hook ends; "warm" glove box with 1 US gallon storage; standard electric start
MSRP
US$12,099
Related Reading
2013 Ski-Doo Snowmobile Lineup Unveiled
2012 Ski-Doo MXZ TNT 600 E-TEC Review
2011 Ski-Doo MXZ TNT 800R E-TEC Review
2011 Ski-Doo MXZ TNT 600 ACE Review