2014 Mountain Snowmobile Shootout: Part 1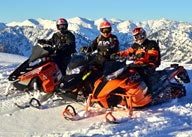 Comparing the best deep powder sleds of 2014
As the tuxedo black Snowmobile.com F-150 zipped up the mountain passes toward Alpine, WY with trailer in tow, guest test rider Jerry Mathews said in response to my comment, "This is kind of a lame duck year for our stocker 800 shootout as not much has changed from 2013, except for the Cat M8000."
"You're wrong," Mathews said, "these 2014s are the best we at SLP have ridden, stock-for-stock. We have the same models you have, and these are much better than the 2013s." He'd have right to know, being General Manager for Starting Line Products, the snowmobile and ATV performance shop that hails from Idaho Falls, ID.
As I sat in the driver's seat sipping a hazelnut infused hot chocolate, I reflected on my comments about the 2014 Polaris RMK Pro 155, which I have said to many, "The 2014 Pro is not like last year's, it feels better – snappier – and it gets up on the powder quicker than last years'." In silence, I concurred with Mathews' statement on one mountain sled, the Pro.
As the 6.2L Ford motor hummed along, I pondered: "What about the M8000 Sno Pro Limited 153? It's most definitely better than the 2013 and it has proved itself, so far, to be our 'Most Improved Mountain Snowmobile for 2014.'"
One model year ago, we said the 2013 M8 Sno Pro was our Most Improved Mountain sled. We were wrong. Last year's shootout, tests and long-term evaluation invalidated our 2013 "Most Improved" call out. The Snowmobile.Com Mountain Test staff was worried about the M8000 on this Shootout weekend, January 17 and 18. Our gut feeling though, from our many pre-shootout rides, was the 2014 M8000 Sno Pro was going to hold true to "Most Improved 2014 Mountain Snowmobile."
Mathews pushed me further, "Have you spent much time on the 2014 XM Summit?"
"None," I said, "Ski-Doo did not send us one to keep in our test fleet."
Read our review of the 2014 Polaris 800 Pro-RMK
Mathews laughed and then added, "Well, you're in for a surprise, the XM is sweeter….funner."
Among snowmobilers, "funner," is a word.
Could he, Mathews, be correct? Is this year the best it has ever been, even though I called it "lame duck?"
The Shootout
Here we go with Part 1 of 2. Part 1 is where we collect the hard data. Part 2 is where our crew gives its "seat-on" objective view and we give you driver bios and snowmobile report card grades, via a point-based system.
For the 2014 Shootout we invited guest test riders: Greg Huntsman, Idaho Falls, ID; Jerry Mathews, Rigby, ID, General Manager, SLP; and his brother, Eric Mathews, Idaho Falls, ID, technical consultant and tuner at SLP. Snowmobile.com test rider, Kevin Allred ran the timing equipment and I snapped the pictures.
As always we offer a disclaimer: Our shootout is not all-inclusive. Our results are from two days of riding and testing over a long and hard-fought weekend. Results from this weekend, January 17 and 18, could/would change given different terrain, snow conditions and elevation. With that, different handlebar handymen could change results too. But, we don't have 20-consecutive weekends to conduct the same tests at the same location with the same guest test riders to establish a statistical baseline. Given that, here is what we have for you to munch on.
Our 2014 test results come on three high-end 800s: these being Polaris' 800 RMK Pro 155, Ski-Doo's 800 XM Summit X 154, and Arctic Cat's M8000 Sno Pro Limited 153. We borrowed a 2014 XM Summit 154 from Bott Yamaha Ski-Doo, Idaho Falls, ID. Owner, Bob Bott, ensured his bone-stock Summit was at its peak, and it was. It was tuned better than Garth Brooks' 12 string.
Read our review of the 2014 Ski-Doo Summit X
Just for fun, the mountain test crew tossed our 2014 Yamaha RS Viper XTX SE and 2014 Polaris Switchback Assault into the same mountain test mixing bowl as the apple (Viper XTX SE) to three oranges comparison, and as the banana (Switchback Assault) to three oranges comparison. Understand, nothing is to be gained by comparing these two crossover snowmobiles against the best long-tracked mountain-specific mountain snowmobiles. But, because the high mountain air we breathe is thin, our synapses sometimes misfire. So, we shrugged our shoulders and said to one another, "They are snowmobiles, aren't they?" So we threw them into our two speed runs.
The Viper XTX SE and Switchback Assault are crossovers, yes, but even these two are quite different from each other. The Viper scoots along with a three-cylinder four-stroke motor and its 141-inch long Camoplast Cobra track with 1.6-inch tall lugs is three inches shorter than the Assault's, and XTX SE's lug height is 0.4-inches shorter. The Assault uses Polaris' Cleanfire 800 twin-cylinder two-stroke and RMK-like Series 4.0 track with two-inch tall lugs. The Assault is lighter as its motor is a two-stroke; it is, by horsepower and displacement an 800-class motor. The Viper XTX SE on the other hand even though its four-stroke engine measures 1049cc, its power output places it in the 600cc two-stroke class.
Yes, these two are crossovers, but they are as different as an apple and a banana.
Ready-to-Ride Weight
We excluded the Assault and Viper XTX SE and concentrated on the three true 800cc mountain snowmobiles. RTR – ready-to-ride – simply means that each sled is filled with fuel, oil, coolant and its tool kit and a spare belt are attached. All three mountain sleds were weighed before we lit out on our shootout.
Turning radius
Again, excluding the Assault and Viper XTX SE, we report how tight the three mountain sleds turn in a snow packed parking lot which tells us a little bit how quickly the snowmobiles react in a turn when in tight trees.
Tip over
We report the tip-over angle for the Summit, RMK and M8000. This tells us the snowmobile's balance and its tip-over point, which translates which side the mountain snowmobile is easier to stuff into a steep slope.
Against these hard stats, our guest test riders rated specific mountain snowmobile characteristics such as handling, sidehilling and throttle response. Their ratings come in Part 2.
Read our review of the 2014 Yamaha SR Viper XTX SE
Our tests were conducted in Island Park, ID and Alpine, WY.
Beginning here, are the RTR weights, turning radius, tip over, and straight line and hill cross elapsed time averages.
Ready-To-Ride Weights

Model
Model Year 2014
Model Year 2013
Difference (+) or (-) between model years
Polaris RMK Pro 800 155
514 lbs
514 lbs
–
Arctic M8000 Sno Pro Limited 153
551.5 lbs
567 lbs
– 15.5 lbs Explanation below
Ski-Doo XM 800 Summit X 154
556 lbs
564 lbs
– 8 lbs Question below
Analysis Results: Polaris is accurate when stating its RMK Pro 155 is approximately 40 pounds lighter than its competitors, the M8000 and XM Summit.
Explanation from above: Cat's 2014 M8000 Sno Pro dropped nearly 18 pounds from its previous model year, however for this model year it gained a larger fuel cell which gives a net loss of about 15 RTR pounds, but a net gain in more throttle time via more fuel. Fuel capacity is a strong variable for RTR weight.
Question from above: Where is the eight-pound loss? We do not know where Ski-Doo pulled pounds from its XM Summit X, but we do like the direction.
We lifted the snowmobiles after our shootout to ascertain moisture and snow weight gained; again all fluids topped off. The snow we motored in on this day was a dry crystalline-type snow which did not adhere much to chassis, skis and suspension parts; the temps we rode in were low upper teens and low 20s which kept the snow in a low moisture dry state; each mountain sled held about four pounds of snow (water content). We did not publish these, as it was pretty minimal, adding four pounds to the above weight numbers will tell you after-ride RTR weights. In addition to the wrong snow-type, our analysis is inconclusive because the warm shop was dropping the snow from each sled in rapid meltdown.
Turning Radius

Model
Right
Left
Polaris RMK Pro 800 155
24 ft. 1 in.
24 ft. 8 in.
Arctic M8000 Sno Pro Limited 153
23 ft. 3 in.
23 ft. 7 in.
Ski-Doo XM 800 Summit X 154
22 ft. 5 in.
23 ft. 6 in.
Analysis Results: Like humans, snowmobiles have a dominant side. But, in this case, the difference in a right- and left-turn on a hard-packed snow surface is between a couple inches to a one-foot radius gain. What does this mean? Nothing really.
Tip Over Angle in Degrees

Model
Right
Left
Polaris RMK Pro 800 155
51
49
Arctic M8000 Sno Pro Limited 153
47
49
Ski-Doo XM 800 Summit X 154
47
45
Analysis Results: The smaller the number the easier it is to stuff a mountain snowmobile into a hillside for that sweet sidehill cut. However, with minor differences little negative affect is felt by the driver; driver skill matters more for sidehill attacks than minor degree variances.
Clutch Engagement at an Elevation of 5682 Feet

Model
RPM
Polaris RMK Pro 800 155
3800
Arctic M800 Sno Pro Limited 153
4500
Ski-Doo XM 800 Summit X 154
3900
Analysis Results: No performance gains or letdowns. These ranges are appropriate and do not suggest anything good or bad; these numbers are FYI data. The M8000 gained 500 RPM in engagement from the 2013 model.
500-Foot Uphill (8-degree slope angle) Speed Run (Averages in Seconds – Two Runs per Mountain Sled per Driver; Elevation 8140)

Model
Eric Matthews
Greg Huntsman
Overall Average
Polaris RMK Pro 800 155
4.77
4.78
4.7975
4.81
4.83
Avg. 4.79
Avg. 4.805
Arctic M800 Sno Pro Limited 153
4.75
4.60
4.655
4.65
4.62
Avg. 4.70
Avg. 4.61
Ski-Doo XM 800 Summit X 154
4.99
4.81
4.7925
4.79
4.58
Avg. 4.89
Avg. 4.695
Polaris Switchback Assault 144
4.88
4.97
5.0
5.05
5.10
Avg. 4.965
Avg. 5.035
Yamaha RS Viper XTX SE 141
5.81
5.61
5.605
5.65
5.35
Avg. 5.73
Avg. 5.48
Analysis Results: All snowmobiles were run on a hot pipe. Last year, on this same course, the 2013 RMK Pro 800 pulled the fastest times due to its reduced rotating mass (belt drive), and its overall lighter weight. But for this year, the 2014 M8000 Sno Pro Limited pulled the fastest times. Yet, the difference between third and second is less than a hundredth of a second, and between second and first is 0.1375.
Read our review of the 2014 Arctic Cat M8000 Sno Pro and Limited
Yes it is true, out of three mountain sleds, on this day, in these conditions, the M8000 pulled the fastest straight line time; this for the first time as an 800-powered ProClimb Sno Pro. But, and we mean a big sumo wrestler but, these mountain snowmobiles are insanely close.
For the two "crosser" buddies, the Yamaha Viper XTX SE and Polaris Switchback Assault pulled respectable average times. The Assault, due to its lighter chassis, taller track and more horsepower, was quicker. But we say. OK, that is expected, no news here. The take away here is nothing. These two crossovers are fun and zippy in their own right. We caution here, these crossovers are not directly comparable to each other and certainly can't be held for comparison to the three true mountain models. But they are fun to ride and we were curious as to how they'd perform in our tests, now we all know.
Hillcross (Averages in Seconds – Two Runs per Mountain Sled per Driver; Elevation 8150)

Model
Eric Matthews
Greg Huntsman
Jerry Matthews
Overall Average
Polaris RMK Pro 800 155
20.19
19.95
20.16
20.13
21.40
18.77
20.32
Avg. 20.795
Avg. 19.36 Avg. 20.24
Arctic M800 Sno Pro Limited 153
22.36
20.28
20.63
20.51
20.36
19.93
19.50
Avg. 21.36
Avg. 20.105 Avg. 20.065
Ski-Doo XM 800 Summit X 154
20.74
20.90
20.93
20.28
19.78
20.70
18.64
Avg. 20.26 Avg. 20.80
Avg. 19.785
Polaris Switchback Assault 144
21.18
20.98
18.99
20.68
22.64
20.67
19.62
Avg. 21.91 Avg. 20.825
Avg. 19.305
Yamaha RS Viper XTX SE 141
21.67
21.25
20.58
21.23
21.69
21.23
21.00
Avg. 21.68 Avg. 21.24
Avg. 20.79
Analysis Results: Depending on driver skill, how the driver negotiated the uphill course and gates, determined times. The RMK Pro averaged the fastest time. The time spread from third to second, of the 800 mountain sleds only, was 0.23 of a second. Between second and first was a skinny 0.15 of a second. From all averages, between the slowest and fastest times, a delta of 0.38 of a second separated first and third; all averages added and divided by three give an average separation of 0.2533. Last year's results for model year 2013 was 0.72 of a second; it cinched up for 2014.
Look at how well the two crossovers performed. The Switchback Assault with its RMK track remained just south of 21-seconds where its companion, the Viper XTX SE, was north of 21-seconds by 0.23. On a choppy and rutted-out hardpacked uphill course where the drivers chased the timing light up a ravine, the somewhat flatland designed crossers held their own. Nice.
Read our review of the 2014 Polaris Switchback Assault
The three 800 mountain stompers are evenly matched. We'll address this in more detail in Part 2 with the overall driver impressions.
Summation
The 800 mountain sleds are, performance-wise, wicked close. Among the buying public, which of these comes out on top is based on any drivers' determination, body weight, skill, and snowmobile setup. Also, each of these three has a track that favors a snow condition better than another; some days it's ProClimb day, some days an XM day, and some days a Pro day. We are in a world of variables.
As noted in our opening paragraph where Mathews said the 2014s are much better than the 2013s. This, we learned, was not a lame duck year, but a model year where refinements made these models cleaner, meaner and leaner.
With these results, no snowmobile emerged as the over-the-top winner. Any given day, as driver attention and snow condition change, any of these 800s will slightly beat the other, due to track hook-up, clutch and drive train efficiency, and horsepower. One must balance out power-to-weight in their love for their snowmobile. So, for a final concluding statement, we'll let you finish this sentence: "The best mountain sled is ________________. Now, stay tuned for Part II.