2014 Snowmobiles of the Year: Best of the West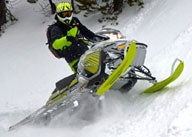 Top powder sleds of 2014
Summer is over and winter is finally within reach. That means it's time for our annual Editors' Choice awards. This week we'll be looking at mountain snowmobiles – deep powder and crossover.
We base our pre-season top choice evaluations on our hands-on evaluations of sleds we test rode at the annual new model releases. Basing our judgments on factory setup prototypes, at times we've missed the mark. Last season we bestowed Arctic Cat's 2013 M8 153 Sno Pro and Limited as our most improved mountain snowmobile. And by February 2013, we doubted our choice.
Regardless, we don't make our decisions haphazardly; we leave that to our elected officials. Our decisions, which you'll read here, were thought through, analyzed, argued over, slept on and vetted until we had our final choices.
Mountain Snowmobile of the Year 2014 Ski-Doo Freeride
Last year Ski-Doo's XM Summit X shared the podium with Polaris' RMK Pro 155. This year the top honor goes to the 2014 Ski-Doo Freeride 154, with honorable mention to its smaller-length brother, the 146. Ski-Doo's Freeride 154 and 146 are both built on the XM RS chassis.
As we cleaned out the mountains near West Yellowstone, Mont. last February and March during the new 2014 model evaluations, we came to enjoy the deep-powder finesse and backcountry brawn the Freeride portrays. The Freeride 154 and 146 are XM Summit-like with tMotion rear suspension and Flexedge track, REV-XM Lightweight seat, REV-XM runningboards and look-up instrument pod.
The Freeride is bred for both hillclimb competitions and backcountry freestyle riding with its KYB Pro 40 shocks and its 38.4- or 40.1-inch ski stance. The Freeride comes to receiving dealers with its front swaybar hooked up ready to go. But, and this a smart concept from Ski-Doo, if you want to ride your mountain steed swaybar-less to increase roll into a mountain slope, then the swaybar is, as Ski-Doo calls it, "Quick Disconnect."
Furthermore, we like the stout, economical and quiet E-Tec 800R motor that crams 163.9 horsepower into its chaincase.
The difference in track length gives each model a distinctly separate personality. The Freeride, like the XM Summit, plays in the powder on a 16-inch wide track, whereas the other three manufacturers use 15-inch wide tracks on mountain sleds of the same class. This is the reason why the 146 stands next to the 154 Freeride because its footprint calculates out to 2336 square inches. As we wrote in our review of the Freeride, "Compare this to, for example, the 155 RMK Pro with its 15-inch wide track that lays down 2325 square inches. Which one has the larger, albeit more flotation footprint? The 146 Freeride."
To end the track topic, the Freeride does not use stiff lugs like the Arctic Cat M8000 HCR or Polaris RMK Assault (if ordered with competition track). Its track is fully soft-powder compliant; the same exact track as the XM Summit X. Nice. There you have it, a tie again for model year 2014 – 154 Freeride and honorable mention, the 146 Freeride.
Most Improved Mountain Snowmobile 2014 Arctic Cat M8000 Sno Pro 153
Well, we are back at the same mountain sled. Last year we reported this as the 2013 Arctic Cat M8 Sno Pro 153 Limited, and as noted, we felt the production M8 slid off our radar screen. We discussed with Cat at length our concerns about the M8, which it understood and mostly agreed with. The 2014 M8000 Sno Pro 153 mostly corrects all we griped about, most notably its rear suspension position and its tendency for over-transferring its weight when ascending a steep slope.
The rear suspension was moved back 0.75 of an inch and its gearing changed from 21/49 to 19/50. These changes allow the drive belt to run cooler and prevent a hard slam when wide-open-throttle (WOT) horsepower hits the tall lugged 2.6-inch paddle Power Claw track.
2014 Arctic Cat M8000 Sno Pro and Limited Review
In addition to the rear suspension and gearing changes, the M8000 Sno Pro and Limited lost approximately 17 to 20 pounds. This was accomplished by utilizing a lighter mountain-specific seat that includes storage and smaller diameter fasteners for the shocks and bogey wheels, as well as eliminating the front heat exchanger.
The M8000's brutish Suzuki 794cc twin-cylinder two-stroke hauls the load. Its telescopic handlebars are a Snowmobile.com favorite, its runningboards, peer-up instrument pod, goggle storage and painted tunnel all help make the M8000 Sno Pro and Limited truly our choice for Most Improved Mountain Snowmobile.
Deep Powder Crossover Snowmobile of the Year 2014 Arctic Cat XF ProClimb High Country 8000 Sno Pro and Limited
This was tough. Since the advent of the crossover snowmobile, some of us have become loyal fans of this class, especially when tall mountain tracks wrap the crosser's rear suspension. Last year we dedicated this section to just crossover sleds in general, giving attention to those that use a mountain track. Here we refine and get more specific with the category.
For this model year, the deep-powder crossover sled of choice goes to Arctic Cat's XF ProClimb High Country 8000 Sno Pro and Limited.
With its perfect blend of XF and M amenities on the ProClimb chassis, the High Country 8000 is a mogul taming, hill climbing and deep powder muscle sled. Keep in mind; its Power Claw track is only 141 inches long with 2.25-inch lugs. The 794cc Suzuki motor spins the track with attitude. We have an enjoyable time pushing the High Country outside its envelope as we take it to "M" country and to "XF" country at will.
2014 Arctic Cat XF 8000 High Country Review
Both the High Country 8000 Sno Pro and Limited have the M-specific vertical steering system with telescoping handlebar. They also have a lightweight mountain seat and a two-piece tunnel. This mountain gives the rider a smaller surface area to maneuver a leg and foot when the standing to attack a mountain side or a spooky ravine. Furthermore, its narrow runningboards prevent the XF HC from pushing away from a mountain when engaging on a sidehill run.
The High Country 8000 Sno Pro and Limited are nailed down for fast trail riding. The High Country's sway bar-equipped Arctic Race front Suspension (ARS) keeps the front end mostly parallel to the ground, especially when drifting around a bend.
Competitive Hillclimb Snowmobile of the Year 2014 Polaris' 800 RMK Assault
Our favorite competition-ready snowmobile of 2014 goes to Polaris' 800 RMK Assault with competition 2.125-inch block track. While the Assault can be ordered with the RMK Pro Series 5.1 powder track, which makes it a very appealing backcountry huckster, this category is all about ready to race. Given that, the race machine we believe to be the prime choice is the RMK Assault.
Its competition track has stiff lugs that bite rocks and frozen mud while racing up a hill.
The RMK Assault comes without Polaris' Quick Drive Low Inertia Drive System that is set aside for the RMK Pro 800 and 600. The Assault retains a chaincase system for competitive hillclimbers who need their sled to be able to handle big rock impacts and the stress that occurs when the track suddenly stops in an instant, then ramps up to full RPM – especially if the Assault's motor is coupled to a turbocharger.
Here is the sweetness; the RMK Assault has RMK Pro amenities such as Pro Taper handlebars, PowderTrac running boards, over-the-motor carbon fiber overstructure and Pro Lite seat. Though the RMK Assault has heavier Walker Evans shocks and a chaincase, its dry weight is just 435 pounds.
Introductory Mountain Snowmobile of the Year 2014 Polaris 600 Pro-RMK
With unanimous votes, this award goes again to Polaris' 600 Pro-RMK. This all "Pro" 600cc RMK, which comes in only a 155-inch track length, is introductory only because it is a 600. However, this sled is advanced and very much a premium high-end mountain snowmobile.
We believe the 600 Pro-RMK to be the perfect choice for the rider who wants a 417-pound, belt-driven mountain sled with "Pro" amenities such as Pro Lite seat, Pro Taper handlebars, PowderTrac runningboards, Polaris' Clean Fire electronically fuel-injected motor, carbon fiber overstructure, and Walker Evans shocks.
2014 Polaris 600 Pro-RMK Review
But, there is a potential spoiler alert here. Though we have not had any seat time on Arctic Cat's M6000 Sno Pro 153, which was introduced in early September at Minnesota's Hay Days, we can only guess the M6000 153, with 2.6-inch paddle track and all the available "M" Sno Pro engineering, and C-TEC2 two-stroke 600 power may give the Polaris RMK Pro 600 a fight for the title.
Four-Stroke Mountain Snowmobile of the Year 2014 Arctic Cat Turbo M9000 Sno Pro and Limited
Crowned again for a second year is Arctic Cat's turbocharged M9000 (formerly M1100) Sno Pro and Limited.
The high end and ultra-premium supersled is a 177-horsepower mountain tamer. It wallops Mother Earth with a Cat-designed and Suzuki-built fuel-injected twin-cylinder 1056cc four-stroke powerplant boosted by a turbocharger. The M9000 has a 162-inch long track with 2.6-inch paddles. The rear suspension, like the M8000 Sno Pro, was moved back to handle the high-volume weight transfer. Like the M8000 Sno Pro, it received some weight savings.
2014 Arctic Cat M9000 Turbo 162 Review
The M9000 Sno Pro and Limited are strong in the powder and on climbs where deep powder has infused the slopes with a hearty challenge. The M9000 Sno Pro and Limited climb these and deep-ravine chutes with determination. The vertical steering post on the M9000 Sno Pro and Limited help the driver leverage the big M around. It is not snappy in the trees like an M8000 Sno Pro, but for its intent, which is to climb up to jet liner altitudes without losing horsepower, the M9000 is your supersonic ride of choice.