2015 Mountain Snowmobile Shootout: Part 1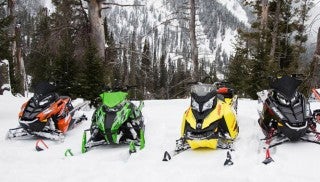 Polaris Pro-RMK vs. Ski-Doo Summit X T3 vs. Arctic Cat M8000 Sno Pro
In what has become an annual tradition, after a season of riding the year's top mountain snowmobiles, we spent two weekends obsessively comparing the 2015 Polaris Pro-RMK 162, Arctic Cat M8000 Sno Pro 162 and Ski-Doo XM Summit X T3 163 for our Mountain Snowmobile Shootout.
While Polaris recently took the covers off a 2016 Pro-RMK based on its AXYS technology, this shootout is all about the 2015 models. We'll have more on the 2016 Pro-RMK in the coming weeks.
Working to make each mountain shootout better than the year before, we poll many riders about this shootout and how we conduct it. Plus, we solicit opinions from a few engineers from the manufacturers. Based upon our interviews, we've dropped turning radius and tip-over degree/angle. We learned these actually tell the reader very little about real world riding. These may roll back into our shootout in future years, but for this year they are eliminated.
For this year only, we dropped our two uphill speed runs, one through a gated course and the second, a straight line up a hill climb with the same rider. This was a tough decision, but rest assured, it will return next year. Our reason for dropping the test segment was because Arctic Cat shipped us its M8000 Sno Pro 162 with a three-inch PowerClaw paddle track. We love this track and how it changed the M8000, but this was not how the M8000 rolled off the assembly line. The stock Pro-RMK 163 sports the standard Series 5.1 track with a lug height of 2.4 inches. We asked Polaris permission to change the Pro's track to a three-incher. But, and understandably so, the Polaris' answer was to test the Pro how it was built. Ski-Doo's T3 is assembled with a three-inch paddle track.
Given that, we had two snowmobiles with three-inch paddle tracks – one installed after production (M8000); the other, assembly line installed (T3). One mountain sled (Pro-RMK) remained with an under-three inch track. No apples to apples here. As stated, our two electronically timed speed runs will reappear next year when we know these three mountain snowmobiles have near equal-sized tracks.
COMPARISON: Read our review of the 2015 Ski-Doo 800 Summit X 174 with T3 + Video
This does not mean, though, our riders did not have varying opinions. The Pro-RMK 163 with its 2.4-inch track pulled some good lines.
Added into this shootout, simply for evaluation purposes, were a Polaris 800 RMK Assault 155 with Series 5.1 powder track, Yamaha Viper M-TX LE 162, and Ski-Doo Summit T3 174. These three snowmobiles are not figured into the overall score (1st, 2nd & 3rd) among the 160-plus track-length 800s, but we wanted rider impressions on these three. For additional insight, we also had our riders give feedback on the two T3s – 163 and 174.
And since we've had a season to test ride these models, we've woven in our own long-term impressions.
Test Heads and Other Business
Drivers for this year's shootout include myself, multi-year guest test rider, Roger Raymond; new for this year, Brent Burton; and Sr. Test Driver, Kevin Allred.
Our snowmobiles were masterfully prepared by some caring dealers and motoheads. The Pro-RMK and Assault from Rexburg MotorSports (Jared Burt and service staff) in Rexburg, Idaho; the M8000 by Todd Tupper (and staff) from Arctic Cat's Island Park, Idaho test facility; the Yamaha Viper M-TX by Lincoln County Customs (Troy Johnson and staff) in Alpine, Wyo., and the Summit T3 (163 and 174) by Bott Yamaha Ski-Doo (Bob Bott and service staff, and Sales Manager Matt Sorg). Bott Yamaha Ski-Doo provided its dealer demo T3s.
COMPARISON: Read our review of the 2015 Arctic Cat M8000 Sno Pro
Location was our favorite area, somewhere behind Alpine, Wyo.
Weigh In
We require all our snowmobiles be weighed in before our mountain slugfest. All snowmobiles were dried – no snow or ice – and filled with oil, fuel, and engine coolant. Tool kits and spare belt were added into each snowmobile. This is ready-to-ride (RTR) weight. Again, the three 800s with 160-plus tracks are the focus.
Ready-To-Ride Weights

Model
Model Year 2015
Model Year 2014
Difference (+) or (-) between model years
Polaris Pro-RMK 163
516 lbs
514 lbs
The 163 is two pounds heavier than the 155 we tested last year.
Arctic M8000 Sno Pro Limited 162
554 lbs
551.5 lbs
The 162 with 3-inch track is 2.5 pounds heavier than the 153 with 2.6-inch PowerClaw we tested last year.
Ski-Doo XM 800 Summit X T3 163
537 lbs
556 lbs
2015 Summit X T3 163 is 19 pounds lighter than the 2014 XM X 154.
Ski-Doo XM Summit X T3 174
546 lbs
NA
Yamaha Viper M-TX LE 162
603 lbs
NA
Polaris RMK Assault 155
515 lbs
NA
The Pro-RMK (and Assault) proved it is the lightweight champion. As an FYI, the Assault with its chaincase and shorter track, was one-pound lighter than the 163 Pro. The 2015 Pro 163 is two pounds heavier than the 2014 and 2013 Pro 155, which over two years of weigh-ins was 514 lbs. The 155's weight is consistent.
The Arctic Cat M8000 Sno Pro 162 with three-inch PowerClaw, only gained 2.5 pounds in weight over that of the 2014 153 with 2.6 inch PowerClaw paddle track; longer track, taller paddles and longer hyfax and rails added the 2.5 pounds. This minimal weight gain is swept away by the performance improvement the 162 gained from three-inch paddles.
COMPARISON: Read our review of the 2015 Polaris 800 Pro-RMK + Video
Ski-Doo surely made the XM X T3 light, as compared to the XM X (from 2014). Ski-Doo told the us staff the T3 was lighter than the XM X, but wow, Ski-Doo's lightweight RAS spindles, PowderMax II track, lightweight muffler canister and lightweight rear suspension made the T3 much lighter over that of the 2014 XM X 154 (which is our last known XM X weight).
Lightweight king is the Pro-RMK. The largest weight difference, from 2014 to 2015, goes to the T3, from 2014 XM X to 2015 XM T3 – two different high end models and track lengths.
The Yamaha Viper M-TX LE 162 is the heaviest, yes, due its three-cylinder four-stroke 1049cc motor. But rest assured the Viper's balance is superb when riding in deep snow; it feels lighter than what it is.
Stay Tuned
In Part 1 of our annual deep snow shootout of the top 2015 mountain-specific snowmobiles, we've introduced our test sleds and given you their ready-to-ride weights, which is important in the backcountry. Moving on to Part 2 of the Shoot-Out, our powder experts will weigh in with opinions and scores that will be tallied to arrive at a single shootout winner. Will it be Arctic Cat's M8000, Polaris' 800 Pro-RMK or the new Ski-Summit T3?