New Products from Boondockers and SLP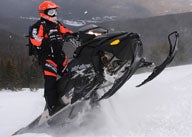 A turbo boost for Cat's M1000 and improved sidehill action for Ski-Doo's Summit XP
For you action riders who run the deep snows, here's some news from Boondockers on its latest product that lets you grab higher marks in mountain air and how Starting Line Products gets you better grip when sidehilling a late model Ski-Doo Summit XP.
Boondockers' Pump Gas Turbo for Arctic Cat's M1000
If you consider yourself a bigger man than most Cat M8 turbo meatheads, that is, bigger in brawn and guts-n-glory, then Boondockers, your master turbo company, has the meat to make your brawn brawnier.
The Idaho-based turbo and liquid nitrous company migrated its pump gas turbo (PGT) tech to Cat's M1000 motor, affectionately known as the "Big Twin." Up in the nose bleed section of the thinnest mountain air, the Arctic Cat-built M8 is a popular boonie masher with the turbo muscle crowd due to its electronic fuel injection (EFI) motor, sweet handling chassis and powder-smart track. But, knowing torque is essential in the mountains when the powder is deep and heavy, Boondockers set out to adapt its PGT to the EFI-equipped M1000; which was a hurdle due the M1000 not having a motor detonation sensor.
So, techies and other contracted test riders/consultants worked feverishly through spring and early Summer 2009 in Montana, Canada and Alaska perfecting the PGT for the M1000. The result was boiling hot muscle infused horsepower laced with torque steroids.
According to Boondockers, its pump gas turbo can function on pump gas up to 7 pounds-per-square inch (PSI) using Boondocker's 400+ HP intake fuel pump, effectively eliminating the need to run auxiliary fuel pumps. The PGT has precise control-over-boost, which eliminates boost-creep or boost spikes; meaning consistent and reliable boost. Given that, the M1000 PGT also has adjustable boost-on-the-fly, which means the mountain sled pilot can add additional horsepower at the push of a button with "Push to Pass."
The M1000 PGT kit Includes the BoonDocker Electronic Boost Controller (BD EBC), which includes a boost gauge that displays boost when it detects over 0.5 psi boost (and has max boost recall). The BD EBC automatically adjusts the boost level as the snowmobile changes elevation, this to maintain horsepower, or to maintain fixed boost amounts.
Said a Boondockers' spokesman, the M1000 at six pounds per square inch of boost (which is 200 HP), will drive away from an 800-Twin running 8-10 PSI boost. Furthermore, the M1000 PGT develops fat low-end torque numbers over that of the M8.
The M1000 PGT kit includes muffler, fuel control with ADA and simple tuner programming, new-generation oil tank that is baffled to prevent engine smoke when inverted. The oil tank has a dipstick that gives the owner the simple ability to check the oil without removing the side panel. An easy-to-install air box (installation without removing the throttle bodies) is also included.
Boondocker consultant and test rider, Bret Rasmussen of Preston, Idaho says, "The best thing about the Boondocker Performance M1000 kit is it is very mild-mannered and easy to ride because its power doesn't hit all at once. It has all the power you need when you need it; just ask it. And it runs on 91 octane. Cool."
Near February's end, we at Snowmobile.com will hammer on a PGT M1000 in a rundown against an M8 with PGT, both of equal track lengths. This to coincide with Snowmobile.com's upcoming tech feature on horsepower vs. torque vs. weight. Keep up with us at this web site.
For more information on the M1000 PGT, call Toll Free: 877-522-7805, or locally, 208-542-4411. For information from Boondockers website, go to Boondockers.com.
Starting Line Products' Spindle Kit for XP Summit
Ski-Doo's XP Summit is light, no doubt. It is strong in eyeball-deep powder, and is wicked when burning straight up a mountain. But, since its debut, in our opinion the XP Summit has had an inherent problem when sidehilling. Its boondocking, tree running and ravine hopping capabilities are, to put it kindly, a handful. The XP platform is designed to run flat, to seek ground zero. It is allergic to having one ski stabbed into a mountainside with the other free-running in the air on a sidehill swipe. We have said this before; the lightest mountain sled feels the heaviest through the bars. In addition, its over-the-motor steering post counters against proper arm, hand and body positioning when matching the XP and its nemesis mountain on a sidehill. We find the Summit wants to flatten out, fighting to keep both skis firmly planted on the snow, regardless of slope angle. The Summit likes to dive.
Enter Starting Line Products (SLP). General Manager and co-owner, Jerry Mathews and his peers share our view of the Summit XP, but they believe every mountain snowmobile has a purpose and they seek to tap purpose and potential.
For 2010, SLP has developed a spindle kit for the XP Summit, which, according to Mathews, cancels out most of the Summit's want-to-run-flat tendency. Here is what they have done. SLP's XP Summit Aluminum Spindles eliminate "self steering," by reducing ski pressure from spindle pressure. How is this done? The SLP spindle changes the bolt/ski location farther back toward the vehicle's rear, and also lifts the position. This allows more ski to trail behind the A-arm, which in turn reduces ski pressure.
According to SLP literature, "With these spindles, the chassis becomes much more predictable in every condition. Steering control is improved…."
Though SLP can't re-engineer the Summit's laydown (over-the-motor-steering post), they can address excessive spindle-to-ski pressure.
By February's end, we will test SLP's spindle kit on a slope near Island Park, Idaho, and will verify if SLP is spot on or just throwing spots.
For more information, contact SLP at 208.529.9000 or surf to StartingLineProducts.com.
Related Reading 2010 Arctic Cat M1000 Sno Pro 162 Review 2010 Ski-Doo 800 Summit and Everest Review 2010 Ski-Doo Summit 600 Review