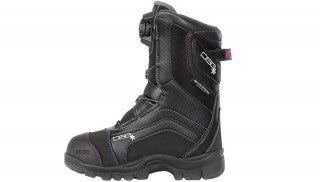 What's new from Divas
Wendy Gavinski makes an impression. She's a business woman. She's an avid snowmobiler and has been since she was a little kid. Now she's president of Divas SnowGear, a brand that aims to make good on its tag line of "The sexy side of snowmobiling."
As president of Divas SnowGear she competes in a tough market that sees long term competitors deeply ensconced in the market place, which includes four snowmobile manufacturers each with their own distinct apparel lines. A tough market? Yes, but Gavinski and Divas SnowGear has chosen a niche the others virtually ignored – female snowmobilers.
In the season ahead, you'll find Divas SnowGear featured prominently in Yamaha's snowmobile catalog. What Divas offers is a unique knowledge and appreciation of the feminine snowmobiler. Simply, women and men are different. Quite a concept, right? But one that escapes many apparel makers. Of course the fact that snowmobiling is male dominated plays into the fact that the unique needs of female riders don't fuel big sales.
Divas SnowGear finds that notion quite fine as it settles in on satisfying the needs of the female rider with sizing, styling and apparel designed for them. Who better to provide clothing women want than a woman snowmobiler?
For model year 2016, Divas SnowGear attacks the apparel market with top line attire and extended product offerings designed, styled and made to suit today's female riders. As a snowmobiler herself, Gavinski recognizes that women are in control of their sleds and not simply passengers or add-ons for family outings. Today's women riders are active and adventurous snowmobilers who challenge deep powder, ride off trail, blast over berms and negotiate long distance rides. While the snowmobile manufacturers make token appeasement to women snowmobilers by offering pink-gilded sleds and apparel, Divas SnowGear attacks the segment with main line technologies.
One of those key technologies aimed at today's women riders is Divas SnowGear Avid Technical gear. In the ancient world of old think, horses sweat, men perspire and women glow. Welcome to 2016 where women sweat, too. That's precisely why the company's newest design adds Polartech's NeoShell, which releases excess heat directly through the fabric membrane and reduces the need to manually adjust gear during activity. In addition the material is both pliable and resilient to allow durable stretch, recovery and abrasion resistance. What you gain in Divas' latest piece is a functional garment that can effectively eliminate layers or relying on zippered vents to dump heat. The enhanced breathability of the Polartec NeoShell helps Divas SnowGear excel in inclement weather.
You will find Avid technical gear fitted with venting zips, but as Gavinski notes, "We use these for perception." She suggests that under normal riding conditions the latest Avid Technical gear with the NeoShell component doesn't need to be unzipped. The new Divas product offers a waterproof level similar to other top fabrics.
The Divas SnowGear president believes in her product and strongly promotes these latest updates, pointing out that even though the NeoShell product feels like a soft shell garment it has the durability and toughness of a hard shell piece. The piece offers breathability, waterproofing and wind blocking, which makes it a very viable product for snowmobilers.
Gavinski explains that the newest Divas SnowGear garments constructed with the NeoShell will be offered in multiple colors and are produced in nine "women styled" sizes. The Divas SnowGear Avid Technical NeoShell Jacket offered in Yamaha's 2016 Apparel & Accessories Catalog retails for just under US$400 and is available in blue, pink and charcoal combinations with blue or pink accents. There is also a complementary pant in the same colors that can be mixed or matched. The NeoShell Pant retails for US$329.99.
New Snowmobile Gear from KLIM in 2015
New this season is a co-branded item created by Divas SnowGear for Yamaha. The Women's Yamaha Craze Flotex Jacket and bib pant is a Divas SnowGear offering featuring Flotex layering foam insulation for buoyancy. Designed exclusively for Yamaha, the Craze Flotex apparel is only available in black but comes in sizes from XS to 3X. It retails at US$209.99 each for the jacket or bib.
Divas SnowGear will also offer a Craze apparel item. It will not include the Flotex layer, but will offer color options, which the Yamaha piece does not.
Other new items announced at a recent exclusive media event were co-branded helmets in unique female-friendly Divas SnowGear styling and quick-lacing snowmobile boots. Among the newest Divas SnowGear helmets is a modular design with flip-up jam system and a one-hand chin bar push up to open mechanism. The company's cold weather helmet is designed for serious hardcore mountain or backcountry riders, but works well for trail riders who prefer an open snocross-style helmet. The modular design retails for US$235 with the snocross style going for US$120.
The Avid Technical Boots with BOA closure retails for about US$260. The boots offer a 10-to-1 heat retention and are claimed to be impervious to water and wind.
While these were the key items announced by Divas, the company's association with Yamaha will include its Lace Collection gloves and some layered riding gear also being featured in the Yamaha catalog.
2015 MotorFist Snowmobile Gear
Wendy Gavinski and Divas SnowGear have made good progress since the founding of the Wisconsin-based snowmobile apparel and accessories business in 2010. The company has been associated with Yamaha since 2012 and as of today has distribution in most parts of the North American snow belt. Bankrolling herself with US$30,000, Gavinski evolved from selling casual wear at snowmobile events from under a pink tent to retailing an expected US$1.2 million in overall sales this season. With her product aimed at women, a non-traditional market for most snowmobile apparel manufacturers, she found non-traditional marketing avenues, like an emphasis on Facebook, worked best. Since most snowmobile magazines are male-oriented she found traditional snowmobile publications and marketing avenues were aimed at men and offered little access to female riders. As Divas SnowGear continues to grow, the company pays close attention to its core market of female snowmobilers and encourages feedback and a dialogue with its customer base online and at snowmobile events.
For more information about Divas SnowGear, visit online at http://www.divassnowgear.com/ or at Facebook at https://www.facebook.com/divassnowgear1.