Engine Power Parity in 2014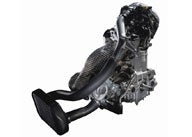 Snowmobile makers offer similar performance levels
The National Football League prides itself on team parity, meaning that on any Sunday any team has a chance to win. Parity boosts morale in regions with NFL teams as fans believe that their team can achieve victory and a trip to the Super Bowl. The NFL spends much effort to create this illusion and it pays off with huge television audiences and nearly 24/7 coverage.
Snowmobiling, of course, can't command huge television audiences or even partial coverage during its high season, but the sport has found parity of a sort. That parity comes from the engines that power the sleds of snowmobiling. There are 24 engine choices spread out over more than 200 sled variations. Power ranges from 50-something fan-cooled two-strokes to a 177 hp generated by Arctic Cat's 1056cc Suzuki-based four-stroke twin. Ski-Doo has the most engine options with eight. Polaris has the fewest at four. Yamaha is the only sled maker to only offer four-strokes. There are two turbocharged engines, unless you count the special available-through-dealers turbo or supercharger options Yamaha promoted for its pre-season "deals." We didn't include them. Nor did we add in the kid sleds. Just know that both the Yamaha SRX 120 and Arctic Cat ZR 120 utilize the same engine and chassis. Polaris competes here as well with the 120 Indy, but we didn't count it either.
VIEW: Inside Arctic Cat's 6000 C-TEC2 Engine
Engine Options by Sled Manufacturer
Arctic Cat
•
Suzuki 1056 Turbo – 177 – 4-Stroke
•
Yamaha 1049 – 135 – 4-Stroke
•
Suzuki 1056 – 125 – 4-Stroke
•
Suzuki 800 – 160 – 2-Stroke
•
Arctic Cat 600 DFI – 120 – 2-Stroke
•
Suzuki 500 – 85 – 2-Stroke
•
Suzuki 570 Fan – 55 – 2-Stroke
Polaris
•
750 Turbo – 140 – 4-Stroke
•
Cleanfire 800 – 150 – 2-Stroke
•
Cleanfire 600 – 125 – 2-Stroke
•
550 Fan – 55 – 2-Stroke
Ski-Doo • 1200 4TEC – 130 – 4-Stroke • ACE 900 – 90 – 4-Stroke • ACE 600 – 60 – 4-Stroke • ETEC 800 – 150 – 2-Stroke • PowerTek 800 – 150 – 2-Stroke • ETEC 600 – 120 – 2-Stroke • 600 Carb – 110 – 2-Stroke • 550 Fan – 55 – 2-Stroke
Yamaha • Genesis 4-cylinder 998 (APEX) – 150 – 4-Stroke • Genesis 1049 (NYTRO Triple) – 135 – 4-Stroke • Genesis 1049 (VECTOR/VENTURE GT Triple) – 120 – 4-Stroke • Genesis 973 (Venture/Viking carb Triple) – 115 – 4-Stroke • Genesis 500 (Phazer Twin) – 55 – 4-Stroke
For quite awhile now, we've found it somewhat compelling how the sled makers exercise performance parity. As the snowmobile industry's numbers have declined to 130,000 or so annual sales, we find that there has been a sharpening of the accountants' pencils to better contain costs. We marvel at Polaris, which enters the 2014 model year with just four snowmobile power choices. Effectively this fast growing international concern only has three viable power sources, two Polaris-produced Liberty Cleanfire-injected two-stroke twins and the Fuji-sourced 550 fan-cooled twin. The only four-stroke remaining in the Polaris line is a 750cc turbocharged four-stroke that appears in only one 2014 model, the Turbo IQ LXT.
With the advent of cleaner semi-direct injection two-stroke twins, Polaris' 750 four-stroke has fallen from favor. In turbo form, the engine produces about 140 horses and pulls hard from mid-range to top end. It manages surprisingly quick acceleration times and very smooth power. But its complicated and cumbersome package doesn't fit well in the new Pro-Ride chassis.
We have to give Polaris credit for streamlining its sled mix. Regardless of how the company experts did it, what Polaris brings to the snows for 2014 is a grouping of sleds that you'll want with the power that you want. Let's face it; essentially there are two performance categories. There are the 600cc and 800cc two-stroke power options. Put another way, that comes down to a 120-something horsepower or 150-something horsepower choice. The fan-cooled option allows an effective cost and performance option for enthusiasts looking for excellent value and moderate power characteristics. With these engine choices, Polaris, at least for 2014, keeps it simple with engines, but still manages to provide 30 different "flavors" of sleds from which to choose. If you want more, your dealer can "trick" out a sled customized to your liking. That's the job of the parts and accessories catalog.
If you are an ATV or side-by-side dirt wheels rider than you know just how adept both Polaris and Arctic Cat are at creating "new" models simply by adding nuanced plastic panels or updating the wheels and other trim. Polaris does this very thing in the springtime ordering season when the company unleashes its tricked out "specials" for the early buyer. The power options stay the same, but the sled gets spiffed up.
VIEW: Ski-Doo ACE 900 Engine Review
Both Ski-Doo and Arctic Cat come to 2014 with solid performance choices. Ski-Doo's in-house Rotax engine team added a model, the ACE 900 to do battle in the 80-plus horsepower category, where Ski-Doo's marketing gurus saw a fresh virtually untapped market for its new engine. According to Ski-Doo, this moderate power grouping accounts for about 17 percent of sales and the only serious player seemed to be Yamaha with its 500cc Genesis four-stroke twin. Ski-Doo and Arctic Cat offer 500cc to 600cc "dirty" two-strokes in this category, but none are volume sales leaders.
Rotax advanced combustion engines (ACE) like the ACE 600 and now the ACE 900 promise exceptional fuel mileage and environmentally "green" operation for a snowmobile power package. The ACE 900 can easily deliver 20-plus miles per gallon on the trail and probably push 5-8 mpg higher under the right conditions. Ski-Doo plans to help boost mileage and "green" running with the addition of its throttle-by-wire technology that allows the use the engine's computer to run in three very different operational modes – normal, sport and "eco." The latter limits revs, torque and speed in favor of MPG and emissions control. The Rotax engine delivers 90 horsepower from a 900cc three-cylinder four-stroke design.
Ski-Doo has such confidence in this new engine that it is offered in virtually every platform from the utility-oriented Expedition to the Grand Touring and even an MXZ model. We're certainly not going to belittle Ski-Doo for attacking and attempting to grow a small engine segment, the 85 hp category. But, it does show you just how hard the sled makers are working to grow their market share.
With five engine choices for 2014, Yamaha found a different way to grow engine share. It created a nice potential big win-win deal with Arctic Cat by selling the Thief River Falls, Minn. company a performance four-stroke triple. Even though Yamaha gets the new Viper chassis and sled package in the deal, it also adds thousands of engine sales as Arctic Cat re-introduces its "ZR" nomenclature. Yamaha gains extra engine sales in both its own Viper as well as Cat's ZR models. And, Yamaha does little else as Arctic Cat receives "boxed" raw engines, fits its own fuel injection system, fits a three-into-one exhaust and adds Cat clutching. Good and easy for Yamaha.
It's probably a good thing that Yamaha adds the Cat deal as it appears that Ski-Doo wants to grab a big piece of Yamaha's sales in the 85-hp category. The Phazer models with the 500cc high-revving twin have sailed along nearly unnoticed until now. But it's a largely uncontested niche and now Ski-Doo sees potential sales growth there.
Yamaha remains committed to four-stroke power and is the only sled manufacturer to offer a high-performance four-cylinder engine. The 998cc Genesis quad may be nearing the end of its shelf life, but it is a unique and truly inspired piece of snowmobile technology. A high revving design, it features a gear reduction system and exhaust technology that comes directly from high-performance Yamaha street motorcycles.
VIEW: Read about all the snowmobile choices for 2014
As we looked at each segment of performance, we weren't too surprised by what we found. After all, if one sled manufacturer has success, you can expect the competition to jump in to get their share. But, when you look at the engine choices you have heading into 2014, there are really only five segments that begins with an entry level, value segment where 55 to 65 horsepower is the norm. Then you move up to a 85-plus category, which now gets a bit meaner as Ski-Doo and its new ACE 900 tries to steal share from Yamaha's Phazer 500. The 120 to 135 hp ranges are where most riders sit as these engines can be used to power trail cruisers and sport cruisers for on- and off-trail sleds. The high performance end is where you'll find serious competition for overt bragging rights and power for high marking among deep snow riders and acceleration quickness for lake racers.
When you look at how the engine choices stack up, it shouldn't be surprising to see just how evenly matched today's breed of snowmobiles really are. The NFL has nothing on snowmobiling's power parity!
Power Parity Comparisons

MFG
High Performance >150 HP
Performance 120-135 HP
Trail Sports >135 HP
Mid Performance 85+ HP
Entry Performance >85 HP
Arctic Cat
Arctic Cat Turbo Suzuki 1056cc (4 stroke) ACAT Suzuki 800cc EFI twin (2 stroke)
Arctic Cat Yamaha 1049cc (4 stroke)
AC/Suzuki 1056 NA Twin (4-Stroke) ACAT DFI 600cc twin (2 stroke)
SnoPro/F500 Suzuki 500 carb (2 stroke)
Arctic Cat/Suzuki F570 Fan carb (2 stroke air-cooled)
BRP/ Ski-Doo Rotax
Ski-Doo Rotax 800 E-TEC (2 stroke DFI) Ski-Doo Rotax 800 PowerTek (2stroke)
Ski-Doo Rotax 1200 4-TEC (4 stroke)
Ski-Doo Rotax 600 E-TEC (2 stroke DFI)
Ski-Doo ACE 900 Triple (4 stroke) Ski-Doo Rotax 600 carb (2stroke)
Ski-Doo Rotax 550Fan carb (2 stroke air-cooled) Ski-Doo ACE 600 Twin (4stroke)
Polaris
Polaris Cleanfire Liberty 800 (2 stroke)
Polaris Turbo 750 Twin (4 stroke)
Polaris Cleanfire Liberty 600 (2 stroke)
Polaris/Fuji 550 Fan carb (2 stroke air-cooled)
Yamaha
Yamaha Apex Genesis 4 EFI
Yamaha Nytro Triple 1056cc
Yamaha Genesis Vector/ Venture GT 1049cc EFI Yamaha Genesis 973cc Venture/ Viking triple carb
Yamaha Phazer Genesis 500 EFI twin