Fuel Injection Systems in Today's Two-Stroke 600s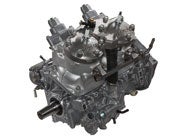 A look at modern snowmobile engines
As time goes on, it seems that both higher EPA standards and the fuel economy demands from customers are pushing snowmobile manufacturers towards the high-tech direction in their engine technologies. Some think that this is a bad thing because of the higher costs. However, with these higher demands comes higher performance, along with more horsepower within the same displacement. And yes, these engines do meet the lower emissions standards and get better fuel mileage, which is a good thing.
Fuel Injection has been around in the snowmobile industry since the 90s. It is now commonplace on both four-stroke and two-stroke engines and is much more reliable and more efficient in today's market. But this story will focus on today's 2-stroke 600 powerplants. These high-tech engines are cleaner burning, have better fuel economy, operate well and start in all temperatures and run at different elevations with an overall better performance.
Ski-Doo 600 Fuel Injection
It wasn't that long ago that the Rotax 600 SDI was the benchmark in fuel economy and oil consumption. It is hard to believe that this remarkable engine, which debuted in 2004, was replaced by the newer 600 HO E-TEC version in 2009.
2014 Arctic Cat ZR 6000 El Tigre ES Review – Video
The 600 HO E-TEC is actually a 593cc mill rated at 116 horsepower at 8000 rpm. This two-stroke engine is loaded with high-tech features. E-TEC technology has been used successfully in the Evinrude outboard motors for years. In fact, these outboard engines have won several clean air technology excellence awards. BRP says this high-tech snowmobile engine is 15% better on fuel economy than the 600 HO SDI engine and uses half the oil. Our testing didn't find this much change – we actually found it was closer to half of these claims. However, the 600 HO E-TEC has more to offer with auto break-in, auto fogging for summer storage and one-pull start with no battery even in extreme cold weather. This is made possible by a high output charging system. This engine is so easy to start one should question whether electric start is even necessary. Furthermore, back in 2009 this engine came with a three-year or 10,000 km (6,213 miles) warranty on platinum tipped spark plugs…now that's clean burning!
The 600 HO E-TEC engine also has a considerably smoother idling than its predecessor and offers smooth acceleration. This E-TEC technology has expanded to the 800R E-TEC two-stroke motors.
BRP's 600 HO E-TEC fuel injection system is a true direct injection system that is mounted on the top on the cylinder heads. It operates on high pressure with the help of a high output charging system. The DFI system coils have an electrical current that creates a magnetic field to pull the piston down; this is when the fuel is injected at 500 psi. At high rpm the fuel is injected at full, while at low rpm the fuel is less, an idle charge that uses a 1/3 of the fuel. There are springs inside to help the piston close, but this moves open for a split second for the high pressure injection to do its job. The electrical impulses are extremely quick and all of this is controlled by the on-board computer that is capable of 80,000 calculations per second.
BRP has a video to show the E-TEC fuel injection system in operation at this following link, if you would like to see a visual of this system in action.
Arctic Cat's 2014 Dual-Stage Fuel Injection
The all-new C-TEC2 600 is the first snowmobile engine designed engineered and produced by Arctic Cat. It used several ideas that were proven in the Sno Pro 600 race engine, including the lighter crankshaft design and crank wheel. It is 8.5 lbs lighter than the former 600 Suzuki two-stroke engine, with way more power. The C-TEC2 600 reflects the decades of engine design knowledge from Arctic Cat. This powerplant is produced at the Arctic Cat Engine facility in St. Cloud, Minn.
Lightweight, low pressure Dual-Stage injectors feed fuel into the combustion chamber, crankcase, and cylinder ports through the cylinder wall. This is integrated with EPTS and APV exhaust valves, helping the C-TEC2 600 achieve Tier III EPA regulations. The cylinder-mounted fuel injectors are supplied with 58 psi fuel pressure and are controlled by the fuel management system using variable injection timing and duration. Do not be fooled by the name Dual-Stage Injection – it does not spray twice per revolution. Its name is given to the two engine loads. At lower engine loads, the system injects fuel directly into the combustion chamber on top of the piston. At higher engine loads, which includes mid range and high range, fuel is injected into the combustion chamber and the crankcase area and into the transfer ports, improving the fuel/air transfer time for added efficiency while also lubricating vital engine components. This is achieved with a unique designed Slotted Piston. This Arctic Cat exclusive piston has an open window or slot to allow fuel/oil mix to be injected into the crankcase area and then into the transfer ports as part of the Dual-Stage Injection system.
The injection spray is continuous as the piston goes by on the way up. This gives the piston, rings and the top end bearing lubrication along with loading the crankcase with a fresh charge.
Inside Ski-Doo's New 600 ACE 4-Stroke
New generation twin 47mm throttle bodies flow air into the crankcase. In addition to flowing only air, these throttle bodies are shorter and lighter than those used with previous engines. The throttle bodies use two double-V-shaped reed cages with four-petal reeds to optimize air flow into the engine. The main throttle body controls air mix. The end result is a highly sophisticated program that combines dual stage rail injection with open window piston designs.
Cat's new C-TEC2 600 is another version of the semi-direct fuel injection system that injects fuel into the transfer ports to charge the engine.
Polaris HO Cleanfire Injection
In 2005 Polaris used the Cleanfire injection system, which at the time had two injectors, in the 900 Fusion. One year later Polaris used a four-injector system in its 700cc and 900cc engines; two injectors in crankcase and two in the heads or top of the cylinder. Then in 2007 through 2009 Polaris used the four-injector system in the 600 Liberty engine, rated at 125 HP. At this time Polaris also used a two-injector system for its 600cc Shift line, less horsepower then the premium four-injector engines.
2014 Polaris 600 Indy & 600 Indy SP Review
During the earlier development of the Cleanfire systems, quick throttle response was achieved. This is something Polaris had always had in its Semi Direct Injection systems, but these earlier engines were hard on fuel. With further development on the 600 Cleanfire 2, which is what Polaris is using today, this engine now gets better fuel mileage and uses less oil than these previous versions. Over that last few years 600 Cleanfire 2 has had a few updates; with a new fuel rail, engine management system, injectors and exhaust. It now runs better with reduced emissions and is unchanged for 2013 and 2014. The Cleanfire engine is used in several models and comes with high tech features; this liquid cooled power plant has a digital ignition, TPS (throttle position sensor), WTS (water temperature sensor) and DET (detonation elimination technology)
The Cleanfire injection system is the Polaris version of Semi Direct Injection. It's similar to Ski-doo's 600SDI that was mentioned earlier, but the injection points are different – fuel is injected into the transfer ports. Polaris does this with a lower pressure compared to the higher pressure of the Ski-Doo system. And everyone loves the quick response of this 600 CFI; it's the first comment at any test ride!