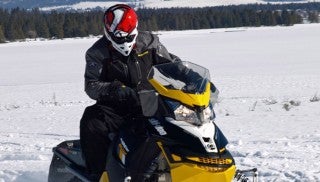 Technical gear for the now and future snowmobiler
Millennial snowmobilers, those under 35 years of age or so, stand to benefit from high-tech thinking that makes its way to everyday snowmobiling of the future. Some tech goodies are here now, but some product ideas will need refinement, especially to work in severe cold. In the meantime we can move to the head of the line in some cases and enjoy advances in lightweight, high impact materials and technologies.
One of those not quite ready for primetime snowmobiling products comes from the minds and experiences of brothers Marcus and Mitchell Weller, who have envisioned the motorcycle helmet of the future. With heads up display optics, a camera to see around and behind the wearer, plus various sensors and microprocessors, this advanced concept helmet has moved from idea to working prototypes that were reviewed this summer.
While you might think that the Brothers Weller would be engineering types squirrelled away in a hidden lab, that's not the case. In reality Marcus Weller holds a Ph.D. in Industrial Psychology and is described as a motorcycle fanatic with an obsession for human-centered technology and design. Two years ago along with his brother, Mitchell, he founded SKULLY, the company created to develop and produce the SKULLY AR-1 (AR for Augmented Reality) helmet. From the outside the AR-1 is styled in wedge modern of a lightweight polycarbonate material with a Kammback rear section used to house an ultra-wide angle rearview camera. Meeting current safety certifications, the shell features a 3-D laser cut foam interior for precise fit and a "technical" fabric liner for overall comfort. The visor is a special proprietary SKULLY anti-fog, anti-glare, anti-scratch design that works with the SKULLY Synapse vision enhancement technology that provides the heads up display (HUD) and "true-to-life" imaging from the rear-view camera.
New Gimmicks, Gadgets & Gizmos on 2016 Snowmobiles
Weller's design philosophy for the SKULLY AR-1 is simple: "We believe technology should eliminate distractions. It should remove blind spots. It should provide you direction when you want it, and help you focus your attention back where it belongs – on the road ahead." Or, trail!
It seems as though such heads up fighter jet technology has taken a very long time to develop for powersport uses. But it's not as though it wasn't predicted. In fact, back decades ago when Yamaha was the Number One selling snowmobile, the then snowmobile product manager suggested that such technology would be working its way into the sport. Of course, he failed to say when, but we suspect that he figured it would be sooner rather than later. Even now, the heads up display is yet to be a proven commodity for powersports even as it begins to be seen on elite concept cars of the future. At least, though, the SKULLY AR-1 helmet appears to be moving the practicality of the technology forward.
To get the project underway, the Weller brothers, both Millennials themselves, resorted to a crowd funding campaign that raised more than a million dollars in 45 hours. The funding pledges amount to nearly 2,000 pre-sold helmets.
Once the technology evolves, we anticipate future designs suited to cold weather sports. Still, real-world test reviews of the helmet are yet to come, as the company is very protective of its US$50,000 prototype and not loaning it out for regular on-road testing. However, late in July, Popular Mechanics magazine reported being impressed from an official one-hour "test wearing" session. The publication noted that the helmet felt well balanced, comfortable and the heads up display system didn't seem overly distracting.
Company founder Weller noted that as an integrated helmet, the battery pack is located at the back of the helmet and the electronics to run the HUD are positioned in the front of the helmet for balance. Weight-wise, the helmet is said to weigh about the same as a conventional midrange-price helmet.
The company expects production helmets will come with the rear view camera, the ability to stream music, and a turn-by-turn navigation system as well the ability to receive software updates and upgrades through the web. The AR-1 should be ready for delivery by mid-December 2015 at a suggested retail price of US$1,499. For more information, visit http://www.skully.com/.
New Snowmobile Gear from KLIM in 2015
In the here-and-now, you can obtain state of the art helmet design and full-on Moto-X styling from Bell Helmets, makers of the all-new Bell Moto-9 Carbon Flex. While not specifically a snowmobile helmet, the Moto-9 Carbon Flex offers snowmobilers the same benefits as its intended market of dirt bike and ATV riders.
With its history of providing purpose-built helmet solutions that provide across-the-board head protection for the modern rider, Bell Helmet engineers and designers looked for ways to evolve its popular top of the line and race proven Moto-9. The solution came from integrating existing technologies and then developing a unique flex system. By leveraging the segmented liner from the company's "Segment" bicycle helmet, Bell designers achieved a more personalized and adaptive fit for a wide variety of head shapes.
To create the first-of-its-kind three-layer impact liner, Bell brought together a unique combination of polymer materials that could provide "progressive" energy management to absorb low, mid and high-energy impacts.
The Expanded Polyolefin (EPO), which is a soft and flexible low-density polymer, dampens low-threshold impacts when placed between the design's Expanded Polypropylene (EPP) and Expanded Polystyrene (EPS) layering systems. By combining these three materials at varying densities, Bell created an energy management system that excels in low, mid, and high-speed impacts. In addition the designers created a "slip zone" within the Moto-9 Flex' impact liner to allow for subtle movement between the inner layers. It also helps to reduce rotational energy transfer from angular impacts.
Bell Helmets states quite simply that its new powersports helmet is "the most advanced helmet we've ever made and is quickly setting a new level for rider protection in motocross and off-road racing."
The shell is a composite and features what Bell Helmets refers to as its washable Extended Wear interior. The Bell Moto-9 Carbon Flex is available at a suggested retail price of up to US$650 and comes in six distinct color styles. Visit BellHelmets.com for more information.
2015 MotorFist Snowmobile Gear
Because the SKULLY AR-1 helmet contains its own high-tech visor, you won't need goggles. But you might want a top-flight goggle for high-flying over moguls in the new Bell design. We can suggest Ski-Doo's Helium Electric Wireless Goggles that come with a wireless electric dual lens system to maximize anti-fogging. The mirrored scratch-resistant lens offers very good visibility in a myriad of conditions you might encounter on the trail during a day's riding. The urethane frame features integrated vents and excellent ventilation. The goggle includes a clip-on nose guard shield and 110-volt charger.
Available through Ski-Doo's online store, the goggle carries a retail price tag of US$229.99. For more information about the wireless goggle or other top of the line Ski-Doo goggles, visit Stoe.Ski-Doo.com.
In pioneering days gone by, all the early snowmobilers wanted was a helmet that could keep them warm and goggles that didn't ice over in the first few minutes of a ride. Compare that to today's expectations of high tech materials that are light, stretchy, warm and colorful. We have helmets of varying styles to fit the many modes of riding we do – trail cruising to big bump fly-overs. Our goggles can be plugged into our sleds, fitted with an optician's prescription, and even defrost the lens. As advanced as we think we are, hang on as there is "new" coming to you that we haven't thought up yet.