10 Great Ideas in Snowmobile History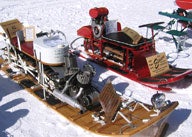 Without great ideas we wouldn't have a sport to enjoy
Over the years, people with vision and know-how used their imaginations and technical expertise to develop snowmobiling into the sport we enjoy today.
Sometimes those problem solvers managed to solve problems we didn't realize existed or simply made our life on the trails more comfortable. And sometimes their big ideas involved pioneering concepts and maneuvering through layers of bureaucracies to create programs that had never existed before, but would be fundamental to the existence of snowmobiling. We've made our list of 10 ideas and concepts that we probably never even think about as we ride along on our modern day sleds over thousands of miles of groomed snowmobile trails. We know there are many other ideas and breakthroughs that have shaped the sport, but for now, in descending order, this is our Top 10 List of Great Ideas in Snowmobile History.
10. Heated Hand Warmers — You vintage snowmobile enthusiasts and long-term snowmobile riders know what it was like to ride in sub-zero temperatures without heated handgrips. Doubling up with two pairs of mittens to keep our hands warm was fairly common up to the 1980s. That is when Jim Hollander started work on the first heated handgrips. As one of America's top off-road motorcycle riders and one who competed when the weather was frigid, he knew that warming fingers on the fins of an air-cooled engine was not the best solution to frozen hands.
As a homework assignment while earning his Mechanical Engineering degree, he created a hot handgrip design that would stand up to the rigors of motorcycling's all-weather International Six Days Trial and by 1981 he had developed a production heated grip. While used initially by competitive off-road motorcyclists, Hollander's "Hot Grips" heated handlebar warmers quickly became the snowmobile industry's largest selling accessory.
Twenty-eight years later Jim Hollander is the owner and president of HOT GRIPS Mfg., Inc. and it's his idea of a heated hand grip that is now taken for granted as being original equipment on a modern snowmobile. While Yamaha may have had its engineers totally rework its hand warmers for 2010 to make them more efficient, it is Jim Hollander who led the way in creating legendary snowmobile comfort.
9. Performance Four-Stroke Engines — Let's not confuse the fact that the earliest snowmobiles in the sport's history utilized 4-stroke motors. That was simply a fact of the ready availability of industrial-type engines, such as the "off the shelf" engines found in the early Polaris Sno-Travelers.
Since the beginning 4-stroke engines have powered snowmobile history. But it wasn't until 2002 that 4-strokes had a serious impact on the sport. With emissions standards and environmental issues steamrolling toward snowmobiling, Yamaha boldly announced its intentions of becoming an "all 4-stroke" snowmobile company. The Yamaha RX-1 with its high-revving four cylinder, 4-stroke immediately changed how snowmobilers viewed 4-stroke power. They went from being simply the "green" alternative to lighter weight, more performance-oriented 2-strokes to being a serious consideration for all snowmobilers. And they offered distinct 4-stroke advantages of improved fuel economy; zero need to mix oil with gasoline, which immediately removed that dreaded "two-stroke odor from clothes and the trail. Plus, they were easier to tune to meet new EPA standards.
Yamaha's efforts have been met head-on by its competition, which have either developed performance 4-stroke engines of their own, developed new technologies to give their 2-strokes 4-stroke-like advantages of cleaner emissions, increased fuel economy, or a combination of both. Yamaha remains the only snowmobile manufacturer specifically committed to 4-stroke technologies and has developed lighter, more efficient 4-strokes to give snowmobilers more performance choices.
8. Fuel Injection — The reality may be that EPA standards have effectively forced fuel injection on the snowmobile engine makers, but regardless, the advantages this technology brings cannot be diminished. It offers precision fuel metering, especially when paired with modern computer chip technology.
We must mention that Olav Aaen of Aaen Performance was one of the first to offer fuel injection to aftermarket shoppers, but it was Injection Research Specialists (IRS) that stole the show. A small aftermarket player, the company sought to sell its technology to the snowmobile industry.
By the mid-1990s Polaris played with the design and even brought out the first-ever full production version on its big triple. Unfortunately, in 1998 a court determined that Polaris' fuel injection system bore too close a resemblance to the one conceived by IRS and ordered the Minnesota snowmobile manufacturer to reimburse the inventor for infringement.
Today, virtually all performance snowmobiles, 2-stroke or 4-stroke come with electronic fuel injection systems that compensate for barometric pressures, altitudes from sea level to mountaintops, throttle openings, type of fuel, and so much more. They simplify the ride, as we no longer need to consider jetting changes and can simply ride blissfully on. Fuel injection may be one of the most taken for granted advances and one that we may have found unnecessary until we had it to appreciate. It means lighter throttle pull, quicker throttle response and vastly improved starting. You vintage riders know what we mean!
7. Electronic Reverse — Call it electronic reverse, RER or simply push-button reverse; it's all the same. It simplifies snowmobiling at virtually no weight gain. Prior to the invention of Rotax Electronic Reverse, snowmobilers frequently went without, rather than add the weight and complexity of a geared reverse. When Ski-Doo introduced the RER system in the late 1990s, virtually every snowmobile journalist took it upon himself to try and break it or, at least, fool it. You could see journalists going forward, pushing the RER button, going backwards, pushing the RER button and then going forward again. Time after time. The journalists would tire before the RER system. Point proven. The simple electronic addition to the Rotax engine would slow the engine so it could physically run backward and then engage itself into reverse. The design required a re-do of the clutch to accommodate this directional change, but the result has been a system that is now used by all snowmobile manufacturers who have retained 2-stroke engines.
This has been a comfort device, a safety device and a convenience factor. It has made loading and unloading sleds easier than ever. You no longer have to yank and pull your sled backward. You can park head-in at rest stops and simply reverse out. Electronic reverse is a definite plus and a system that few of us would have thought we could have. Even diehard performance riders wouldn't do without it.
6. Ride Forward — Here's a concept that almost all snowmobilers knew they wanted, and probably were already using at odd times in their daily riding. They just didn't know it.
When Ski-Doo engineers rethought how we ride, they noticed that most of us rode up on the fuel tank area when we really pushed our sleds or went over the really bad bumps. What we all knew instinctively was that the center area of the sled provided the best ride and gave us the best control for hard riding. When we sat back with our butts out over the rear axle, we took the worst hits. Like students sitting in the far back of a school bus, we got bounced around, but unlike them we didn't want that much excitement mile after mile.
The original REV platform changed how we ride. Yes, indeed, the competition bad-mouthed this unorthodox design, but that was because it began seriously stealing sales as more and more snowmobilers switched over to it. By riding further forward in a more upright position, the rider gained better overall control and a distinctly improved riding experience. The ride-forward REV platform made a big difference. Interestingly, the Ski-Doo rear suspension, which had been just so-so in the old butt-back chassis, became vastly improved, even though very little had been done to it from one chassis platform to the other.
Current new models for 2010 have their own versions of a ride-forward design. They all stem from the original REV design that we didn't know we could have, but are glad we do.
5. Independent Front Suspension — Polaris gets credit for independent front suspension and, indeed, the company named an entire snowmobile line off it — the Indy series. But there were versions way before Polaris showcased the concept at both oval and cross-country races in the 1976-1977 season.
Chaparral snowmobiles had shown an independent front design earlier as had some independent racers like Gordon Rudolph. But it was Polaris that turned a racing success into a full-blown consumer available design on its Indy models. The concept accounted for a decade long dominance in sales.
The advantages of the trailing arm were debated by Arctic Cat, which went with a double A-arm design. Whether the design was similar to Polaris' trailing arm set-up, Yamaha's telescopic struts or Cat's A-arm concept, the result was that independent front suspensions replaced leafsprings and snowmobile ride and handling advanced. IFS has been a big on-trail comfort factor for all of us.
4. Slide Rail Suspension — If you've never ridden a bogie-wheeled snowmobile for any distance, find a friend with a vintage sled and try it. That is what passed for ride quality in the good old days. Thankfully, Arctic Cat's Roger Skime wasn't satisfied. He and his team devised the parallel rail slide suspension that has been the basis for every other slide rail suspension since 1967.
Interestingly, Roger Skime remains at Arctic Cat and probably knows more about suspension design than anyone in the business today. His team's concept went into full production with the 1967 Arctic Cat Panther. It replaced the bogie design with a set of parallel rails with "Hi-Moly" trackwear slides and torsion springs for adjustment.
Just as today, the concept centered on ride comfort and keeping bumps from reaching the rider. The slide rails bridged the stutter bumps and the torsion springs could be readily adjusted to give riders flexibility in ride comfort. Those were all things you couldn't get from a typical bogie wheel suspension.
While companies like Polaris have brought forth design's like Pro-Ride and have re-engineered Skime's basic concept, the simple attributes of that first Panther slide rail remain to provide on-trail comfort for us today.
3. Ski-Dog — Prior to the arrival of J-Armand Bombardier's original 1959 Ski-Doo, originally named the Ski-Dog, virtually all snow vehicles were rear-engined utilitarian designs. The Ski-Dog took the sport from its "worker" phase to its play phase. Snowmobiling began to appeal to recreationists and especially winter-bound families who saw a high "fun" factor in the front-engined, nimble Ski-Dog with its wooden runners and lightweight rubber track.
It has to be the success of this little sled, quickly known as Ski-Doo thanks to a painter's error that changed the Ski-Dog logo to Ski-Doo. With the popularity of Ski-Doo snowmobiles, competitors answered with similar models. By the mid-1960s only true utility models kept the engine in the rear. These early years saw the arrival and departure of dozens of sled makers, trying to cash in on the Ski-Dog's success. Only Arctic Cat, Polaris and Yamaha would survive along with Ski-Doo. All of these sled makers focus on play sleds, continuing the appeal begun in the late 1950s.
2. Snowmobile Clubs & Associations — One of the most critical and oft overlooked aspects of today's snowmobiling lies in its network of clubs and associations. Don't kid yourself, even if you don't belong to a snowmobile club, they are watching out for you.
In the earliest days, snowmobiling was very much club-oriented. Families would join together to share in snowmobiling. They would ride together. They would gather for on-trail adventures, which frequently included wiener roasts. Clubs were the glue that held the sport together in its earliest days. Today you can find more than 3,000 snowmobile clubs worldwide with 40 registered non-profit associations representing snowmobilers and their interests in the snowbelts of North America and Scandinavia.
As a group we snowmobilers in Canada and the United States spend over $9 billion on snowmobiling each year. This includes sleds, clothing, accessories, and snowmobiling vacations. With this economic clout lies the fact that our clubs and associations are responsible for protecting our enjoyment of more than 225,000 miles of signed and maintained snowmobile trails in North America. Keep in mind, those trail miles have been developed by snowmobile clubs and associations, usually in cooperation with provincial, state and local governments. Snowmobile clubs remain extremely important and viable to our long-term enjoyment of the sport.
1. SnoPlan — While clubs and associations are critical to the well being of our sport, there would be no sport at all without the establishment of the original SnoPlan. As a weathered old snowmobile dealer once told us, "If snowmobile racing were to go away, the sport would live on, but if the trails disappeared, the sport would disappear with them."
Before SnoPlan there were no plans to create a system of snowmobile trails. It was the vision and long range planning of Ski-Doo's Laurent Beaudoin, J-Armand Bombardier's son-in-law, who helped bring the most critical element to snowmobiling — a system of interconnecting snowmobile trails. Fellow snowmobile executives of the day like Polaris co-founder Allan Hetteen threw their support behind Beaudoin's somewhat audacious plan, but only Beaudoin with the assistance of Quebec's provincial snowmobile leadership could make it happen.
In the early 1970s Beaudoin and his Ski-Doo brand backed and underwrote SnoPlan, which was an initiative to identify and create a network of snowmobile trails, initially in Quebec, home to Ski-Doo. Let's be realistic, as our friend pointed out, trails are necessary for survival. But in the earliest days, there were no trail systems, and to allow the growth of the nascent sport, trails were needed to give consumers a place to use the sleds that Ski-Doo and other manufacturers wanted to sell them. SnoPlan was designed meet the needs of the users, who demanded organized trails. Of course, there was the fact that trails needed to be groomed and Bombardier manufactured and sold grooming equipment.
With the backing of Ski-Doo and Beaudoin, SnoPlan was successful and provided a recreational boost for Quebec. It also served as the successful model for trail development for other states and provinces wanting to develop trail systems of their own.
Without the success of SnoPlan it is arguable as to whether the sport of snowmobiling would even exist today. It was that crucial at an important period in the history of the sport and why we name it as the Number One most important concept in snowmobile history.
Related Reading A Pivotal Center for Riding Quebec Trails A Decade of Difference Products from the 'Good Old Days' Sled Engineering: Then And Now