MotorFist Snowmobile Gear Review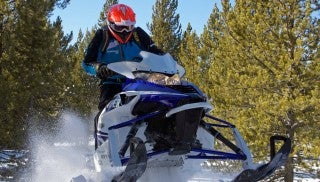 The MotorFist brand spares nothing in quality, performance and materials
The sales season is on, as evidenced by the many snowmobile shows on our calendar. That means it's time for many of you to start looking for riding gear. To arm you with information for your buying decision, here are our thoughts on the gear we relied on last year – MotorFist's Trophy parka and bib, Valkyrie gloves, Stomper 2.0 boot and Peak goggle.
MotorFist is an Idaho-based company that was purchased by Arctic Cat this past March. Like Klim, another Idaho-based gear company that was purchased by Polaris, MotorFist produces gear for all snowmobilers, regardless of brand.
MotorFist sits as a "David" among many "Goliath" outerwear manufacturers. It is not the biggest, but prides itself as being a brand that spares nothing in quality, performance, or materials.
MotorFist Trophy
The Trophy coat has mesh-lined arm pit vents, waterproof powder skirt, Lycra powder cuffs at sleeve's end with thumbholes ( which are awesome when placing a glove on a hand and in keeping snow from walking up into the sleeve), drawstring at the waist hem and neck, small zipper pockets near the cuffs, waterproof and breathable eVent fabrics, 300D Polyester, and a moisture wicking liner with fleece-lined sleeves. The full-length zipper is offset near the neck to prevent zipper stack, a unique feature we like that is a signature of MotorFist.
The coat delivers great wind protection and articulates with a rider's many movements. Its eVent membrane gave excellent moisture protection; snow and rain stayed out, and moisture from body sweat migrated to the great outdoors. The Trophy coat is a favorite in our cache of clothes. We give it an excellent rating.
We liked the pockets near the cuffs to store the little things we need, such as a cloth to wipe our goggles. The inner powder skirt with additional inner drawstring prevented snow from walking up our backside. Simply, we learned the coat is an integral part and teammate to the Trophy bib.
The Trophy bib has water-sealed (waterproof) two-way full length leg YKK zippers, water-sealed hand pockets, two water-sealed mesh-lined thigh pockets (these act as vents when open), waterproof adjustable gaiters with boot clip, articulated knee layout with removable knee pads, eVent fabrics outer shell with fully taped seams, 300D polyester panels on body and 500D nylon panels on seat (to provide additional wear protection from seat scuff), knees and lower leg (to withstand abuse from runningboards and whacks from trees), moisture-wicking liner with fleece-lined seat, and water-sealed two-way fly zipper with snap closure.
Like the Trophy coat, the bib is excellent. What we liked are the different thickness of polyester panels at wear points, pressure (sit) points and at the lower leg. The pant's gauntlet at the boot level, and how the pant and boot gauntlet mate to a boot, are well-designed and well thought-out by snowmobilers for snowmobilers. Zippers, snaps and hooks  are properly placed, are of high-quality, and are functional.
Stomper 2.0 Boot
The Stomper 2.0 boot is a huge improvement over the original Stomper, which we mainly use as our boot for driving to our favorite destination and shoveling a driveway. The Stomper 2.0 boot, like the Trophy coat and bib, relies on eVent for its waterproof and breathable tech, while giving warmth from 800 gram Thinsulate Insulation. The boot has a replaceable sole, molded heel and toe cap for strength and no-slip spiral laces. MotorFist recommends using a pair of its socks and we fully agree; trusting MotorFist's sock is like trusting your snowmobile to get you home. Though the boot is not a BOA cable-system boot, it is easy (and quick) to slip on and tie up.
In simple terms, we found the Stomper 2.0 boot to be warm and rugged and with its twisted laces, it remains taut. Wearing this boot with a high-calf MotorFist sock, such as the Tech or Sub-Zero, keeps the little piggies warm.
Valkyrie Gloves
To protect our digits, MotorFist tossed us a pair of waterproof Valkyrie gloves that are gauntlet-styled. These come built with 150 Gram Thinsulate insulation on the back of the hand and 40 Gram Thinsulate on the palm.
The Valkyrie glove did not show any lasting negative effects from a season's use. Stitching stayed intact and the glove's fit and articulation provided warmth without tiring hands. However, we missed the eVent technology that is found in MotorFist's Rekon and Carbide gloves. Our gloves did, on warm days or when engaging in hard pulls on the handlebars in extreme sidehilling situations, hold moisture near the palms and between the fingers. We found ourselves placing these gloves into our backpack for another dry pair. We would recommend spending the extra money for an eVent-equipped glove.
Peak Goggles
Lastly, we received a pair of Peak goggles, which we found to be ooo-la-la nice. Although we did not have a MotorFist helmet to match to the goggle, all in all, when we wore the Peak goggle with any helmet, it resisted fogging much better than we anticipated. We give the Peak goggle high marks on moisture venting, moving air around the lens to keep it dry, and providing an excellent seal to a helmet's opening.
Cleaning Tips
Last year we wore the Trophy parka to a neighborhood Christmas party where, while carrying some food from one house to another house, we spilled some barbecue sauce on the coat in addition to some chocolate icing off a cupcake. When I returned home, I found some industrial-strength cleaning pre-wash, sprayed it on the coat and allowed it to soak. Then I washed the coat with some organic, bio-friendly crap that burned the white color out from the front zipper, turning it a flesh-colored pink.
I contacted MotorFist, showed them the coat and discussed the bio-friendly product with them. To the buyer with a blue-colored Trophy parka, or any Trophy parka for that matter – stick with good old Tide, or Cheer or something the manufacturer (MotorFist) recommends. If you decide to use an unknown whatever-based bio product, you may end up wishing you had not. Was this MotorFist's fault? Heck no, I did not follow instructions (men do this!) for cleaning and washing. MotorFist has a list of products that keep your parkas and bibs safe. Think of it this way. Would you put diesel fuel in your snowmobile? No. Be wise and protect your investment, as it protects you. I was stupid.
Conclusion
After a season of riding with this gear we can say with confidence that MotorFist makes some killer outerwear that is worth every penny. Visit MotorFist.com for more information.