Q&A With Timbersled's Allen Mangum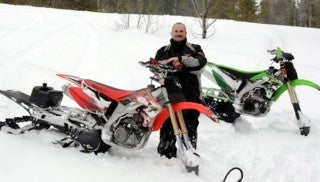 What you need to know about Timbersled's culture
Mountain riders are nerds – they read, talk, gather in shops and garages to discuss and work on their snowmobiles; forever tinkering, fixing, tuning and adjusting. I am a mountain snowmobile nerd.
As I frequent snowmobile events, such as the Jackson Hole World Championship Hillclimb in Jackson Hole, Wyo., I've noticed Timbersled is always present with legions of nerd fans – me included.
About two years back in March 2011, I hooked up with Allen Mangum, Timbersled Products, Inc. owner, near Swan Valley, Idaho to ride his Mountain Horse snowbikes. It was a stupid fun day that sparked a friendship.
Mangum reminds me of an aftermarket pioneer, Jim Noble, who founded Starting Line Products. Mangum is smart, self-made, a quality aficionado, not haughty and caught up into himself, hardworking, and a visionary. Recently we connected for this question-and-answer session, which focuses on the company as a whole. For specific technical product information, migrate to Timbersled's website, http://www.timbersled.com/.
Snowmobile.com: What is Timbersled's history?
Mangum: I, with my wife Natasha, own Timbersled Products Inc. The seed to modify snowmobiles was planted when as a young boy, my brothers and I used an old family snowmobile to pull each other around on a sleigh. As I got older, I never had enough money to buy custom products, but had the desire and machinist skills to make my snowmobiles competitive against bigger and newer snowmobiles. From this I started Timbersled in 2001.
Snowmobile.com: What Products does Timbersled specialize in?
Mangum: Timbersled has two product lines that complement each other. First, we build front and rear suspension systems for all mountain snowmobile models. Second, Timbersled builds three Mountain Horse snow bike systems to convert a dirt bike into a back country mountain snow machine. You can read about this author's snowbike review on sister site Off-Road.com).
Snowmobile.com: What is Timbersled's vision?
Mangum: Timbersled thrives on simple and unique innovation where its custom products are a redesign of OEM products, and are manufactured in our shop in production runs. Because we manufacture this way, prices are competitive and products readily available.
Timbersled's mission is to lead the mountain sled industry in innovation, and hopefully play a role in the future of modern mountain snowmobile and snowbike systems.
Snowmobile.com: What are Timbersled's other services?
Mangum: Timbersled works with customers in a professional manner. Myself and four others who answer customer questions are educated on Timbersled products and are avid snowmobilers and snowbike riders. At Timbersled we do all things in manner to meet customer needs. At Timbersled, we want to impress our customers with our service. I believe those with whom we have done business with Timbersled will agree.
Snowmobile.com: How many employees does Timbersled have?
Mangum: Timbersled has 16 full time employees. We like to think we are good employers, because we have the first employees we hired. We get along well and have fun with light humor during the work day and play ping-pong on break time; our ping-pong matches get fairly competitive at times.
Snowmobile.com: How is product research and development (R&D) done?
Mangum: I and many who work at Timbersled are hands-on craftsmen. When I come up with an idea, I usually figure it out by myself – I am fairly innovative and have had good success, which drives me to keep innovating; often times I do not sleep at nights because of it. When I take ideas to the shop, we as a team generally fabricate a handmade prototype, or manually design the product on design software.
I personally test the prototype product deciding what changes must be done. At that point we design and build it again and test it. If correct and functional, we then do all the software programming needed to machine the parts along with the needed jigs to duplicate it. From that point, we refine it and build up to 10 prototypes for durability testing and to get multiple opinions. We test the prototypes as if we were a customer, and from that, decide if the product is ready for production.
Snowmobile.com: Who is your basic customer? Why do they come to Timbersled?
Mangum: Timbersled customers are normally mountain riders who are looking to shed weight from their snowmobile and to improve deep snow performance, or are looking for a smoother ride. Others want a stronger suspension than the stock because they are jumping, abusive riders, such as a hillclimb racer. Timbersled's largest clientele are turbo riders who need suspensions to manage turbo power.
Our snowbike customers are a combination of dirt bike and snowmobile riders. They buy a snowbike system because this is appealing to utilize their dirt bike all year long. There is nothing like it in the world; its uniqueness captivates the dirt bike rider who lives in the Rockies where snow is plenty during the winter.
Snowmobile.com: Why should a customer consider Timbersled?
Mangum: Customers come to Timbersled because it is known to offer service, great products and services backed with support after the sale. Customers know they can contact Timbersled year around, and they know we are riders not part designers, and they know we test everything we use, and use everything we build. I believe Timbersled has not produced a product that did not function as designed and advertised; from customer testimonials, most Timbersled products have performed better than what it has promoted.
Snowmobile.com: How does Timbersled determine product-need?
Mangum: Timbersled has high business momentum, the company is involved in the industry, it monitors the industry and what other like companies are building, whether they are competing products or products that complement Timbersled products. From this monitoring, Timbersled maintains its drive to continually produce and improve current products and to develop new products. Also, Timbersled intently listens to its customers; this plays a big role in what Timbersled builds.
Snowmobile.com: Is there an attitude of "If we build it, they will come?" Or are products built on need?
Mangum: This is true for many aftermarket companies, but this is not why Timbersled produces its components. As a business, snowmobile and snowbike owner, Timbersled products must look and function in a manner I desire. When I go riding, I don't like being limited – the snowbike or snowmobile must do more than I am capable of. I am the kind of rider that does not want to be ordinary. This is what drives Timbersled products to be what they are.
Snowmobile.com: What determines if a product will come to fruition or not?
Mangum: Here are the terms: functionality; uniqueness to the industry; a better mouse trap than the other guys'; light as a feather and strong as a train; improves existing products; works better than stock; money well spent; works as advertised; and lastly, it must make money. These are the business concepts that make a product successful. Look at any popular product in the industry and it will fit most of these descriptions.
Snowmobile.com: Why would I consider a Timbersled rear suspension (rear skid)?
Mangum: What Timbersled focuses on is making a rear suspension that fits the model of sled it is going into without modifications. Timbersled's rear skids bolt into existing factory tunnel mounts, no drilling or remounting is required. Also each Timbersled rear skid specializes in a particular function that is an improvement over the stock rear suspension. The Mountain Tamer offers, in a well rounded off-the-shelf package lightweight, good ride quality, toughness, bottom-out control, coupling weight-transfer control, easy adjustability, race ready capability, and a good price point with options to fit a budget.
Snowmobile.com: Why would I consider a Timbersled front suspension?
Mangum: Timbersled offers complete front suspension kits for all mountain sleds that include chromoly A-arms, billet aluminum spindles, tie rods, and new bushings and hardened pivot sleeves as standard features. They have been redesigned from the factory to have an improved function, an attractive look and options to choose different widths and colors. Timbersled front suspensions lighten the snowmobile, tighten up the steering radius to improve mountain riding. They are a bolt-on product that installs in factory mounts. They are also the most affordable front suspension on the market.
Snowmobile.com: What products are Timbersled's best sellers?
Mangum: The Mountain Tamer rear suspension, Barkbuster front suspension, and the Mountain Horse snowbike system. Timbersled also offers shocks and added accessories such as wheel kits, brackets and snowbike cargo bags and gas cans.
Snowmobile.com: What snowmobiles are Timbersled products mostly used on?
Mangum: All brands of mountain sleds along with a few crossover sleds. We do not make parts for trails sleds. There is not one brand that is a better seller than another, they are all fairly equal.
Snowmobile.com: What materials are mostly used throughout — front and rear?
Mangum: Mostly chromoly steel tubing and billet aluminum with some stainless steel and titanium. Timbersled uses its own Delrin bushings for all moving parts, which have a hard anodized aluminum coating.
Snowmobile.com: Where does Timbersled see itself five to 10 years from now?
Mangum: My wife, Timbersled's employees and I desire to keep growing Timbersled to the highest-level necessary to keep up with product demand.
Like "bad" is "good" (I have a "bad" sled) and "nerd" is not "cool," Timbersled products can help you make your nerdiness tough. In all seriousness, Mangum, as I have seen, has heart and places customer need and product function and durability above dollars and cents. Yet, he has learned, by meeting customer need and building robust products, his business thrives, which allows him to plant more seed money into his business – to grow it – which allows him to bring to the table more aftermarket components. For the mountain rider – be it on a snowmobile or snowbike – the rider can ride confidently.
To learn more about Timbersled and its products, go to http://www.timbersled.com/.
Related Reading Inside the Garage with Straightline Performance Eric Woog: One Man, Two Businesses Boondocker Provides a Boost for Ski-Doo and Arctic Cat TEAM Clutch Review