The Look of Participation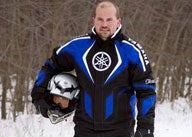 Snowmobilers embrace their sport and want to identify with their sled and brand
Today's snowmobilers don't simply ride sleds; they embrace the lifestyle and adopt the look of their riding style. Sometimes the look comes about from necessity. That backpack, shovel and avalanche beacon deep powder riders carry represents survival for them, but also marks them as serious mountain tamers. The snocross-style helmet, snowboarder-type boots and chest armor worn by high performance riders signals that they prefer nasty moguls and high-speed runs. The one-piece suit, rubber-bottomed with canvas upper boots and a basic open face helmet tells everyone on the trail that this is a one-day snowmobile rental rider.
Style makes a statement. To promote apparel sales magazine publishers and snowmobile apparel manufacturers created special advertorials, editorial looking but full on paid advertising sections in magazines. These reader-friendly promotions promoted sled wear by showcasing what became known as "the look of participation." This look of participation has been with all manner of enthusiasts for decades. What do you think a ski bunny is? In NASCAR audiences you find folks branding themselves with apparel touting their favorite driver and the driver's sponsors. Even the green-aspiring cult of urban bicyclists deck themselves out like Tour de France competitors with their spandex shorts and multi-thousand dollar official team bikes. We're no different. Snowmobilers want and purchase the look of participation as envisioned by today's snow wear manufacturers.
Of course, let's never forget that there is good money to be made in sled wear. And the snowmobile manufacturers know it. They promote it. They protect their exclusivity. With sled sales slowed by economics, world oil price fluctuations and whatever else makes the nightly news, the Big Four sled makers look for profit wherever they can make it. Parts, garments and accessories is a good place to boost revenues. If you own a Polaris, Ski-Doo, Arctic Cat or Yamaha, the only place you can get apparel with your sled's brand identification is at an official dealership or through a sled manufacturers' catalog. Polaris PG&A makes up 15 percent of revenues and Arctic Cat's latest annual report indicated that its PG&A sales represented 22 percent! Of course, not all of those revenues came from apparel. What makes sled wear especially important is the profit margin. We may dicker over a sled's price, but how many of us really beat up a dealer over the price of a snowmobile suit, a pair of goggles or a helmet? A savvy dealer probably could make better profits by outfitting you from head to toe than by selling you a sled. That's the profit margin difference.
Now that the snowmobile manufacturers have zeroed in on PG&A, they have become much more serious about offering even more in the "look of participation." In the early days of snowmobiling, riders wore whatever they could get to stay warm. Military woolens, thick and heavy bunny boots designed for arctic climes, hats with fur lined flaps and heavy leather mitts were the order of those days. By the late 1960s Ski-Doo offered riders a dozen or more styles that provided slim trim majorette suits to race team apparel. Today every sled maker offers attire to match specific sleds. Arctic Cat highlights its high performance gear with Arctic Green. Ski-Doo retains a traditional yellow and black style. Polaris reverts to retro jackets that are mindful of racing successes from the 1970s and brands its gear under the Pure Polaris banner.
While the Big Four maintain premium apparel for its primary sales, both Arctic Cat and Yamaha are attempting to enhance sales by introducing in-house brand alternatives. Arctic Cat offers gear under the Drift label. Yamaha for 2013 introduces apparel with little or no Yamaha brand identification in colors to coordinate with other brands, hoping to expand overall sales. But if it's the look you want for the sled you own, there is only one place to get that and it's the official dealership. There are plenty of style opportunities from independent makers of sled wear, but only the snowmobile manufacturers can offer gear with the sled logo and brand identity.
As you know, there is very rider-specific apparel available from KLIM, FXR and others that are in demand, especially mountain gear. The sled manufacturers don't totally want to give that sales opportunity to the independents, so they work with those folks to private label popular gear that will carry your sled's brand-identity on it. That's why you'll see a sled manufacturers' brand identity on select FXR and KLIM gear.
The look of participation makes us look like all-stars. It identifies us as knowledgeable snowmobilers. Arctic Cat has long identified its enthusiasts with high-visibility Arctic Green. Ski-Doo has a traditional yellow and black look. Yamaha adds a line of Sno Force gear that is essentially the same as its premium Yamaha line, but downplays the actual Yamaha branding in favor of a new Sno Force logo. The idea is to add sales by providing Yamaha quality gear in various colors to coordinate with non-Yamaha sleds. Arctic Cat does a similar thing with its Drift Racing line of economy apparel, made by Arctic but with fewer features to save a consumer dollars. The Pure Polaris line of apparel and gear is designed to provide premium gear with strong brand identity for Polaris riders, whether they are powder or trail riders.
Much of today's sled manufacturers' premium apparel features the latest technologies in waterproofing, weather-resistant and warmth. Not only do you get the look but warm, dry quality comfort. The look of participating in our sport has come a long way since those advertorial days that sold the original look of participation. Now you can be stylish, be warm, be dry, and be suited for powder, off trail, recreational riding or rough and ready performance adventures.
One other thing that differs from the early days, you get what you pay for in today's suits. You get outer layers that breathe, inner layers that draw moisture away while keeping body warmth comfortable. Plus, the gear of 2013 is more effective, yet lighter and much more comfortable than ever. Again, we much prefer participating with today's look than the look of the old days. If you want yesterday's style, check Wal-Mart's selection of Walls and Carhart winter gear. It's economically priced, but when temperatures dip well below freezing, we like today's snowmobile-specific gear. And if we want to match our sled's style there is really only one place to get the official look.
Related Reading The Importance of Accessories and Apparel Snowmobile Helmet Choices FXR Renegade XC Technical Jacket Review 2012 HMK Snowmobile Gear Review Understanding KLIM Snowmobile Gear