Who Is the Snowbike Rider?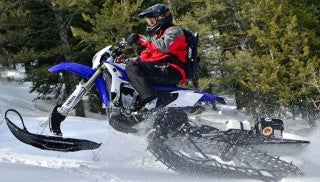 A Q&A with Timbersled on snow bike buyers and the evolving industry
Snow bikes represent a small niche in snowmobiling overall, but with Polaris' purchase of Timbersled and the appearance of Arctic Cat, will it remain small? And who buys and rides these snow toys anyway?
Earlier this week we posted a feature that sheds some line on snow bikes, provides a short history of the snow bike revolution, and includes some rider tips from snow bike convert Evan Myler of Rigby, Idaho. Now we wanted to learn more about the who and why of the snow bike buyer and rider. For answers and insights into this new growth market, we contacted Timbersled's Sales and Marketing Director, Brett Blaser.
Question: What is the average age of those buying Timbersled Mountain Horse kits?
Answer: Age ranges from early 20s to over 70 years old.
Q: Are those who buy the kits purely a motorcyclist wanting to explore winter backcountry?
A: Timbersled riders are outdoor people. While we initially saw most of our early adopters come from within the snowmobiling crowd, now that people realize how easy a Timbersled is to ride we're seeing an ever-increasing number of customers coming from many outdoor sports: off-road and motocross dirt bikers, snow boarders, skiers, backcountry enthusiasts, mountain bikers and UTV/ATV riders.
The most interesting group is the retirees. People that used to ride snowmobiles, but could no longer access the areas they used to, or those who were just tired of the physicality of tree riding a sled. They're now riding Timbersleds – easily accessing all their favorite winter terrain – and not coming home from a ride sore and totally drained of energy. It's very rewarding for us to be a part of extending peoples' outdoor enjoyment like this.
Q: What about snowmobilers with bikes who want to snow bike as well as snowmobile?
A: There are many customers who enjoy both snowmobiling and Timbersledding [snow bike riding]; but there's an addiction factor with Timbersledding that we try to warn everyone about. It's like a drug. Once you start, it's hard to stop!
Q: What about snowmobilers who ditched snowmobiling for snow bike riding due to costs…. making the best of one investment for year's long off road recreation?
A: Cost of ownership is definitely a hot button with snowmobilers, and one of the reasons many switch over to Timbersledding. Being able to justify the use of the dirt bike in summer and winter, and owning a Timbersled system that requires so little maintenance is a big plus for all of us. You can put three Mountain Horse bikes in the back of a pickup, or four in or on a two-place snowmobile trailer. The bikes burn half the gas on a long day's ride compared to a sled; and this means more fuel money for the truck.
Q: What is the average income, if known, of Mountain Horse kit purchasers?
A: We have data on this, but not really enough to be spot-on. The big deal for this season is our finance programs, which will allow everyone the opportunity to afford a new Timbersled system. With Polaris behind us, we can now offer financing through our dealer network. In the past our customers had to come up with $5k to $6k cash for a system. Now with about $500 down and payments well under $100/month; and rates as low as 3.9 percent, riders can easily acquire a Mountain Horse Kit, which will place more Timbersled Mountain Horse-equipped bikes on the snow.
Q: What is the snow bike market growth?
A: Generally, for Timbersled and across the market as a whole. The market is extremely large. Think of how many 250cc and larger dirt bikes are sitting in garages all winter. Timbersled has been doubling production since 2009, and has had a hard time meeting consumer demand. We are continuing this growth rate, and expanding our dealer network out across the globe (international). Because the Timbersled system is so reliable – its performance is proven – and we have the support behind our products; we've been able to blow the market wide open. This also means other companies are realizing there's room for them; this explains why there are so many new companies trying to copy our designs.
Q: The Convex track? We understand it is Timbersled-designed and Camoplast-built?
A: Yes. The new Convex 2.5 track is one of many game-changers we are introducing for the 2016 model year. When you choose a Timbersled kit, you choose the company with the most snow bike specific experience. The Convex 2.5 track is years ahead of other track designs, regardless of their paddle height. Its several pounds lighter than our previous two-inch paddle track. It has a very specific Convex shape that mimics the narrow feel of a dirt bike's rear tire, and it provides unmatched forward traction in all snow conditions.
It utilizes Timbersled's latest multiple durometer technology; which means you get soft powder lifting center paddles, and stiffer corner biting outer paddles – all in the same track. It also has our flex-edge technology, and a chain groove, which means it is the only 2.5-inch track designed to run on all previous year Timbersled systems with 2.86-pitch drivers.
Q: Is the front ski a Timbersled-designed and Simmons Ski-built ski?
A: Timbersled designed the Backcountry ski that continues to set the standard for all other skis. Simmons produces it for Timbersled. This ski, combined with Timbersled-specific dual runner skags, makes for a confident ride on the trail and in the steep and deep.
Q: What will 2016 bring?
A: There are many other Timbersled firsts for 2016.
First, is TSS (Timbersled Suspension Strut), which adds up to 8.5 inches of plush rear suspension travel to any new or previous ST/LT Timbersled; bringing the total rear available travel to almost 21 inches.
Second is BRS (Bottomless Rail System). This is an industry first that prevents the rider from ever feeling the rear suspension bottoming out. The BRS system provides a near bottomless suspension feel by absorbing bottom out forces into 2 custom bumpers.
Third, is DDS (Dominator Drive System). Utilizing ultra-strong industry standard JT splined sprockets that are nearly 70 percent lighter than any other snow bike drive sprocket (approximately four-ounces each) we've created the lightest and most reliable Timbersled drive system ever. With proven Timbersled reliability, there's no need to buy and carry extra belts or sprockets when you're running a Timbersled.
2016 Timbersled Snow Bike Conversion Kits Unveiled
Fourth is the Convex Pivoting rear suspension. For 2016, we perfected the suspension travel path, and kept the proven adjustable pivoting front arm; which means our rear suspension is more efficient, rides smoother, and is easier to ride than before.
Fifth is the Timbersled Turbo-flow intake system. We're releasing a brand new universal intake system with years of snow bike specific experience behind it. Gone are the days of clogged intakes, or poor running bikes.
Q: Registering a snow bike – can riders use their original off-road registration for winter trail and backcountry use, or does a rider need to purchase a snowmobile use permit as well, like we do for our snowmobiles?
A: Each state is different, but in all cases we recommend purchasing registration and supporting the snowmobile trail grooming process. In Idaho, we purchase snowmobile registrations and grooming stickers. Montana updated its laws and now offers three-year passes to residents, and inexpensive permits to non-residents. It's great to see states recognizing and adapting to the needs of Timbersledders. Timbersled and Polaris are working diligently with many of the other states that currently don't have specific provisions for Timbersledders; so we can head off issues before they surface. With all these resources in motion, we can all have confidence in our Timbersled ownership.
Installation
If you are curious to see what is involved in installing a Mountain Horse snow bike kit, here is a time-compressed video on an install. For those performing this season-in and season-out, they can complete an install and disassembly in two to three hours.
Snow bikes can travel were many snowmobiles cannot. Snow bikes can snake through tightly spaced trees like none other. Also, snow bikes can traverse across steep slopes with ease. But, become avalanche smart and wear and have the proper equipment to protect yourself: beacon, probe, shovel and avalanche air bag (avy bag). The equipment mentioned here also includes the proper boots and gloves.