Inside the Snowbike Scene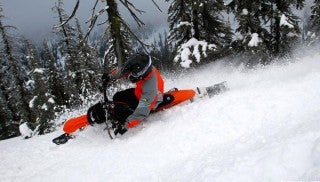 Converted dirt bikes creating new excitement and a growth market for snowmobiling
The first snow bike kit we heard about was years ago when 2Moto, a Boise, Idaho company, developed a dirt bike to "snow bike" conversion. It was both innovative and unique in that a track spun via the dirt bike's drive to the track's driver that lay at the rear of the kitted suspension. Instead of powering a rear wheel, the 2Moto conversion applied power at the track's rear to push the snow bike. To this day it's controversial – some love it, some scoff at it. Regardless, 2Moto has a near cult-like fan base. 2Moto has been re-organized into Radix Powersports and is offering conversion kits for most popular dirt bikes. For more information, migrate to http://www.2moto.com/, where you will learn about the 2Moto RADIX kit: shocks, its unique jackhub, track and swingarm.
Another newcomer into the snow bike kit movement, and one that is gaining in popularity, is the Yeti MX snow bike kit. This kit from C3 Powersports in Alberta, Canada is distinctive in that it uses carbon fiber as the base material for the tunnel and gear housing. It relies on a SyncroDrive belt drive system and a rear suspension built by NexTech, also from Canada. The rear suspension is a monoshock/monolink design; lengths are 120, 129, 137 and 146. For added information, go to www.carbonsled.com/products.html to learn more.
At Hay Days, this past September, Arctic Cat provided a public sneak peek of its own snow bike (a prototype). Although the company gave little information on this venture, it is rumored to be "scratch-built" and not based on an existing dirt bike at all. If so, it may be very purpose-built, totally snow-specific and likely powered by Arctic Cat's own 450 H1 fuel-injected single-cylinder four-stroke. Read more about it here.
While Arctic Cat offers promise of a new snow bike product, Polaris is the de facto snow bike industry leader thanks to its purchase of Idaho-based Timbersled. Obviously a multi-billion-dollar corporation like Polaris did not purchase Timbersled, maker of the Mountain Horse snow bike kit, if it did not see a future return on investment.
Currently, the Timbersled Mountain Horse is the most popular and well-proven snow bike kit on the market. As noted, Timbersled was not the first aftermarket company to develop a snow bike kit for dirt bikes, but it is the company that's poured serious time and cash into developing a kit that is tough and built for serious boonie bashing. We first wrote about the Timbersled Mountain Horse snow bike kit for sister publication Off-Road.com in October of 2011, which you can read here.
Since that time, Timbersled has vastly improved the Mountain Horse snow bike kit with major changes in length, shock-type and track-type. Timbersled now calls its rear suspension and track Convex.
To be a Mountain Horse snow bike rider, motorcyclists can install the kit on popular dirt bike brands: Yamaha, Kawasaki, Suzuki, Honda, KTM, the combined Husqvarna and Husaberg, and Beta. These torque-filled single-cylinder four-stroke bikes with electronic fuel injection (EFI) can rotate a track around a narrow snowmobile-like rear suspension with ease; even at high altitudes. There are some two-stroke dirt bikes that can manage the Mountain Horse kit, such as the KTM 300XC and 300XC-W, and Yamaha's YZ250 and YZ250X. But, the biggest EFI-equipped motor is most-desired. While two-stroke bikes can handle the snow bike kit, it is best to install the shortest track length from Timbersled and dial down your rider weight to a buck forty-five.
Gear ratios for either big bore four-stroke bikes or big bore two-strokes can be wide or narrow; depending if you are a rider who likes low gear torque or high gear RPM. Ensure your dirt bike has electric start. Kick starting a bike in snow and cold is a pain; especially if the motor is flooded from a tip over.
These past few years we've spent time on a Honda, Kawasaki and Yamaha 450 with a Timbersled Mountain Horse kit bolted to the big one-lunger bikes. A rear suspension replaces the swing arm and a "tunnel extension with snowflap" replaces the rear fender. A wide Simmons ski, designed exclusively for the Mountain Horse kit, replaces the front tire. Track lengths and track lug height choices are ample, as well as shock packages and color options for the rear suspension.
With his trusty staff, Allen Mangum, owner, president and general manager at Timbersled, began designing and testing the Mountain Horse kit about eight years ago. Originally, the rear suspension was a narrowed-up snowmobile rear suspension, which Timbersled designed and built for long track snowmobiles. At the time, the "Mountain Tamer," as it was known, was a proven aftermarket (non-OEM) rear snowmobile suspension that many mountain riders installed on their mountain-specific snowmobiles. The challenge Mangum and his design staff had to overcome was driving the track from a front horizontal drive shaft rather than stretching the drive chain to horizontal drive shaft at the rear, which was conventional wisdom at the time and used by 2Moto.
From experience, when I first rode a Timbersled Mountain Horse, learning to master the motorcycle with a long track and ski, took about an hour. My tutor was Mangum himself. I flipped back and forth between a Honda CRF 450 and Yamaha YZF 450. This past winter, I spent a day on two WR 450s at the exact location where Mangum introduced me to the sport three years ago.
We are familiar with riding a 450 dirt bike in the backcountry in its as-built configuration. We know how to muster the big four-strokes around, working the gear box and throttle as multi-tasking maestros.
Q&A With Timbersled's Allen Mangum
But, replace the rear waffle stomper with a 120- or 137-inch long, 12.5-inch wide track that places 1,500 or 1,712.5 square inches of tread on the ground and take the front spinner off and replace it with a ski that is almost as wide and as long as a Burton snowboard, and gearbox and throttle action becomes one or two gear faves; throttle twists are long. The track's lug height for the 120 and 137 is 2.5 inches. The 120 is the ST, for Short Track, the 137 is the LT, for Long Track.
Also for snocross racing, Timbersled brings to market a narrower rear suspension and track that allows riders to race their 120 or 137 kits with a 10.5-inch wide track, although lug height for the Convex track remains at 2.5 inches. The kits are dubbed 120 SX and 137 SX. The narrower track increases track load, pounds per square inch (rider and bike weight) onto the track, thus allowing the bike to bite hard packed surfaces.
The track, designed by Timbersled and built by Camso (formerly known as Camoplast) is specific to the snow bike where lug pattern, pitch and lug duometer (a ratio of lug stiffness at base and flexibility at tip) is unique to the snow bike.
For direction control, a single ski with a deep keel and and carbide runners helps front end stability and control. The ski is an exclusive Timbersled design.
The rear suspension has grown and evolved into a high tech wonder "rear skid" that mimics, as best as Timbersled can engineer, the travel, feel and handling of a bike's rear swing arm. The new evolved rear suspension is called Convex. Though we have yet to ride the new Convex suspension with optional Timbersled Suspension Strut (TSS), if it delivers what the company states, then this notches up the snow bike revolution again.
There is much to absorb and we encourage bikers do their homework by navigating to Timbersled's website and go on an information binge. Also, call the folks at (208) 255-5644).
Riding a Snow Bike
Riding a snow bike on a hardpacked trail is not fun – at all. The closer the backcountry is to the trailhead, the better. Snow depths are best at one to two feet, mostly for the ST kit. However, the LT kit can take the rider through three feet, especially if equipped with the TSS kit.
Resist standing on the foot pegs as if single track riding with wheels installed. There are times to stand, which are rare, but learn to lean and jockey the bike in a seated position.
As for shifting, you are unlikely to need anything other than first, second or third gear.
Snow bikes can travel where many snowmobiles cannot. They move through tightly spaced trees like none other. Also, snow bikes can traverse across steep slopes with ease. But, become avalanche smart and wear and have the proper equipment to protect yourself: beacon, probe, shovel and avalanche air bag. The equipment mentioned here also includes the proper boots and gloves.
Switching to Snow Bikes
We spoke with a devoted off-road motorcyclist and deep powder snowmobiler, Evan Myler, to find out why he made the switch from snowmobiling to snow bike riding.
Q: Why did you move from snowmobiling to snow bike riding?
A: My snow biking experience started two years ago when I was asked to go for a ride in Afton Wyo., with the MotorFist guys. When we arrived at the parking lot there were four snow bikes. I had always wanted to see how they performed and there was plenty of new snow for the test. Reaching the top of the canyon there was at least two to three feet of new snow and the bikes broke trail all the way in. I had a difficult time trying to follow their trail on my 2011 800 Ski-Doo Summit. After hours of playing we stopped and had lunch. One of the snow bike guys said "take it for a ride." Within minutes I was hooked and plans were made to have myself a snow bike by next season.
The reason I transitioned from a snowmobile to a snow bike was because of the ability to boondock in areas – my own riding areas – that were previously inaccessible by snowmobiles.
2016 Timbersled Snow Bike Conversion Kits Unveiled
I grew up on dirt bikes and I could see a huge cost savings in having a snow bike in the winter and removing the track and having a dirt bike for the [Spring] Summer [and Fall].
Q: How similar and dissimilar is snow bike riding to snowmobiling?
A: The snow bike is so forgiving and feels so nimble. It is similar to a bike [with wheels] because of its maneuverability and light feeling. I really cannot compare it to a snowmobile because seat position and riding style are totally different. However, steering tends to be more of a lean and flow than a typical dirt bike and turning the handlebars.
Q: What are the benefits to snow bike riding, as well as the downside, if any?
A: I feel it's a huge benefit to me. I love to ride the trees and boondock more than the point-and-shoot hillclimb snowmobiling has become. I'm able to access untouched riding areas and do it much closer to the unloading area. Another benefit is in two hours I can go from a snow bike to dirt bike – easily transitioning from season-to-season; this makes the sport more economical.
Q: What are the top mistakes when riders take up snow bike riding and how to overcome?
A: Do your homework when choosing and setting up your snow bike. Snow bike forums, just like snowmobile forums, are full of opinionated-know-it-all bloggers. Find a local group and ride with them for a day and see what works.
Test ride a snow bike first. I see a lot of kits for sale with only a few hours on them. Snow bike riding can be physically demanding and not everyone will like it. Also, ride other bikes. It is very comparable to taking a trials bike with a group of motocross bikes. There are places your trials bike will go they cannot, but if you are chasing them down a 20-mile road it could get a bit lonely.
Q: What are best methods, from your perspective, on how to ride a snow bike?
A: The best methods I have found are: knowing your bike and its abilities; practicing on your bike in an easy riding area to learn its abilities to maneuver and function; and realize your limitations on the bike. From my experience where a snowmobile can shoot a steep climb, a snow bike may have to side hill to get to the top. When this happens, know your exit!
Also, I've found I do not standup on my snow bike as I did on my sled, and too as when I ride my bike during the summer. As a snow bike rider, I have more control sitting down and leaning.
Q: What is your dirt bike, aka snow bike?
A: I ride a Yamaha YZ450F with a 2014 137 LT Timbersled kit. I choose the YZ450 with the 4-speed transmission because I found typically I only used 2nd and 3rd gear most of the time. Also, I searched and found a great deal on an almost new, but slightly used Mountain Horse kit. I did not want to sink a ton of money into it and experiment. I love the 137 and it maneuvers as well as the 121 ST.
We doubt the Japanese and Euro bike builders manufactured their dirt bikes with snow bike kits in mind; the snow bike kits had to adapt to the bikes. But, these bike builders (hopefully) should be pleased their products have become a year's long rec product and perhaps too, cutting into the snowmobile market thus expanding their own market share.