Your Best Deals for 2012 Come Early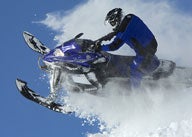 Sled makers push early season deals to build excitement
What's the big deal about early season orders anyway? They must be important, because even before the start of the next season, while the snows of this season have yet to melt away and way before full production of the 2012 sleds gets underway, all of the snowmobile manufacturers seem incredibly eager to sell you their latest and greatest snowmobile.
Maybe you've seen them online, in a magazine or at an end-of-season show. There's a remote chance some of you could have ridden a few of them at "demo" rides. But, have you made up your mind? If not, the sled makers are throwing deals your way like never before. So, this pre-season sales effort must matter quite a lot.
We know you didn't ask, but we'll 'splain it to you anyway, Lucy. Back in the days before Polaris enjoyed its decade long push as manufacturer of the Number One selling snowmobile —this would be in the Hall Wendell days of Polaris; production numbers were strictly guesswork. All sled manufacturers essentially threw a dart at a series of numbers on a wall and "guesstimated" how many sleds they would need to produce. Of course, they tended to figure high, which in snow-lean years left their dealers with excess inventory. But, hey, it wasn't stacked in the manufacturer's backyard!
The newly minted team of Wendell-led Polaris managers, who had bought the company from Textron when that conglomerate tired of the snow-wars, sought a better way to plan production. Since Polaris had a subsidiary in western Canada, the general manager of the Canadian branch and Minnesota-based corporate managers decided to try something new. How about capitalizing on the springtime excitement about new models to offer snowmobilers the best pricing deal of the year on yet-to-be-produced sleds? If it worked in Canada (which it did!), then the program could be rolled out in the US. Which it was!
For the first few seasons, this Polaris-initiated Spring Snow Check program performed extremely well. Of course, some dealers figured out how to make "spring only" sales later in the year by arranging that their own dealerships had an excess of early "orders." This little trick convinced some potential sled buyers to wait beyond the Snow Check offer since they figured they could get the in-demand sleds later. It was a weak link in the system. Another weak link came when snow fell later into the season — or not at all. Early buyers had sleds they couldn't use very often and worse, prices started to go lower than the "best" deals of the spring when panicked dealers closed out their inventories to prevent having to carry over product into the summer. This really served to devalue the idea of early season "best deals." Which brings us to today, when all sled makers are again emphasizing early buy programs.
Modern Snow Checking
Basically the sled makers want you to pony up a commitment to purchase a brand new 2012 snowmobile between today and sometime in April. It's not a bad concept, especially for the snowmobile producers, who get an early read on where they might be on overall sled production. This gives them a feeling for how many engines, tracks and so on they need to order. After all, you don't just go down to the local Ace Hardware, buy an off-the-shelf engine and start building a sled. That's so last century.
No, the sled builders use the pre-season ordering to promote a bit of capital flowing into corporate coffers and try to build excitement by assuring you that this is the only time you can get your actual sled of choice. But, even then, sometimes you order early and don't get your chosen sled as the manufacturers run short on a few orders. This does happen and we have spoken with at least one snowmobile general manager who actually asked us for ideas on what they should do. After we told the chap in no uncertain terms that the snowmobiler(s) who lost out should sue their sorry butt, we actually arrived at other non-legal means that might actually work.
Indeed, that sled GM was taken aback by our "sue their butts" remark. But, we had a close relative who was a sled dealer decades ago and we know how hard it is for the dealer to make a sale, much less have the sled builder default on the order. So, we have some very strong pro-consumer, pro-dealer feelings in that regard. The dealer gets caught in the middle between a justifiably angry consumer who put down cash in good faith and the sled maker who doesn't come through. We suggested giving the consumer a coupon and a guaranteed first in line status if he wants to buy the next year's hot sled. The good faith coupon would give the buyer some satisfaction to purchase goods at the dealership and allow him to buy a sled of equal value in the current model year or wait until the next new season. It's not a perfect answer, but it should show some good faith for the error.
Boosting Sales
Coming full circle into the current early ordering season shows us some serious thought given by the sled makers. Perhaps, one of the most interesting pre-season offers is the one Yamaha offers to potential buyers of its powder sleds. With the Polaris RMK kicking sales butt in the mountain areas and Ski-Doo and Arctic Cat totally revising their powder players, Yamaha could have gone totally adrift in this active market. While the Yamaha's aren't the lightest sleds in this category, adding a significant boost in horsepower could help their power-to-weight characteristics.
With that in mind, Yamaha offers US buyers of qualifying Nytro MTX models a choice of a turbo or supercharger for an additional US$1,500, plus the cost of installation. It's a unique and clever way for Yamaha to stay a player in this market, plus those owners will have a potent hill climber as Yamaha offers a brand new track specifically designed to handle the added boost of power. In essence Yamaha is eating a substantial portion of the cost of the turbo and supercharger kits. Since these kits would retail for about US$4,000, Yamaha is giving you the boost kit at cost. And, of course, to make you feel even more special, there's a custom Klim jacket that comes with the early buy.
As with the other sled makers, Yamaha will offer up to US$800 customer cash savings on select 2012 models into April, but you should check with a local dealer for specific details.
Online Customization
To promote its latest sleds, Ski-Doo has created exclusive products, special options, guaranteed best deals and a new premium ownership program to encourage ordering a new 2012 Ski-Doo before April 17. In what we find an odd move, the hot new rear rMotion suspension is only available on preseason orders of selected models like the MX Z X-RS and MX Z X-packages. Plus the Freeride 137, which we think might be a popular boondocker sled for the snowiest areas of the upper Midwest and heavy snow provinces, is only available for spring order. But, hey, that's why we're a writer not a marketer.
As a consumer wanting special customization in your sled, both Ski-Doo and Polaris offer a virtual "whatever you can spec out" capability to preseason selections. Both companies let you choose the sled type and in some cases how you might want it equipped as to engine choice, suspension setup, windshield and accessory packages.
For 2012 Ski-Doo adds what it calls its Platinum program that includes guaranteed early delivery, a dedicated customer service hotline, priority dealership service, discounts on riding gear/parts/accessories on store.ski-doo.com, free gifts, and such things as VIP invitations to events. In addition if Ski-Doo offers an incentive or rebate that exceeds the spring offer, early spring buyers will be given a credit for twice the difference.
The Originator
Polaris, the Snow Check originator, offers riders more sleds and more choices – but they're only available right now through April 19, 2011. While consumers can go online to create their one-of-a-kind sled, the orders must be placed through an authorized Polaris snowmobile dealer.
Polaris allows its early season buyers to select features such as the sled's windshield height, accessories, and on selected models, the engine, sled color, convenience features, track and seat.
Among these specials is the limited-edition 800 RUSH Pro-R LE with ultra-performance Walker Evans shocks, a deep-lug Cobra track, Rox adjustable handlebar riser, exclusive graphics package (with two exclusive color options), trellis-style storage rack and a personalized nameplate.
In addition to "spec-ing" out their sled, there will be a Snow Check Select Bonus that provides the buyer with a certificate good toward Pure Polaris merchandise and/or a special warranty offer. Details are available from Polaris dealers and on the Polaris website. An embracer of online technology, Polaris includes a unique sled customizer at http://www.polarisindustries.com/ where you can build custom sleds and save them to a personal online "garage." Once you've created the sled you want, print out the sled description and present it to your dealer to follow when placing your order. Of course, while this customizer is new to sled buyers, Harley-Davidson and Yamaha have allowed buyers to customize new bikes online for a few seasons now.
Most News
Arctic Cat, the sled manufacturer with the most new news, offers special preseason deals from now until April 21, 2011 on new and unused 2012 sleds (excluding youth, race, rental and special services models at participating U.S. dealers to U.S. residents). In addition to a "zero down, zero interest" program, Cat offers selected special editions like the 50th Anniversary and limited build white and orange models. To see exactly what Arctic Cat is offering you should check with your local dealer or online.
This is an interesting preseason as there are an incredible number of model combinations available to you. It certainly points to the fact that the sled makers are extremely serious about the preseason and what it means for the upcoming season. Considering fluctuating fuel prices, good and bad economic news, and the wonder as to whether the past season's "snowmeggedon" storms were a portent for future winters remain key questions for an industry that has a finite period in which to build, promote and sell its products. And you thought farming was tough?
Related Reading Polaris Announces 2012 Snow Check Program BRP pushing hard for spring buyers 2012 Arctic Cat Snowmobile Lineup Unveiled 2012 Polaris Snowmobile Lineup Unveiled 2012 Yamaha Snowmobile Lineup Unveiled 2012 Ski-Doo Lineup Unveiled