Arctic Cat Snowmobile Reviews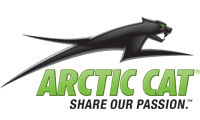 Arctic Cat Snowmobiles Reviews
Arctic Cat has been in the snowmobile business for more than 40 years, located deep in the heart of American snow country—Thief River Falls, MN.
How do the three big adventure sleds compare: Polaris 800 Switchback Adventure vs. 2016 Ski-Doo Renegade Enduro 800R E-TEC vs. 2016 Arctic Cat XF 8000 CrossTrek?
Story by Jerry Bassett
These three "adventure" sleds have unique personalities, but all are powerful with strong on and off-trail capabilities. Plus, they come loaded with very nice-to-have amenities........>> Read Full Story
Cat brings impressive new standards to the "base" M 8000 SE and its sporty Sno Pro sibling.
Story by Matt Allred
Cat basics are impressive when you combine a powerhouse Suzuki 800cc two-stoke on a revamped M series with a new mountain-specific front suspension, cleaner through snow profile and mountain gripping tapered skis for use on a "base" 2016 M8000 SE and sport-tuned M 8000 Sno Pro.........>> Read Full Story