Performance Snowmobiles
Performance Snowmobiles
Performance snowmobiles are designed to go fast and take a beating. These race-inspired machines are light and powerful and feature some of the most advanced suspension systems in all of powersports. Whether you want to fly across a frozen lake at over 100 miles per hour or clear the double at the local snocross track, performance sleds can get the job done. These sleds generally favor an aggressive riding position and comfort is sacrificed in favor of adrenaline-inducing performance.
Latest Performance Snowmobile Reviews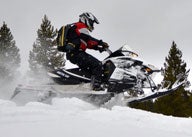 Yamaha engine breathes life into Cat's backcountry crossover chassis
The Arctic Cat XF 7000 Cross Country Sno Pro is the real deal for four-stroke crossover motoring.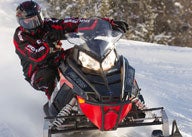 Scary fast and wicked powerful about sums it up
We like the 2014 Polaris 800 Indy SP for its honest go-fast features and the value that it brings to performance sports riding.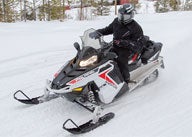 Interesting, inexpensive and just right for weekend cruising
Polaris' 550 Indy Adventure surpasses expectations as it provides excellent value for your snowmobile dollar. Plus, it's fun to ride, light and easy to handle with completely rider-friendly ergonomics.
Latest Performance Snowmobile Reviews
2009 Ski-Doo preview

New engines and chassis, renewed desire to stay No. 1 top Ski-Doo's list for '09

2009 Ski-Doo preview

Machines with two new engines and three versions of REV-X platform available for consumer demo
View All Performance Snowmobile Photos & VideosPhotos & Videos
Performance Snowmobile Photos

08 Polaris Dragon 600

2009 Arctic Cat F6 Sno Pro Review

2009 Arctic Cat Crossfire 800 R Review

2009 Arctic Cat Crossfire 5 Review