Snowmobile Events of Interest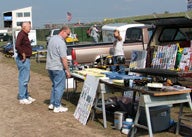 Preseason kick starts with Hay Days and a celebration of snowmobile history
For snowmobilers autumn serves as the precursor to snowmobiling. This is when pre-snow events remind us that winter is, indeed, just beyond the last lawn cutting, the annual leaf roundup and last road salt-free car washing.
Heading into the riding season, there are the three "biggies" of pre-snowmobiling: Minnesota's Hay Days weekend, the annual Eagle River vintage reunion and snowmobile hall of fame inductions, and Toronto's huge international powersports show. Each serves snowmobile enthusiasts in its own unique manner, but all three rev up excitement and forward-looking hopes to a great season ahead of putting on the "hard" miles  and joining friends and family in a great winter sport.
Hay Days 2011 September 10-11 Sunrise Township, Minnesota
Simply known as the "Official Start of Winter," Hay Days kick starts the snowmobile season with an event that resembles a 17th century "renaissance" fair. Instead of dueling knights, snowmobilers drag race one against the other over a grass strip. There are vendors displaying the latest in wares, in this case snowmobile gear. And, in an exhibition of derring-do, brave young men perform death-defying feats like performing a tandem snowmobile back flip.
If you missed last year's edition of the Hay Days event, you missed seeing Glenn Hall power down the 500-feet of groomed clay dragstrip and hitting a top speed of 142.03 miles per hour in less than 4 seconds! This year will see a return to high-powered dragging, plus there is the additional excitement of the Moore Brothers — Caleb and Clayton — attempting a tandem snowmobile back flip at 3 PM on Sunday, September 11th.
Since the 1980s the sponsoring Anoka Sno Barons snowmobile club has presented a swap meet to coincide with the drag race events and product exhibits. Many folks simply come to stroll through the swap area, looking for specific odds and ends and hopes of finding a classic piece of snowmobiling memorabilia. Although the grass drags used to be the big draw, in recent years the swap meet gets more attention and it is where serious buyers plan to arrive early before heading over to the various snowmobile manufacturers' areas and finish up shopping for great deals on apparel and aftermarket goods.
Hay Days' founding club, the Anoka Sno Barons started in 1966 and decided to support a local grass drag event for the following November, which was held in a rural farm field north of Minneapolis. Its current location allows more room for exhibits, swappers and parking. That's a good thing as Hay Days has evolved from attracting a few race fans to more than 30,000 snowmobile enthusiasts over a weekend. No longer are Hay Days attendees simply local area snowmobilers. The people walking about today's Hay Days event may be from all over the world's snowbelt, including visitors from Canada, Iceland, Sweden and Russia.
The Sno Barons owes its start to seven intrepid and like-minded snowmobiling friends — Dale Ilgin (1st President), John Gorman, Dave Pegor, Louie and Jolene Wilhelm, Bill Porter, Lloyd Stanchfield and Frank Swensrude — who in July 1966 met at a local tavern to discuss forming a snowmobile club, which with the effort of a membership drive quickly expanded from themselves to more than 150 members, plus a waiting list!
As the Hay Days event grew profitable, the Sno Barons used the monies to promote the sport locally, offering financial assistance grants to other clubs and associations to help them procure grooming equipment, make trail improvements, build bridges and warming shelters. In addition you'll find local area students that got a start thanks to Sno Barons scholarships. The Sno Barons also have made generous contributions to many charitable interests such as Make a Wish Foundation and community groups.
The Sno Barons put a great deal of money back into snowmobiling, because as they point out: "We feel the responsibility to return money derived from snowmobilers."
This year's Sno Baron Hay Days event kicks off Saturday, September 10th at 38400 Oriole Avenue in Sunrise, MN 55056. For more specific information about the racing, swap meet or parking, visit: http://www.snobarons.com/.
Toronto International Snowmobile, ATV & Powersports Show October 14-16 International Centre Toronto, Ontario
Billed as the "World's Largest Snowmobile and ATV Show," the Toronto International Snowmobile, ATV & Powersports Show has grown into a huge affair and caters to virtually all things important to serious powersports enthusiasts as it displays snowmobiles, ATVs, clothing, parts, accessories, trailers and a large assortment of aftermarket products and services.
This preseason showcase is uniquely suited to powersport riders as you can actually do everything from purchasing a new power toy — sled or ATV, to researching and booking a winter destination trip, viewing the latest in custom snowmobiles or simply being thrilled by the exploits of dare devil RockStar Freestyle riders who will throw the biggest electrifying big air display of Freestyle riding in Canada at you Friday through Sunday!
If you are into personalizing your ride, check out the OSM Custom Sled Village, where you'll be treated to some of the most radical custom sleds you could ever imagine. There also will be innovative, futuristic designs. And you can even chat with "Custom John" to get tips and tricks on how you can trick out your own ride and compare your ideas with his latest designs.
For more information, visit: http://www.torontosnowmobileatvshow.com/.
International Snowmobile Hall of Fame & Reunion September 16-18 Eagle River, Wisconsin
Snowmobilng history past and present will be celebrated the weekend of September 16-18th in Eagle River, Wisconsin as the International Snowmobile Hall of Fame (ISHOF) will induct four new members during the annual "Reunion" weekend at the world famous Derby Track. The weekend showcases snowmobile history with the ISHOF inductions and a gathering of vintage sled enthusiasts from around the snowbelt.
The Reunion, held at the Derby track, will feature grass drags, a vintage show and swap meet as the "Snowmobile Capitol of the World" once again fills with snowmobilers. An added attraction for snowmobilers will be a walk through the World Snowmobile Headquarters hall of fame caliber museum, which offers a glimpse into both trail and racing sleds from way "back in the day." Not only will the weekend welcome four new ISHOF hall of famers, but the Reunion will bring together many racing legends from past decades.
Founded in 1984, ISHOF adds four new members who will join 84 previously inducted snowmobilers into its prestigious ranks. This year's newest snowmobile hall of famers include: World famous photographer Wayne Davis– From Minneapolis, Davis' photography has captured the joy and essence of snowmobiling for more than 30 years.
Michigan's Bill Manson — From Rockford, Manson has been the voice and source of guidance for snowmobiling in Michigan since 1982 and instrumental in the creation and administration of numerous statewide programs and trail developments benefitting Michigan snowmobilers.
Vintage snowmobile collector Les Pinz — From Isle, Minnesota, Pinz has experienced the sport for more than 46 years participating as a dealer, factory-supported racer, club executive, trail groomer and vintage sled collector. Uber-technical expert Gordon Radtke — From Wausau, Wisconsin, Radtke has been the "go-to" technical expert for Ski-Doo where he has used his knowledge of the product and service to assist snowmobilers, dealers and magazine editors.
The ISHOF celebration will take place at the Eagle River Inn and will also see the awarding of several other key industry appreciations, including International Snowmobile Groomer of the Year, International Snowmobile Club of the Year, and the induction of winners of the World Championship Derby into the Eagle River World Championship Snowmobile Derby Hall of Fame. Winners include Ed Schubitzke, Steve Thorsen, Bob Elsner, Jacques Villeneuve, Brad Hulings, Jim Dimmerman, Michael Gingras, Chuck Decker, Bobby Donahue, Bruce Vessair, Dave Wahl, Greg Goodwin and Gary Vessair. The former race winners will meet on Saturday afternoon at the Derby Track for photos and autographs.
All snowmobilers are invited to attend the weekend events. For more information visit, http://www.ishof.com/.
Related Reading Hay Days Help Kick Off Season in Minnesota Heard At Hay Days (2008) Heard At Hay Days (2009) Toronto snowmobile, ATV Show a Boon for Enthusiasts Toronto International Snowmobile, ATV & Powersports Show Report World Snowmobile Headquarters Honoring and preserving snowmobiling's past World Snowmobile Headquarters Continues Expansion International Snowmobile Hall of Fame to Induct Four