Lowell Swenson: The Man who made Arctic Cat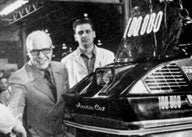 The quiet and competent numbers man behind Arctic Cat's success
Edgar Hetteen gets the credit for creating Arctic Cat. After a falling out in 1960 with the corporate board of directors at Polaris, which he created alongside younger brother Allan and best friend David Johnson, Edgar Hetteen migrated about 70 miles southwest of Roseau, Minn. to Thief River Falls. He would do there what he had done at Hetteen Hoist & Derrick before it had become Polaris Industries and too corporate. He would invent, innovate and tinker, creating a new snowmobile company along the way.
In January 1961, he and a handful of local Thief River Falls' businessmen established the Polar Manufacturing Company, which would become Arctic Enterprises and take Arctic Cat branded snowmobiles to Number 1 in the world. But that success came after Edgar sold his interests to a young accountant named Lowell Swenson.
Swenson met Hetteen in the spring of 1960 when he and a group of Thief River Falls businessmen went up to Roseau for a chat with Hetteen about starting a snowmobile business in their city. At that time Hetteen was unsettled and displeased with the direction that his Roseau company's board was headed. He sold off his interests in Polaris to spend time in Alaska, where he had long time friends and he could sort out what he would do post-Polaris. But, by Christmas 1960 he arrived in Thief River Falls with a plan and the support of those businessmen who had sought him out earlier. He would use a former food warehouse just outside the city center for his manufacturing base.
Arctic Cat Enjoys 50 Years of Snowmobile History
He would begin producing a series of rear-engined over snow vehicles that looked similar to the Sno-Travelers he had created at Polaris. But, by 1962 his company took on a new name – Arctic Enterprises – and its products a new persona realized in the front-engined, lighter, more nimble and sportier Arctic Cat Model 100. With the hard-earned success of the Model 100 came Arctic Enterprises first month of earning $100,000 in sales. By the 1964 model year, the Model 100 was followed by deluxe versions featuring fiberglass hoods and an expansion of models from six to 13 that gave them total sales of more than 800 units.
But as the company grew, Hetteen realized that the company needed new leadership, better suited to take what he had started and guide it through to the future. It happened that the young man he had met back in 1960 accompanying that group of Thief River Falls businessmen was a sharp-eyed CPA who had been helping Edgar establish policies and financial procedures for the rapidly growing Arctic Enterprises, which reported sales of more than 1100 units and was poised for expanding sales as snowmobiles had become a Wall Street darling.
Hetteen felt that Swenson was the man of the moment and struck up a deal to sell him the company, something that caught Swenson totally off guard. While Swenson was quite content to assume a significant position within the company, Hetteen wanted him to take it all or nothing.
There was a boom coming and Hetten wanted Arctic Enterprises to be prepared for it. Quoted in C.J. Ramstad's book, "Legend," Hetteen stated:  "Lowell Swenson was young and he was daring, and he was smart, too."
Hetteen and Swenson discussed a buy-out and on September 1, 1965 Edgar Hetten introduced Lowell Swenson as the new corporate chief executive. Then Hetteen left the building – leaving Swenson to guide Arctic Enterprises into the future.
In a touch of irony, when Hetteen claimed he saw daring in the young CPA, he was absolutely correct. Lowell Swenson was a real life World War II aviation hero, flying B24 heavy bombers on more than 50 combat missions – many as squadron leader – deep into the heart of German-held Europe. He was one of a very few of his original class of bomber pilots to survive the war. Flying into anti-aircraft fire on a routine basis and occasionally having to limp a badly shot up bomber back to home base gave him a unique perspective on running a business. What could be so bad? No one was shooting at him! And with his accountant's background he knew how to fly this fledgling company to financial success.
Under Lowell Swenson's tutelage, Arctic Enterprises created innovative snowmobiles that set its Arctic Cat brand apart from the competition. There was the development of the slide rail suspension, the creation and successes of Team Arctic that demonstrated the brand's dominance in the tough world of terrain racing.
Hetteen had been right. Lowell Swenson was the right choice. He took Arctic Enterprises from annual sales of just over a thousand units to sales of more than 112,000 units by 1971. In the process he managed to build a major company on the prairie lands of northwestern Minnesota that became one of the region's biggest employers.
The Swenson-led Arctic Cat snowmobile brand became a leader in creating a snowmobile lifestyle for winter enthusiasts. He worked with the International Snowmobile Industry Association to lead the development of organized trails and a network of enthusiast clubs and associations to provide an infrastructure for the sport. Like many of the early industry pioneers, he recognized that without a healthy user base of enthusiasts and a well-developed system of user-friendly trails, there would be no sales of Arctic Cat, or any snowmobiles. No clubs, no trails, no sales. It was an easy concept to grasp and Arctic Enterprises frequently turned its advertising message to showcasing the family aspects of the sport. Arctic Cat featured a tow-along kitchen on skis that could be taken on family or club outings. And while Arctic Cat snowmobiles continued with technical innovations, the brand also focused on inviting more people into the sport. The Kitty Cat was designed to give the youngest snowmobilers an outlet for family-oriented snow fun.
Snowmobiling's International Hall of Famers
Swenson led Arctic Enterprises from 1965 to 1978, when he sold his interests to a private investor. That investor allowed the snowmobile brand to fall into liquidation after having divested the boat companies that Arctic had acquired during Swenson's tenure.
Although having attempted a retirement from the day-to-day needs of a large business, Swenson quietly worked with those who sought to recreate the Arctic Cat brand under the aegis of Arctco, Inc. He played a key role in raising capitol and served as a director until 1999.
While snowmobiling knows Lowell Swenson as the man who led Arctic Cat into a position of leadership within the snowmobile industry, his family and friends knew him as a generous benefactor, bestowing scholarships, establishing gifts to charities and educational institutions throughout the region.
True to his background as a WWII pilot who earned the Distinguished Flying Cross for valor, Lowell Swenson along with his sons invested in a local aviation service, building it into a successful regional airline.
Lowell Swenson, who died at the age of 86 in 2008, left a remarkable legacy and mark on a sport and brand that remains today in his hometown of Thief River Falls, Minn. He was recently inducted into the International Snowmobile Hall of Fame in Eagle River, Wis. where his oldest son David represented the Swenson family in accepting the tribute.